Tallahassee is Home to Hard Workers, See Who's Being Recognized
November/December Agenda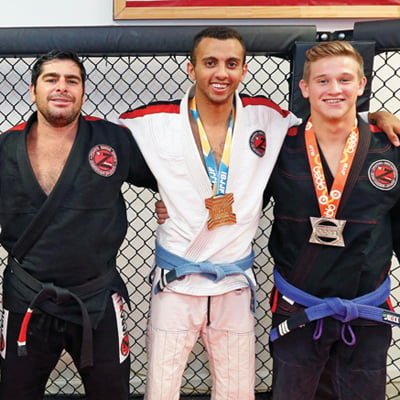 Awards & Recognitions
▪ Sonitrol/Redwire of Tallahassee, a leading provider of electronic security to businesses, schools and homes, has been named one of the nation's top 100 security providers in 2014, according to SDM Magazine. With six locations throughout Florida, Sonitrol/Redwire of Tallahassee is currently ranked as the 59th largest security company in the country. In addition, the Sonitrol/Redwire of Tallahassee Central Station is Five Diamond Certified — one of the nearly 6 percent of U.S. central stations to have been awarded this certification.
▪ Diane Holihan, an English teacher at Chiles High School, is the grand prize winner of the first-ever "Get Set for Life" contest, sponsored by the Independent Benefits Council to encourage Florida's public school employees to learn how to save for retirement. Holihan accepted her $10,000 prize in June at the FASA Summer Conference. Tallahassee teachers swept second and third place, too. Second Place went to Johnnal Stroud, an engineering technology teacher for the Aerospace and Engineering Academy at Rickards High School, and third place went to Nancy Oakley, a second-grade teacher at Hartsfield Elementary School.
▪ The Apalachee Regional Planning Council has received a 2014 Innovation Award from the National Association of Development Organizations Research Foundation for the Wakulla Environmental Institute project. The Wakulla Environmental Institute, a project of Tallahassee Community College, will develop and train the next generation of environmental professionals, tour guides and park managers. The new campus, located south of Crawfordville, will offer associate degrees and certificate programs.
▪ The Fitch Rating Agency recently awarded Leon County with an "AA" rating, attesting to the county's quality credit rating of capital revenue bonds. The agency evaluated Leon County's financial profile and ranked the county "stable" with "strong, prudent, forward-looking budgeting." Fitch also stated that Leon County has "improving debt service coverage," a "stable financial performance," a "low debt burden" and an "unemployment rate below the state and national average."
▪ For the second year in a row, Tallahassee Community
College has won the Student Affairs Partnering with Academic Affairs Award from Florida Campus Compact. This year, the award recognizes TCC's Student Leadership, Involvement and Civic Engagement office. The award is open to all institutions of higher education in Florida.
▪ Grace Robinson, executive director of the Gadsden Arts Center in Quincy, was recently recognized as the Florida Association of Museums Outstanding Mid-Career Professional for 2014. This award recognizes a museum specialist whose work is a model for institutional improvements and outstanding service to the community he or she serves. Robinson serves on the Florida Art Museums Directors Association Board of Directors, TCC Ralph Hurst Gallery Advisory Board, Big Bend Association of Fundraising Professionals Board of Directors and Links Art Academy Advisory Board.
▪ The Florida Hospital Association recently received the 2014 Florida Health Care Coalition Community Quality Award, presented during FHCC's Ninth Annual South Florida Conference in Fort Lauderdale. The award recognizes a Florida organization that has developed successful partnerships designed to improve health care quality and lower costs.
▪ Florida State University graduate student Kyle Baltuch has been awarded the Dr. Neil S. Crispo Fellowship by Florida TaxWatch. The award was established in honor of the late Dr. Neil S. Crispo, former Florida TaxWatch vice president of research and distinguished professor in the Askew School of Public Policy at FSU. As an intern at Florida TaxWatch, Baltuch has focused on local government pension reform in Florida.
▪ Alpha Foundation Specialists has earned the coveted 2014 Torch Award for Marketplace Ethics presented by the Better Business Bureau.
▪ Capital City Bank, Rogers Gunter Vaughn Insurance, Moore Communications Group, Radey Law Firm and Sachs Media Group have all been recently ranked by Florida Trend magazine as some of the best places to work in Florida.
▪ Tallahassee-based Zicro Academy announced that two of its four Brazilian Jiu-Jitsu athletes, who competed in the New York Summer International Open by the International Brazilian Jiu-Jitsu Federation (IBJJF), won first and second place in the championship held in July in New York City. Dr. Jim Whyte, his sons, Dylan and Evan Whyte, and Taylor Dove represented Tallahassee at the IBJJF Championship. Whyte placed first in his class and won the New York Summer International Open. Dove placed second. This is Whyte's ninth national and international championship, including the Worlds/Pan Am.
▪ Dr. Jolene Paramore was recently named the 2014–2015 secretary of the Florida Dental Association during the 2014 Florida National Dental Convention in Orlando. Paramore is a past president of the Northwest District Dental Association, a member of the FDA's Board of Trustees and the chair for Florida's delegation to the American Dental Association's House of Delegates. In 2010, she was honored as the FDA's Dentist of the Year.
▪ Tallahassee chef Terry White, owner of Sage restaurant, was recently crowned "King of American Seafood" during the Great American Seafood Cook-Off in New Orleans. The winning dish was country ham-crusted Gulf cobia with spiny lobster gyoza, caramelized baby bok choy and a Florida orange and saffron emulsion.
Promotions & Additions
▪ Lee Wagner is the new the executive director of the Boys & Girls Club of the Big Bend. Wagner served as the president and CEO at the Boys & Girls Club of Central Georgia where he supervised 27 staff members and more than 100 volunteers. He also established the Boys & Girls Clubs of Thomas County in Thomasville where he served as the executive director, and he's also served as a club director for the Boys & Girls Clubs of Metro Atlanta.
▪ Jen Gaviria is the newest member of the team at Capital City Consulting LLC. Gaviria has nearly a decade of experience with state government and the legislative branch. Before joining the firm she was a legislative aide for three years in both the Florida House of Representatives and Florida Senate for state Sen. Anitere Flores, R-Miami.
▪ Jay Ayers is the new hunt master at Honey Lake Plantation. As hunt master, the native Tallahassean will serve as a personal ambassador to hunting guests by planning and coordinating hunting, fishing and sporting activities. Honey Lake also welcomed Greg Folden and Craig Colton to the hospitality staff. With more than 20 years of culinary experience, Folden is the new executive chef at Whispering Pines, and Colton is the restaurant's new food and beverage director. He was previously director of food and beverage at Boca Raton Resort & Beach Club and Boca Pointe Country Club.
▪ Caitie Mook is the new Northwest Florida Regional manager of Regulatory Compliance Services, a subsidiary of the Florida Restaurant and Lodging Association. Mook is responsible for sales, service and administrative functions related to alcohol compliance, food safety training and food protection manager certification in Northwest Florida.
▪ Lisa Garcia of Sachs Media Group has been promoted to senior vice president of public relations. She will be responsible for account management and will contribute to strategy and operations of the firm. Garcia joined Sachs' public affairs team in 2005 and quickly advanced to the role of director of campaigns and subsequently vice president of operations.
▪ Gabriela "Elle" Piloseno and Dave Aussicker, Ph.D., have joined the staff of Florida TaxWatch, the independent, nonpartisan taxpayer research institute and government watchdog. Aussicker joins the nonprofit as vice president for development, and Piloseno as a research analyst for the TaxWatch Center for Smart Justice and an expert in the field of criminal justice reform.
▪ Leon County District 4 Commissioner Bryan Desloge was elected as second vice president of the National Association of Counties during the 79th Annual Conference and Exposition held in July in New Orleans. Desloge will serve as second vice president for a year and then move up to first vice president the following year. He will take over as association president in July 2016.
▪ GrayRobinson P.A., welcomes F. Philip Blank to its Tallahassee office. As a founding shareholder of Blank & Meenan P.A., Blank brings more than 30 years of legal experience to the firm. Blank spent more than six years with the Florida House of Representatives and acted as the House's first full-time general counsel.
▪ The Florida business law firm Berger Singerman announced that partner Daniel H. Thompson was named by the Florida Supreme Court as a director of the Florida Bar Foundation, a statewide charitable organization that works on behalf of Florida's legal profession to expand access to justice. Thompson serves on the firm's government and regulatory team and dispute resolution team and specializes in resolving concerns clients may have with governmental regulatory matters.
▪ Jeffrey E. Barbacci, CPA, is now the Florida Institute of Certified Public Accountants' 2014–2015 board chairman. He has served on 28 FICPA committees and sections, many of which he chaired, and was the first chair of the Institute's Young CPAs Committee. He has been a member of the Institute's Board of Governors for 10 years and has served as an FICPA representative on the AICPA Council.
▪ Stephen Andrews and Myles Rankin have joined the tax services department at Thomas Howell Ferguson P.A., a professional accounting, assurance and tax services firm headquartered in Tallahassee. Andrews has more than four years of experience with tax preparation and review. Rankin spent three years in tax services at a CPA firm in Panama City and worked for the Florida Office of the Auditor General.
▪ Samantha Strickland, of The Pod Advertising, and Fred Rabbath, of F.C. Rabbath Creations, have now forged an alliance to create a video production and storytelling service provider based in the capital city.
▪ The Tallahassee Society of Association Executives and the Florida Society of Association Executives — two of Florida's largest association industry associations — will join forces in 2015 under the FSAE brand. They bring together hundreds of professionals working in the association sector, and more than 400 organizations in the Tallahassee area alone. Although TSAE has a larger membership base, FSAE's reach includes the entire state of Florida. Many association professionals belong to both, and both are headquartered in Tallahassee.
▪ Dermatology Associates of Tallahassee has welcomed Dr. George Cohen to the practice. Cohen is board certified in dermatology and has more than 33 years of experience. He worked in private practice for Kaiser-Permanente and spent many years training dermatology residents. He also served as a flight surgeon in the United States Air Force.