Take Your Dream Vacation to Exuma's Emerald Bay All-Inclusive Resort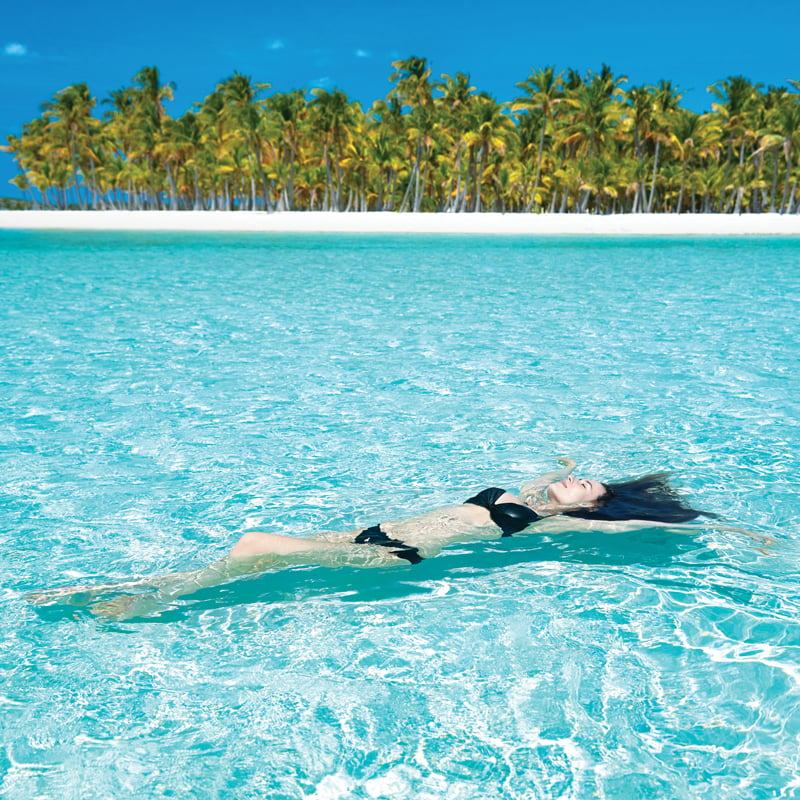 Imagine streaking across the crystal-clear Caribbean water in a 35-foot cigarette-style boat with three, 300-horsepower engines. You are just off the coast of Great Exuma and rounding one of the Out Islands into a secluded cove. All of a sudden, six 200-pound pigs come running out of the underbrush straight into the water, swimming out to the boat 30 yards offshore. Jump in the water, and you'll quickly be surrounded by these snorting friends looking to be fed the hot dogs and buns given to you by the boat captain of the Thunderball 007, named after the James Bond film shot in the area in the mid '60s.
After 30 minutes of interaction, you'll jet off to the next Out Island's secluded beach. This time, dozens of one- to two-foot-long prehistoric-looking iguanas come to the beach waiting for you to walk ashore and feed them grapes. Get close up and capture these unique images — and a once-in-a-lifetime experience. After a full day of ocean adventure, it's back to the dock to return to the luxury of the Sandals Emerald Bay Golf Resort & Spa, Great Exuma, Bahamas.
Sandals Resorts have been the benchmark that all other all-inclusive resort destinations have emulated since its first property opened in Montego Bay in 1981. Gordon "Butch" Steward, now chairman of Sandals Resorts International, had an idea to create a destination where one would arrive and never have to deal with money or tips — while having a plethora of dining and entertainment options to choose from. This simple concept has allowed Sandals Resorts to grow to 15 properties. The latest, Sandals LaSource Grenada, opened in December 2013.
One of the more recent new properties opened in 2010 after Sandals acquired the Four Seasons in Exuma, Bahamas. This 245-room property was quickly transitioned over to Sandals' style and is the premiere destination on the very simple and undeveloped island in the Grand Bahama chain.
From the moment you arrive, their 600-person staff is focused on one objective — to make your experience personal and luxurious. There are 21 room categories — all with a view of the crystal-clear waters of Emerald Bay. Many of the room categories come with an English-style butler service. An individual is assigned to unpack and pack your bags, attend to your wardrobe, serve you meals on your private terrace and provide 24-hour room service. Each room comes with a fully stocked bar and refrigerator filled with beverages, mixers and water, and it's restocked daily. The linens are of the highest thread count, furniture is mahogany and the bathrooms are granite.
The resort offers seven dining options, highlighted by reservation-only French and Italian restaurants. From elegant to casual beachside dining under the stars, one will never lack for options and culinary experiences.
There are three pools, one with a swim-up bar, six tennis courts with complimentary lessons each day and an 18-hole Greg Norman-designed course that runs along the oceanfront and is comparable to California's Pebble Beach. Guests can enjoy a complimentary round of golf each day.
---
Exuma is a very easy journey, but a world away from North Florida. Fly American Airlines to Miami then 55 minutes to Exuma — all for around $500 round trip. Now is your chance to experience this very remote island the Sandals way before big development arrives. For more information about the resort and reservations, visit sandals.com or call (888) SANDALS.