Tackling Trauma Head On at FSU with 'Resilience'
The platform helps students manage stress and open up about mental health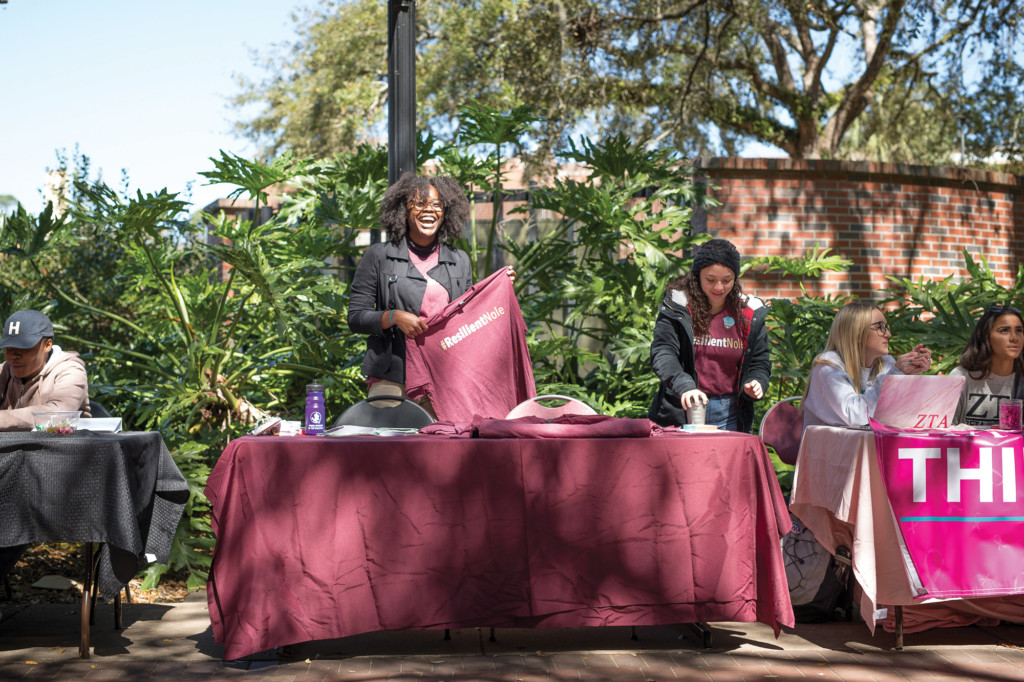 Florida State University researchers Karen Oehme and Jim Clark didn't set out to be trailblazers. They wanted to help young people struggling with their mental health.
The pair dug to the root of the issues, back to childhood and adolescence, and found a groundbreaking approach to trauma and resilience. Oehme, director of the Institute for Family Violence Studies, had the creativity and know-how to design effective online education programs. Clark, dean of the College of Social Work, had the research.
Together, they created the Student Resilience Project.
The project is a web-based, evidence-informed toolkit designed to strengthen students' academic and emotional coping skills, regardless of whether they had experienced trauma. Supplementing existing educational and counseling interventions, the program acts like an online support system where students can learn to manage stress in healthy ways and connect to campus resources through interactive videos and exercises.
It started in fall 2017, when FSU was grappling with the death of fraternity pledge Andrew Coffey from a hazing incident.
Clark met with Sally McRorie, FSU's provost and executive vice president for academic affairs, to talk about his vision for a project that could help students cope. Rather than shy away from issues such as alcoholism and drug abuse, Clark and Oehme wanted to confront them.
When the provost gave the green light, the Student Resilience Project got the go.
Students received their "first dose" of resilience with a soft launch in July 2018. FSU welcomed over 6,000 freshmen in the fall and required all of them to participate in the full project.
Since then, Oehme says he has received calls from universities all over the country asking, "How can we do this?"
"People want us to talk about this project because they find it different and edgy," Oehme said.
The response prompted her to host an informational webinar, which attracted 90 representatives from 48 universities who wanted to replicate the toolkit.
At FSU, the project's most avid supporters have been librarians, Oehme said. Librarians see students at their worst, when they're stressed from exams, breakups or roommate problems.
They don't always know how to help. Now, they can direct students to this resource, which the university continues to turn to in times of trauma.
When Hurricane Michael slammed the Panhandle in October, the project team created for the site specific trauma-informed approaches to dealing with disaster. Clark then shared the toolkit with students returning to FSU's Panama City campus after a three-week closure.
In November, FSU lost professor Nancy Van Vessem and student Maura Binkley to the Hot Yoga Tallahassee shooting. McRorie, the provost, asked Clark if the resilience project could be of service. The next day, the site included a module dedicated to gun violence and violence against women.
"Of course, we didn't predict a hurricane and we didn't predict this mass shooting, but both Karen and I have been around a while and know that bad things happen to good people all the time," Clark said. "More and more pressures have been on young people than there ever have been before, in my opinion."
The project also aims to break down the stigma surrounding mental health issues so that people will confront them head on. FSU student Richard Brito said he had been hesitant to share his emotions before he got involved in the project.
Brito, president of FSU's Student Ambassadors, said he has been dedicated to spreading the project's message ever since, whether through visiting classrooms or engaging with students during university events.
"I feel like mental health is something that a lot of people are scared to talk about, but the fact that this project has been brought to FSU, it's really made people open up more," he said. "It's made me feel like I'm not alone."
Oehme says students are drawn to people in their age group who share their stories and problems.
This feedback has been especially rewarding for Student Ambassador Rose Antoine, who as a member of the design team poured over details such as the site's color scheme. The final product brought her to tears.
"I got really emotional with the project, and that's why I fight for it so much," Antoine said. "The feedback we've gotten about the Resilience Project makes it worth all the work we put in."
The project has spread across campus as more student organizations incorporate it into their meetings and more teachers incorporate it to their assignments.
Antoine said underserved populations, including first-generation students, the LGBT+ community and members of the Hispanic/Latino Student Union, have expressed appreciation that the university has taken this measure to address their specific needs and vulnerabilities.
Brito said he looks forward to seeing the Student Resilience Project extend beyond FSU's campus because it can show students everywhere that it's OK to talk about their emotions and ask for help.
Most of all, he said, it shows students that "there's hope."