Spend a Night Out in Thomasville, Georgia
Make a Reservation to Enjoy the Southern-Style Pleasures of Our Neighbor to the North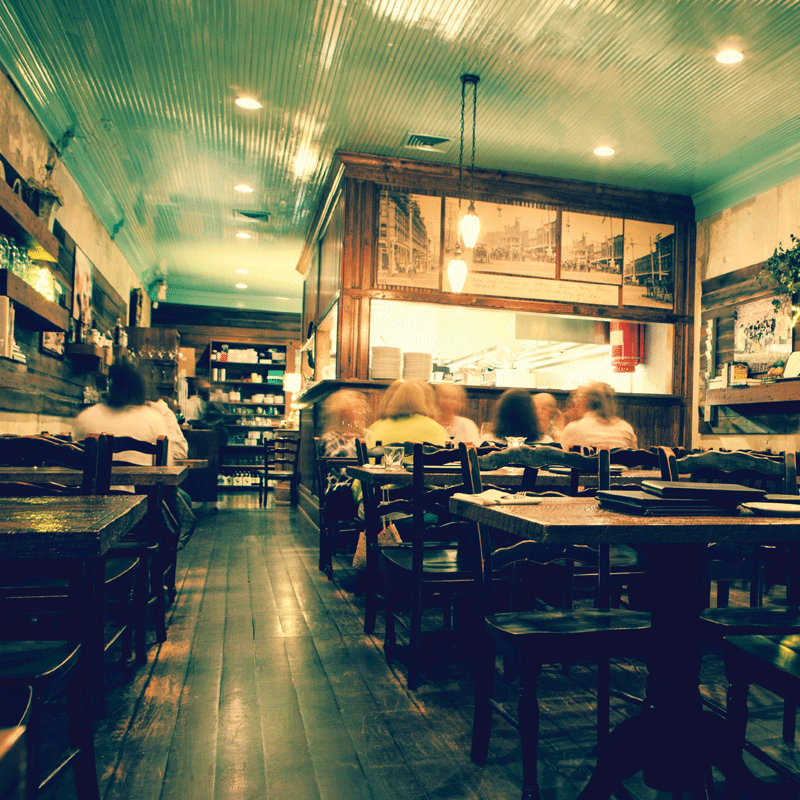 Gracious hosting is etched into the soul of every great Southern city. And Thomasville, Georgia., is a truly charming example of how warm Southern hospitality can be.
Just 40 minutes north and slightly east of Tallahassee, downtown Thomasville steadily dishes out character with a twist of classic, casual decadence. With an unprecedented number of scrumptious dining establishments (Liam's, Jonah's, The Blue Coop, Chop House on the Bricks … ) and a seemingly endless array of cozy nooks to explore, it's easy to get swept away by this effortless, breezy little community.
"We are really, really friendly," admitted Rhonda Foster, co-owner of Liam's Restaurant. "Thomasville epitomizes what people think Southern people are."
No argument there. Thomasville's many allures, along with the good nature of its inhabitants, have never been wasted on their Florida neighbors. Countless adventures can be had in this gem-of-a-town — though none, perhaps, more enchanting than an evening on the town.
See for yourself:
 3:40 p.m.   Depart from Tallahassee
The night is young, and so are you. 
It may seem strange leaving for dinner in the middle of the afternoon, but when leisurely activities beckon, it's best to take your time.
The route from Tallahassee to Thomasville runs through a lush, green stretch of highway known as "plantation way." Bordered by swanky estates like Pebble Hill Plantation, this drive is as relaxing as it is historic. Though Tallahassee residents undoubtedly know the trek all too well, remember to enjoy the ride. It's OK to marvel at the familiar.
 4:23 p.m.   Soak in Your Surroundings
Peruse the sights and shelves.
Thomasville's downtown is pleasantly walkable. A late afternoon arrival permits a quick peek at the area's many delightful vistas, well-supplied antique shops and attractive storefronts. In the last year, this downtown district has gone through a bit of a renaissance; new retail additions will surprise even frequent visitors.
"We have a very historic character here that we're proud of and have been able to maintain," said Sherri Nix, tourism manager at the Thomasville Visitors Center. "(Thomasville) has lots of unique and interesting shops and restaurants. We like that we're a small town that you can park and walk around with tons of things to do."
Whether you're hand-in-hand or split off for some solo exploration (masculine counterparts may take a particular shine to Kevin's Fine Outdoor Gear & Apparel and A Different Drummer Antiques) the lively atmosphere of these bustling streets will set a jubilant mood for the rest of the evening.
 5:45 p.m.   Art for All
A bit of culture, courtesy of local hands. 
Wiregrass Gallery, an artistic co-op located on North Broad Street, is the definition of eclectic. Whether tastes favor bright, whimsical, earthy or modern, this revolving gallery, which showcases the local artistry of more than 50 creative individuals, has a little bit of everything.
According to artist and founding member Lindajo Haythorn, guests of Wiregrass rarely leave disappointed.
"We have art that ranges in price from $5 to $5,000 or more," explained Haythorn. "There's art for everyone in here … . We have every genre of art that you can think of, from computer-generated fractals to paintings to lathework to pottery."
The gallery's doors close at 6 p.m. on Saturday evenings and at 5 p.m. Tuesday through Friday — a schedule the majority of Thomasville's retail sector also adheres to.
 6:11 p.m.   Cheese, If You Please
Because, who doesn't love cheese? (And wine — OK, especially wine)
Extend your dining experience by taking in hors d'oeuvres at a separate venue. Sweet Grass Dairy is the perfect spot for before-dinner drinks and a quick, appetizing bite of locally made cheese and cured meats.
"We're a seat-yourself kind of establishment," explained Manager Ariel Little. "Our specialty is cheeseboards and charcuterie. It's definitely a fun atmosphere; it's really great. It's different from a lot of the nightlife you see in Tallahassee. It's just a more personal experience."
Laid-back with a touch of modern rustic charm, Sweet Grass Dairy is as much a local hangout as it is a regional attraction. Menu offerings may include Thomasville Tommee, Green Hill, Asher Blue, Georgia Gouda and pimento cheeses, as well as a variety of craft beers and flavorful wines.
 7 p.m.   Dinner Time
When only a culinary adventure will do …
As you glance from one twinkling bistro to the next, your choices may seem endless. But Thomasville's charms are certainly no secret, so it's best to reserve your seat ahead of time.
When sorting through establishments, Tallahasseeans should take note of the palatable concoctions emerging from Chop House on the Bricks — a new restaurant by Chef Matt Hagel.
Previously sous-chef at Cypress, Hagel helped establish Tallahassee's own Miccosukee Root Cellar before venturing out on his own. Today, his new restaurant is a high-end fusion of the two, with a touch of the historic personality indicative of his family's new locale. Quail, pork chops and lamb make frequent appearances on the menu.
"We tried to grasp the whole historic downtown Thomasville vibe when we were opening up," said Hagel. "We wanted to keep it kind of classy and a little modern in that same way."
Liam's Restaurant is also a delicious union of all that is "sinfully" good. Gourmet to the max, this Thomasville landmark has been in business for 12 years. Featuring an ever-changing menu, Liam's is known for artistically crafted entrees as well as for having vegan and vegetarian options.
"We kind of take influences from all over," shared Rhonda Foster. "We like all types of cuisines, so we try to take local ingredients and incorporate them with spices and techniques from all over the globe."
 9:02 p.m.   A Simple Stroll
Last stop: caffeine and conversation to aid in digestion. 
In Thomasville, no matter where you ended up for dinner, Grassroots Coffee Company is just around the corner. 
Before heading back home, take a stroll down the main drag to Grassroots' new location and surprisingly urban storefront. You'll be quickly greeted by hints of roasting beans and (if you're lucky) an acoustic musical accompaniment.
Order from a locally sourced selection of espresso, coffees and teas. For those with a sweet tooth, manager and co-owner Spencer Young recommends one of their gluten-free deserts.
"(We have) cozy nooks where people can hang out and intimate spaces where people can talk at night," said Young. "We roast all of our coffee in house. We make really great coffee, as well as lattes and mochas."
Feel free to linger awhile — this hip café is open until 10 p.m. Friday and Saturday.
---
Taking in the Theatre 
In July, Thomasville on Stage and Company will present their rendition of "Alice in Wonderland." Performances will be July 11–13 and 18–20. Friday and Saturday evenings shows begin at 8 p.m.; to incorporate this musical into your evening, simply bump the schedule up one hour.
Adult tickets are $12, students $10. For more information and to reserve your seats, contact TOSC at (229) 226-0863.
---