Smoothie Sailing
Cool down and drink your meal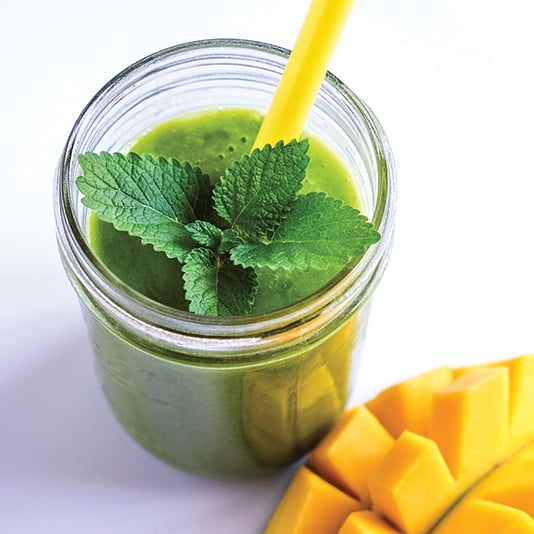 After an intense workout or just a short time in the summer heat, you may find yourself craving the cool, sweet taste of a simple smoothie — except, the popular drinks aren't so simple anymore. Today, there are enough smoothie options available to make your head spin faster than a blender. 
Kale, beets, avocado, peanut butter … All types of ingredients are showing up in smoothies these days. You can also "boost" your beverage with add-ons, like vitamins, protein powder, exotic spices, probiotics and bee pollen. 
Robeks Fresh Juices and Smoothies on Mahan Drive has a menu of more than two dozen smoothies and an elaborate list of boosts that includes fiber sources (such as cellulose fiber, psyllium husk fiber, oat fiber and rice bran), energizing seeds and roots (like the Guarana Seed Extract and Eleuthero Root) and soy and whey proteins.
At Axios Salt Spa & Juice Bar in Midtown, customers frequently stand before the large menu board weighing all their choices. Do they want an energy boost or mental clarity? Antioxidants or anti-stress?
"We have a big smoothie menu with a lot of options," said Axios' co-owner, Chantelle Yandow. The menu offers nearly twenty 16-ounce drinks, plus three types of protein, five "shots" (ginger, turmeric, wheatgrass, etc.) and 14 boosts (ginseng, matcha — the concentrated green tea powder — assorted seeds, cacao powder). 
The most popular smoothie is the Chanty Panty, with spinach, strawberries, banana, raw cacao powder, almond butter and a date — but no added sugar or honey. "It has a chocolaty flavor, and it's very filling," said Yandow. 
Smoothies can pack in as much nutrition as a meal, but they can also be sugar bombs; so don't overdo the fruit shakes, and be wary of too much added sugar, said Mary Russ, marketing team leader for Whole Foods. "You want to have a balance of vegetables as well as fruits."
Whole Foods adds greens — spinach or kale or both — to most of its eight smoothies. The veggies have become nearly as popular as bananas and strawberries as desired ingredients.
"Smoothies have gone green," said Danny Carpenter, owner of the Tropical Smoothie Cafe in Midtown. 
Two years ago, Tropical Smoothie introduced its Island Green smoothie for a promotion, and, as Carpenter explains, "It was so popular, people got angry when the promotion was over and it wasn't available. We had to get it back."
While smoothie baristas are touting more nutritional drinks, not all combinations are going to be successful. Kale is a popular ingredient, but its slightly bitter taste can dominate a smoothie. But if you're not a kale fan, don't worry: Yandow said that spinach "blends up nicely and you can't taste it at all." Smoothies are more versatile than ever, from sweet treat to workout staple to meal replacement. 
---
Mango-Mint Green Smoothie
(courtesy of Whole Foods)
Here's a smoothie recipe that combines both the sweet taste of fruit and healthy greens, refreshed by lime juice and mint.
Ingredients
2 cups baby spinach or roughly chopped spinach leaves (about 2 ounces)
1 ½ cups ice cubes
1 cup unsweetened almond milk
½ cup lightly packed fresh mint leaves
¼ cup lime juice
1 large or 2 small ripe, juicy mangoes, roughly chopped
1 small banana (optional)
Directions  Purée all ingredients, except for the banana, in a blender, until smooth. Taste and add banana for extra sweetness, if desired. Serve immediately.
Nutritional Information  Per serving: 150 calories (20 from fat), 2.5 grams total fat, 140 mg sodium, 33 grams carbohydrates (6 grams dietary fiber, 23 grams sugar), 3 grams protein
---
Tallahassee Smoothie Hot-Spots
Axios Salt Spa & Juice Bar
1122 Thomasville Road
(850) 765-5064
New Leaf Market Co-Op
1235 Apalachee Pkwy.
(850) 942-2557
6668-0 Thomasville Road
(850) 894-5151
Robeks Fresh Juices & Smoothies
3122 Mahan Drive
(850) 765-0735
Smoothie King
1603 W. Tennessee St.
(850) 597-9780
Sweet Shop Cafe & Lounge
701 W. Jefferson St.
(850) 329-6466
Tropical Smoothie Café
904 Thomasville Road
(850) 224-3600
209 N. Magnolia Drive
(850) 412-9100
1415 Timberlane Road
(850) 894-4980
679 W. Tennessee St.
(850) 561-8888
3111 Mahan Drive
(850) 878-3777
Whole Foods
1817 Thomasville Road
(850) 513-4200