September/October 2014 Agenda
Big Changes in the Business Community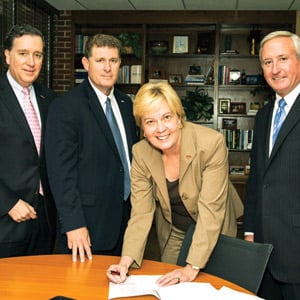 Awards & Recognitions
▪ Capital Regional Medical Center recently announced the recipients of the Frist Humanitarian Awards. The Frist Humanitarian Award is the highest honor an employee, volunteer and physician can receive at HCA, the parent company of Capital Regional Medical Center. This year's winners are Carolyn Fiero, Employee Frist Humanitarian Award Recipient; Cheryl Wright-Smith, Volunteer Frist Humanitarian Award Recipient; and Maria Antigua, M.D., Physician Frist Humanitarian Award Recipient.
▪ The Florida Dental Association recently announced that Dr. James Walton of Tallahassee was recognized with the Leon Schwartz Lifetime Service Award at the 2014 Florida National Dental Convention in Orlando.
▪ Kelly Overstreet Johnson is now on the Florida Super Lawyers' list of top 50 female attorneys in Florida. Johnson, office-managing shareholder in Baker Donelson's Tallahassee office, is a past president of The Florida Bar, the third largest bar in the country.
▪ Allison Harrell, CPA, has received the Florida Institute of CPAs' Women to Watch Emerging Leader Award. The award is given in conjunction with the American Institute of CPAs and recognizes outstanding women who are shaping the FICPA and the CPA profession.
▪ NAI TALCOR, a member of NAI Global — the world's premier managed network of commercial real estate firms — announced recently that James (Jimmy) Nystrom has achieved the SIOR Office designation. SIOR, the Society of Industrial and Office Realtors, is a Washington, D.C.-based international professional organization of more than 3,000 commercial real estate professionals, 2,800 of whom have earned the SIOR designation.
▪ Thomas Howell Ferguson P.A. congratulates Alyssa Roti, Kavisha McCranie and Paola Blackburn on becoming CPAs.
▪ The Tallahassee-Leon County Planning Department received the 2014 National Planning Excellence Award for a Planning Agency from the American Planning Association.
▪ Capital City Bank Group has named Commercial Banking Executive Ed Canup winner of the 2013 Godfrey Smith Award, and Director of Corporate Associate Development Denise Wilson the winner of the Julian V. Smith Community Service Award. The Godfrey Smith Award is presented annually in memory of longtime banker and former president and chairman of the board, Godfrey Smith.
▪ Leon County Tourism Development's website, Trailahassee.com, recently scored big by being listed among the Best City & Urban Innovation Websites by the 18th Annual Webby Awards. The website also received two awards from the local chapter of the American Advertising Federation, which operates the ADDY Awards. Leon County Tourism Development worked with Tallahassee-Leon County Geographic Information Systems to create the personal Web-based tour of Leon County's hiking, biking, cycling, running and equestrian trails. Trailahassee.com also won two silver ADDY awards — top honors in the Digital Advertising Services category and GPS & Location Technology category — from the Tallahassee Chapter of the American Advertising Federation.
▪ City Commissioner Gil Ziffer was recently named the 2014 Municipal Official of the Year by the Northwest Florida League of Cities. This honors Ziffer for his outstanding commitment to the citizens of Tallahassee, the NWFLC and the Florida League of Cities. Since taking office in 2009, Ziffer has made significant contributions to the community in terms of local government leadership, aiding the homeless and fundraising for the arts and breast cancer awareness.
▪ Rusty Payton, chief operating officer of the Florida Dental Association, recently earned his Master of Business Administration degree from the University of North Alabama. Payton has been with the FDA for more than 20 years. He began his career at the association in 1993 as a lobbyist before being promoted to director of government affairs. In 2007, Mr. Payton was named FDA's chief operating officer.
▪ Tallahassee Community College's surgical technology program has received full national accreditation from the governing board of surgical technology. The designation by the Commission on Accreditation of Allied Health Education Programs makes TCC's program one of only 10 accredited surgical technology programs in Florida that grants an Associate of Science degree.
Additions & Appointments
▪ Richard A. Greenberg, a partner with Rumberger, Kirk and Caldwell in Tallahassee, was elected secretary of the Florida Association of Criminal Defense Lawyers during its 27th annual meeting in St. Petersburg Beach. Admitted to practice in Florida and Georgia, Greenberg concentrates his practice in the areas of professional responsibility, professional licensure defense and criminal defense.
▪ There's a new fire chief in town. Jerome Gaines, of Fort Wayne, Indiana, took the reins in Tallahassee on June 30. Gaines worked for the Fort Wayne Fire Department for more than 30 years and served as the assistant chief over its operations division. "The Tallahassee Fire Department has a history of strong leadership built on firsthand experience and a heart for public service," said City Manager Anita Favors Thompson. "Mr. Gaines is a lifelong public servant. I'm excited to welcome him to Tallahassee."
▪ Dr. David Shapiro of Tallahassee has been appointed to the board of the Accreditation Association of Ambulatory Health Care Institute for Quality Improvement. This is a national organization that helps health care facilities improve and maintain a high quality of patient care.
▪ Dr. Audra Price Pittman has been named executive director of the Council on Culture & Arts' Board of Directors. Pittman is the owner and founder of Suite P Creative Studio and is also an active volunteer, recently serving as the vice-chair of the Cultural Plan Review Committee.
▪ Larry Pintacuda has joined the Afterschool Alliance's Board of Directors. Pintacuda is a longtime champion of children's services and afterschool programs and spent his nearly 45-year career devoted to increasing access to these programs. He spent 33 years at the Florida Department of Children and Families, and most recently served as assistant secretary of operations and state childcare coordinator.
Florida State University graduate and accountant Wayne Durrett has joined James Moore, Certified Public Accountants and Consultants, as a staff accountant. Before joining the firm, Durrett worked as an operations student assistant for a state agency in Tallahassee and assisted in audit reviews.
Promotions
▪ The Florida Society of Association Executives recently announced that Tallahassee native Frank Rudd, CAE, CMP joined FSAE as its new president/CEO in April. Rudd was selected from more than 100 applicants to lead FSAE into the future. He has more than 25 years of experience in the association industry.
▪ First Florida Credit Union recently promoted loan officer Debbie Pelletier to branch manager of the Northside Branch, located at 1661 Raymond Diehl Road. Pelletier will oversee all loan and member services and lead community outreach efforts. She has 28 years of industry experience and has spent the past 12 of those at First Florida. Before this promotion, she served as a loan officer at the Tallahassee Blair Stone branch.
Changes
▪ Veteran college coach Byron Samuels has been picked to be the men's basketball coach at Florida A&M University. Samuels, a native of Winston-Salem, North Carolina, has held three head coaching posts (two at four-year schools and one junior college) in his 26-year coaching career.
▪ Auditwerx, a CPA firm specializing in performing auditor assurance engagements to meet regulatory or customer compliance needs for service companies, has been acquired by Carr, Riggs & Ingram, LLC (CRI), the 23rd largest accounting firm in the nation. Merging with CRI also offers industry diversity and expanded client service offerings. With 42 locations throughout the South, CRI is a super-regional firm positioned to deliver big firm expertise through local relationships.
Happenings
▪ SunTrust Bank recently gave $150,000 to create two 15-seat SunTrust Classrooms in Legacy Hall, the new building being proposed by the Florida State University College of Business. "SunTrust has been a true friend to the College of Business and to the university as a whole," said Caryn L. Beck-Dudley, dean of the College of Business.
▪ Tallahassee-Leon Federal Credit Union is entering its third year of hosting its Mini Billionaire Academy — an overnight camp that teaches area youth the basics of financial literacy in a fun and innovative manner. This year, TLFCU is receiving support from a Biz Kid$ Financial Education Grant to further the expansion of the Mini Billionaire Academy. Biz Kid$ is a program on PBS Kids that teaches children, "tweens" and teenagers about fiscal responsibility.
▪ Leon County government received seven national awards recognizing outstanding county programs and services. The National Association of Counties presented Achievement Awards to Leon County in categories ranging from parks and recreation to information technology.
▪ Moore Communications Group is the new public relations agency for The Florida Prepaid College Board. The firm won the competitive bid process to represent the largest and one of the oldest prepaid tuition plans in the country. It will provide full-service public relations planning, partnerships, special events, media relations and ongoing communications counsel.
▪ Following a successful nationwide campaign for Children's Miracle Network hospitals, merchandise from eight Tallahassee Wal-Mart stores is now on the way to pediatric patients at University of Florida Health Shands Children's Hospital. The stores participated in a six-week fundraising campaign this spring to fill 130 children's wagons with much-needed items, worth approximately $20,000.
▪ The new Fred G. Shelfer Prosperity Center, a partnership between the Florida Disabled Outdoors Association and Goodwill Industries of the Big Bend, hosted a grand opening celebration on June 5 in Tallahassee. This fully equipped facility has more than 20 pieces of exercise equipment, as well as group classes, fitness and wellness education, motivation and support.