Saying 'Thanks'
Etiquette Rules for 21st Century Kids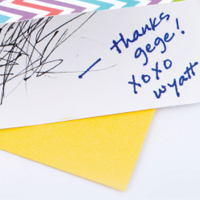 Photo by Scott Holstein, Artwork by Wyatt Patrick
A thank you note written by Wyatt Patrick and deciphered by his mom.
As modern technology gives our children ever-expanding ways to communicate instantaneously with friends and family, enquiring minds want to know: Is the handwritten thank you note hopelessly passé?
It's a question of particular import during the holiday season, when children receive a multitude of gifts and parents often tear their hair out trying to get their offspring to pen a word of thanks to grandma.
For a definitive answer, we consulted Tallahassee's etiquette maven, Molly Kellogg, director of the Leon County Chapter of the National League of Junior Cotillions, who has crammed the social graces into the minds of no less than 600 local youngsters over the past seven years.
"When somebody took the time to give a gift, writing a thank you note, in your own handwriting, is appropriate," she said. "A verbal thank you is a wonderful preliminary, but it should not take the place of a written thank you note. And that goes for text and email as well."
Growing up, "the rule in our house was we didn't get to play with it, read it or wear it until there was a thank you note written for it," Kellogg said. "And I teach my students the same thing. I think that it makes them much more thankful for what they receive and recognize that somebody took the time to do that for them."
Last year, Kellogg wrote notes for her then-1-year-old, and this year she plans to let Savannah scribble on paper. Even the youngest of her students, at age four, get a lesson on the importance of notes. "Most of the time they just color on it and their mother or father writes on it," she said. "I think it's imperative to teach from a young age that it's important to do throughout their lives."
One innovation is notes with pre-printed messages that include blanks where the youngster can fill in the giver's name and what they received. "They're not my favorite … they don't really teach you to have your own thoughts, but it's an option," said Kellogg. They might be appropriate for 5 or 6 year olds, she conceded, but "if you're 15 and filling them out — not so much."
Teens and young adults who have gotten out of the written thank you habit usually see the light when it's time to get married. "I think the wedding industry does a good job of making them realize 'Hey, this is on your to-do list.' It's on every timeline and I think that really jogs people's memory," according to Kellogg.
While it may be simpler to write an email or send a text with your thanks, Kellogg says they're no substitute for putting pen to paper.
"As new technologies emerge, people think 'Oh, I'll stick this technology in for a handwritten note,' but there truly is nothing better than going to your mailbox and getting a piece of mail from an actual person that isn't a bill or a magazine," she said. "It really makes such a difference."
Tallahassee Magazine Facebook followers weighed in with their thoughts on thank yous and what has worked in their families.
I wrote a thank you note to Santa Claus once. I think I was about 8 years old. I did it without being told, though. I think my mom was proud.
— Kathleen Haughney
A handwritten thank you means the world to people. It is important. Children need to learn that a text, email and tweet are impersonal.
— Miriam Nicklaus
I tell all grandparents to feel free to stop sending gifts if not thanked properly. — Terri Paul
Yes, they still need to be handwritten. And to everyone. And for birthday presents, too. Designing thank yous on the computer is fun, too. With a signature. — Gina Davidson
When my kids were little, they drew pictures and dictated the text of the note. I taught them to say "thank you for thinking of me" AND "thank you for the gift." — Jillian Kaplan Fry
I strongly believe that kids should write handwritten notes. And then they can grow up to be adults who also write handwritten notes — for example, after an interview. — Erica Thaler
I think a thank you is in order but handwritten is old fashioned. I had my kids call and say their thank you. My parents much preferred a phone call. As a grandmother myself now, I don't need handwritten thank you. I'm even fine with an email or text. — Boot Camps ToGo
I think a verbal thank you suffices only when you receive the gift in-person. If someone goes to the trouble to ship a gift, you should take the five minutes to write a note and put it in the mail. — Amanda Clements
I am 27 and I still feel guilty spending money or using a gift before I send a handwritten thank you. — Lindsay Link
I am a Grandma and I'll never stop sending gifts, thank you note or no thank you note. Texting is fine also … saves paper … notes do help with learning proper sentence structure. — Gena Varn