Remembering Shade Tobacco in Havana
Stories of the crop that led to the rise and fall of a rural community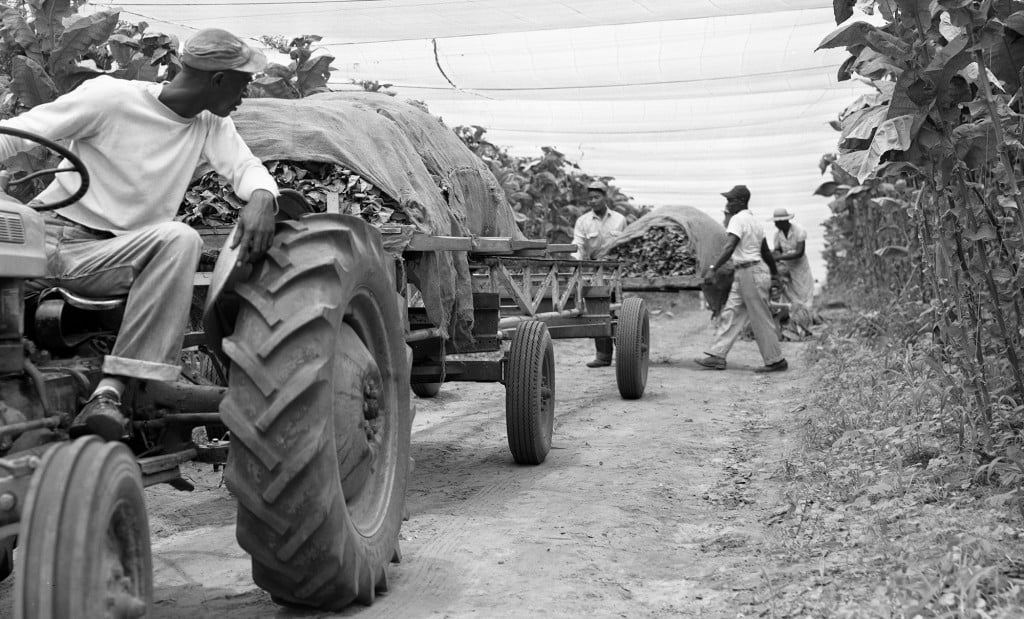 Today, day-tripping Tallahassee residents might drive 30 minutes north on U.S. 27 and visit the small Gadsden County town of Havana to enjoy shopping or a meal in one of its charming, historic brick buildings.
But the youngsters who grew up there — now senior citizens — recall a time when those buildings were filled with grocery and hardware stores, doctor and dentist offices, car dealerships, packing houses and sweet shops.
All were courtesy of the area's lucrative, labor-intensive and only industry — shade tobacco, built largely on the backs of African Americans, from slavery through Jim Crow segregation and the civil rights era.
Over a short time beginning in the late 1960s, the shade tobacco boom would go bust, with one last small crop harvested in 1977. All that's left today are a few plants growing in pots on the front porch of Havana's Shade Tobacco Museum, relics of a time gone by.
Almost immediately, the downtown emptied. The young people who hadn't already been lured away by city living moved. Some found jobs in Tallahassee and commuted to work. Some of the poorest moved on to farm work in other places, but others stayed at the only place they had ever lived.
A renaissance of Havana's downtown began in the early 1990s, when Keith Henderson bought a block of derelict buildings, opened his own store and rented others as antique and other small shops. But the Great Recession brought whatever progress had been made to a halt, and, once again, the town struggled to regain its footing.
For about 65 years in the early to middle 20th century, pretty much everybody in Havana and the surrounding hamlets worked in the thriving business of growing, curing, packing and shipping shade tobacco. A local fast-pitch softball team was called the "Wrappers" — a nod to the fact that the crop was used as a cigar's outer covering — and the county's belle was crowned Tobacco Queen.
"This was known as the shade tobacco capital of the world," said Bill Piotrowski, a longtime resident of Havana and co-chair of the Havana History & Heritage Society. "That claim is based on the fact that in 1900 at the Paris World's Fair, the tobacco from this area was rated as the best tobacco in the world."
And in its heyday in the mid-1960s, more than 6,000 acres in the 40-mile-wide region were "under shade," with just over 2,200 tobacco barns used for drying out the crop, Piotrowski said.
Although the broad-leafed plant itself grows tall — between 6 and 9 feet — the "shade" in its name refers to how it is grown. In the early days, wooden slats were installed above the plants to filter the sunlight, then farmers switched to cheesecloth, then to a fine plastic mesh. Grown in the shade, the leaves would be thinner, more pliable and have a better flavor.
In the 1950s, he said, regular tobacco would fetch 80 cents per pound. During that time, a farmer could sell quality shade tobacco for 10 times that price.
"As an agricultural investment, it was very, very profitable. Now, the challenging side is it's a very complex industry where there's as much art and craftsmanship involved in the growing of shade tobacco and the development of a seed," Piotrowski continued. "And the most complicated is the curing and the aging process. … There's quite a bit of craftsmanship to it."
But the locals who grew up working with shade tobacco weren't aware of the craftsmanship; they just had to make sure they didn't poke a hole in the leaves when they were working. That would render them useless for the cigar.
The industry had its own vocabulary and hierarchy, and at the bottom were the "luggers," youngsters who grabbed the freshly picked green leaves from the "primers" and ran them to the "barge," a wagon that would take them to the tobacco barns for drying.
"A 'lugger' was a kid, say 10 to 12. Girls and boys, black and white. All worked together," recalled Bobby Ray Durden, who grew up on his father's tobacco farm.
Primers were usually teenagers and men who would stand at the plants and hand a stack of leaves to the luggers (some farms called them "toters") to run up the row of plants to the barge.
"Us luggers kind of graduated up," said Nick Bert, whose family owned the Bert Brothers tobacco farm in Scotland, a town south of Havana where county roads 270 and 159 meet. "Primers would stack 'em up until they got a pretty good stack, and if the lugger was dilly-dallying around, they'd start hollering at you."
Mules or tractors dragged the barges to the tobacco barns where they would be unloaded by "table waiters," who would transfer the leaves to "stringers." These women would thread about 30 tobacco leaves onto a string and attach them to a stick brought in bundles in stacks of 50 by "stick boys" and then hang them on a rack. Ultimately, the sticks would be collected by "rack toters."
"They'd take it from there and carry it to the guy that was handing it up to people in the barn because they started at the top," Durden said. Barns would be filled, top to bottom, with leaves on sticks to dry out and cure.
"When you started at the top, you were way up there, and you probably had four or five guys on tiers spaced all the way down so the bottom guy on the ground — they called it "punching" — he'd hand the stick to the first guy and pass 'em up to each other," Bert continued.
Havana-born Nell Cunningham recalls transferring tobacco from the wagon to the stringing tables when she was in high school. Now 92, she's active in the historical society and reminisces with other members, most of whom worked in tobacco, too.
"I made a dollar and a quarter a week, and they paid you on Friday in one of those little brown envelopes," she said.
When she explained this to folks 30 years younger who once worked in the industry, she said, "They all laughed. They are a lot younger than I am, so they made five dollars a week, but I can remember, a dollar and a quarter."
'It Was Not A Party'
Shade tobacco in Gadsden County dates to before the Civil War when plantation owners used slave labor to cultivate the crop.
After emancipation, sharecropping emerged as a widespread agricultural system in the South, and written accounts say it remained part of the local shade tobacco industry until at least the middle of the 20th century.
Debt peonage, a practice that kept workers in servitude, continued in the industry "certainly up until World War II," Robert T. Pando wrote in a 2003 master's thesis available online from Florida State University Libraries.
Titus Brown, a professor of history at Florida A&M University, said debt peonage persisted in northern Florida and southern Georgia agriculture up to the civil rights movement. Asked if that included Gadsden County's shade tobacco industry, Brown said: "It was all over. I don't know how that would have escaped it."
Pando's 2003 thesis told of one former farm worker who recalled that she, her siblings and other workers were not allowed to speak while on the job. "We were indentured servants," she recalled in the paper. Another woman described the work as 'oppressive, exploitive … but with beauty.' "
Piotrowski, the co-chair of the Havana History & Heritage Society, acknowledged problems in what he called isolated shade tobacco communities. "While the communities are very connected," he said, "they're very isolated. A farm here, a farm there."
Nora Brown James said she worked on a Gadsden County shade tobacco farm beginning at age 6 in the early 1940s. She recalled multiple families living in farmhouses and that "everybody was just sort of like a big family on the farm."
Her mother and grandmother would string tobacco onto sticks, and she'd pick up any leaves that fell, she said.
"The work was tough, but the workers were treated fairly, I would say," James said in her Havana home. "Nobody was abused or anything of that sort."
But African Americans had to take special care not to do anything to upset farm owners or any other whites. In a new book, Born and Raised in Sawdust: My Journey Around the World in Eighty Years, African American author Lewis Thigpen, from the Gadsden County community of Sawdust, shares a story from the late 1940s when his father sharecropped with a white Gadsden County farmer.
Thigpen writes that his father scolded him for getting into a confrontation in a tobacco barn with the eldest of the farmer's sons. Thigpen says he was 9 at the time.
"In retrospect," Thigpen writes, "I understood that my father was only trying to protect me, because it didn't matter that the white boy was older or in the wrong. If that white family chose to punish me — or my family for that matter — the law was not going to protect us. Raising black children in the Jim Crow South, our parents walked a thin line. They wanted us to grow up strong and proud, yet they feared for our safety and our very lives if we challenged white people in any way or spoke up against racism and mistreatment."
Thigpen adds that the two families got along well and that his family maintained a close relationship through the years with the farmer's eldest son.
Asked to share his overarching memory of his experience in shade tobacco, Thigpen told Tallahassee Magazine in a phone interview: "One of the things I would say is child abuse. We had those kids working on the field 5 years old and up. I would call that child abuse now. Everybody I think would call that child abuse now."
He added: "I'm an old man now, but I don't know how I survived this long, because during the early times when we were working on those farms, they were dusting the poison. We got poison all over us working in those fields."
Dr. Thigpen, 81, made his comments in Gadsden County, where he was visiting during the holidays. He lives in Alexandria, Virginia, where he landed amid a notable career in research and teaching as a mechanical engineer.
In "Voices of Havana," a video production of the Havana History & Heritage Society, Nora Brown James says: "I tell everybody we were rich in that we had love for each other, not only our families but our neighbors. When you're in an environment where everybody is concerned about everybody, that makes for a wonderful environment."
Lorenzo Myrick, who worked in shade tobacco as a child and graduated from Quincy's Shanks High School in 1978, said he and other African Americans had "a way of taking lemons and making lemonade in life."
"So, surely, you're going to remember 'good' times because you're going to make your bad times good, to make life worth living," he told Tallahassee Magazine. "It was a way of life. You want to make some money. You go out there and work hard. But it was not a party out there."
Myrick said he worked as a tobacco lugger, or "toter," in the late 1960s when he was 8 or 9. He recalled having to work with "whatever nature presented," including snakes.
He said he made about 75 cents an hour.
"No, life wasn't fair," he said. "But it was what we had to do to live, to survive. We weren't thinking about the fairness of it. It was presented to us, and we made life work."
Everybody in his family worked to support his mother, he said, and he had siblings who would choose the tobacco fields over school. Children in other African American families would do the same, he said.
During those segregated times, African American students who decided not to quit school were let out of school early so that they could help with the tobacco planting and growing.
"Black people were conditioned to make the best out of whatever situation we were in," Myrick said, "and that's how we got to where we are today, through making good out of bad times."
White folks emphasize their contributions as well. Thelma Todd Conner, shop manager of the Havana History & Heritage Society's Shade Tobacco Museum, recalled working in a shade tobacco barn "from dawn to dark."
"I grew up here, and I grew up poor," she told Tallahassee Magazine. "But I didn't know I was poor."
Piotrowski, of the Havana History & Heritage Society, emphasized "the economics and reality of the time."
"The people who lived here, they didn't have the capability to move somewhere else, and they had to work and make the most of what they did, and the farmers tried to accommodate that," he said. That "made the industry viable, because it couldn't happen without a workforce, including the farmers themselves, with blacks and whites together. That was the reality that was here."
The Harvest Season
The school year was scheduled around the harvest season, which started in late May and lasted about five or six weeks. "A lot of times you'd be done by the Fourth of July, sometimes you wouldn't," said Durden, who grew up on his father's tobacco farm.
The work was only done on weekdays. Saturdays and Sundays, everybody was off.
Those who worked as children recall two things: heat and dirt.
"It was hard, dirty, stinky, hot sometimes, wet if it rained," said Donna Warlick, who started working in the barns when she was 7. While some historical photos show barefoot children, Warlick was sure she wore shoes.
"Some of the workers dipped snuff, and if you stepped in that, it was not pleasant," she said. "I learned to dip snuff from one of the ladies." The men chewed tobacco.
Around January, plants sprouted from tiny seeds and then were replanted until they grew 6 to 8 inches tall.
Once plants were in the ground, workers would "bud poison," a process explained by Jim Campbell in the book Something Gold, a collection of interviews about Gadsden County's shade tobacco era.
"Each of them had a little bag around their waist with arsenic of lead," Campbell told author Kay Davis Lay. "They'd mix arsenic of lead with cornmeal and then open the bud with two fingers of one hand and take a little poison put in there with the other hand. They'd just wipe their hands and eat lunch." It was banned as an insecticide in 1988.
Wires or wood slats held up the shading material over the plants. A piece of string was attached to the wires, and the tobacco was wound around the string as it grew to help keep it straight.
At harvest time, the first leaves primed were the "sand leaves," so called because rain would cause sand and dirt to be kicked up onto the leaves. "Oooh, that was a dirty job," Bert said.
The best-quality leaves were the "middles," named for where they grew on the plant, while the lowest-grade were the "tops," thicker and less pliable because they were more exposed to the sunlight.
The tobacco would spend about a month in the barns curing, and farmers took care to make sure their leaves were not too wet or dry. In the early days, charcoal fires were burned on the ground inside the barn, which later led to oil-fired burners.
Fire was always a threat, and you could count on one or two barns burning every year.
"If a tobacco barn caught on fire, you didn't try to put it out," Durden said. "You just tried to prevent it from spreading."
Once dried, the tobacco was taken down from the rafters and removed from the stick, and the stems were wrapped with the string to make a "hand" of tobacco. The hands were layered and trucked to packing houses, many of them in Havana. The tobacco would be weighed, which was how the farmer would be paid, but not until the tobacco had been processed and shipped to the buyer.
Year-round work was available for "strippers," women who removed the thick center stem and placed each side in a stack. Left sides and right sides were not mixed and were rolled differently. Those leaves were baled and stored until a buyer wanted them shipped. Well preserved, they could stay in the warehouse for years.
Farmers had one payday a year, usually around November. In some cases, manufacturers such as Hav-A-Tampa would advance money, which the farmer could draw upon to buy supplies, pay workers and pay household expenses.
"We always hoped you settled up (with the buyers) before Christmas if you had anything coming," said Durden, whose family farmed about 15 acres. "And you were already starting another crop before you knew what you got for your last crop, really more or less."
Rolling to an End
By the late '60s, Havana's shade tobacco business was beginning to decline, and the economic underpinning of the town would be pretty much gone in less than 10 years.
"Probably five or six years you could see the decline coming," Bert said. "But people hung on as long as they could."
Why the decline? New wage and labor laws here meant that the crop could be cultivated more cheaply in Central America and South America. Durden cited other reasons.
"One, cigar consumption went down," he said. "Another one, they developed what they called a homogenized wrapper, which you could take any kind of tobacco … run it through a process and it would come out like a sheet of paper and put it on particularly the cheaper cigars."
"Of course, it devastated the economy," Bert said of the decline of shade tobacco. "There was nothing going on agriculturally, and it just killed the merchants in the whole county, not just Havana. The farmers, they didn't know what to diversify to."
While some Gadsden County farmers turned to tomato farming after a while, some had relatively small farms, which wouldn't be profitable to plant field crops such as cotton or peanuts. They could hardly foresee the Gadsden County agriculture industry of today, as it pins much hope on returning to the business of growing and processing leaves — hemp this time around.
After integration, many workers, black and white, moved elsewhere to find work and schooling for their children. Others were able to afford higher education — and they moved away too. Still others didn't have the means to move and have stayed.
After finishing high school, Lorenzo Myrick worked as an electrician and later studied massage therapy. He said he had trouble making money as a massage therapist and chose to return to school.
"And now," said Myrick, 61, "I am a senior at Florida A&M University."
Nell Cunningham and her husband, Sam, moved to Chattahoochee in the '50s. She taught school and raised their two children. Sam, a psychologist, worked at Florida State Hospital.
After retirement, they returned to her old hometown in 1987. They now live "up near the country club."
On land that was once a shade tobacco farm.
Peter T. Reinwald contributed to this report.