Recycling April's Showers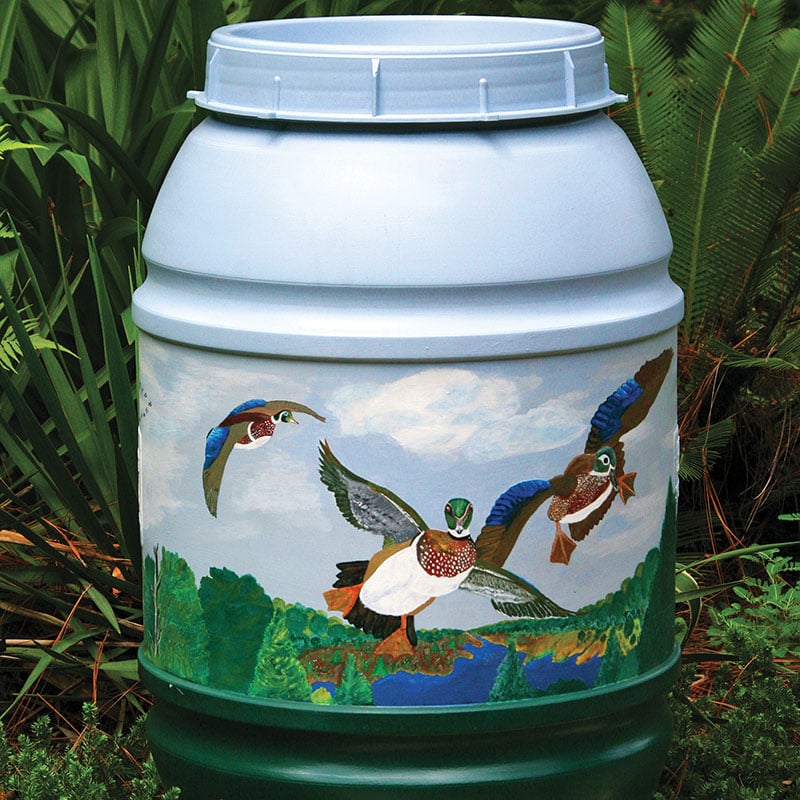 Rain barrels can save water and money, preserve water for irrigation and reduce stormwater runoff. Rainwater is often lost as it pours from downspouts to ditches, lakes and ponds. Water harvested from roofs can save about 1,300 gallons for irrigation during peak summer months and be used for washing cars, cleaning floors or watering plants both indoors and out.
The Northwest Florida Water Management District encourages water conservation through brochures available at nwfwmd.state.fl.us, including one that describes how to use a rain barrel; it can be viewed directly at www.nwfwater.com (Check local restrictions and county permits).
Local feed stores sell barrels for less than $20, and other vendors sell ready-to-install rain barrels for $30 and up (the one shown here was painted by artist Jim Pitchford). You also can try adapting a heavy-duty garbage can. An eighth of an inch of rain draining from 1,000 square feet of roof will fill a 60-gallon barrel – and the water in turn will drain directly into the ground through a soaker hose in eight to 10 hours.
Kindergarten students at Gilchrist Elementary School painted a rain barrel, which was installed to stop water from washing down a slope. Teacher Kathryn Law has worked with classes for years, painting and raffling rain barrels to fund award-winning rain gardens. The projects are sponsored by the Tallahassee Garden Club's Junior Gardeners program.
To conserve water in other ways outdoors, plant drought-tolerant native species on sites they love and water lawns only when needed before 10 a.m. or after 4 p.m. to minimize evaporation. Inside, be sure to use sink stoppers, fix leaky faucets and wash only full loads of dishes and laundry.