Queen of the Quadrupeds
Champion for animal advocacy and feline fancier Rachel Williams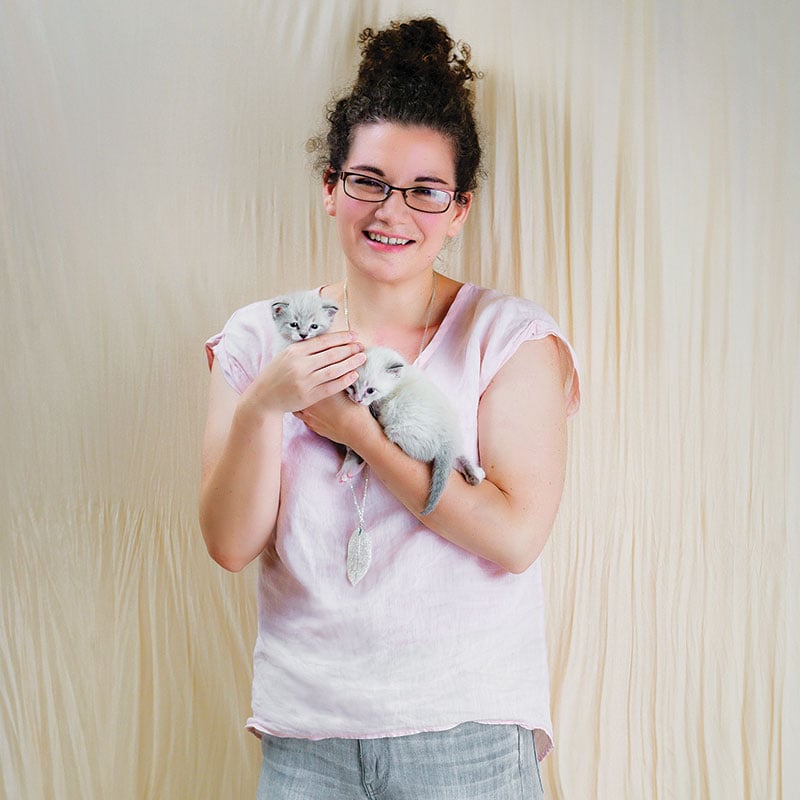 Elle Belle Photography
Rachel Williams with bottle babies Bianca and Buttercup
Working at the Leon County Humane Society certainly has its perks — just ask Rachel Williams. Not only does she have a cat in her office, she gets to hang out with all sorts of furry friends on the regular.
"I just spent some time outside taking a video of a puppy and a cornhole, so I'm a little sweaty," laughs Williams, reaching down to pet her officemate, a large brown tabby named Hoss.
A self-proclaimed cat person, Williams has had an affinity for felines since, well, the beginning.
"My first animal was a cat named Daniel that slept in my crib," she smiles. "I was kind of an awkward kid. Spent a lot of time in my head. And cats just sort of got that."
Growing up, Williams worked at a number of shelters in her native Key West, expanding an already burgeoning résumé in animal welfare. She was hired part time at the Leon County Humane Society and, in true pull-yourself-up-by-the-bootstraps fashion, worked her way through college, graduating from Florida State University with a degree in graphic design in 2010. She joined the Humane Society team full time that same year.
Serving as communications designer for the nonprofit organization, which secures adoptions for more than 500 homeless pets each year, Williams has merged her extraordinary passion for animal advocacy with a dexterity for graphic design.
This means she dons a hodgepodge of hats. Williams frequently moonlights as animal caretaker, adoption counselor and foster parent (not mandatory, just "part of who you are when you're here"). And that's in addition to managing the official website, running social media feeds and writing animal profiles.
It's quite the impressive balancing act.
"Honestly, what's required to do this job is a sensitivity to the voices of our community, of the people who work here, of the people who support us and are interested in what we do, and of the animals," Williams explains. "Graphic design is about telling stories, at the heart of it. That's what I do here every day. I tell a story."
Unfortunately, happy endings are not always guaranteed. Recalling past rescue missions to remove pets from harmful hoarding environments, Williams reveals the frustrations of witnessing animal abuse and neglect.
"We see some of the best of humanity and some of the most disappointing," she admits. "It's just so saddening to see somebody think they're helping an animal and have it end up just awful, sick and sad."
And too often, an animal's stay in its forever home has a premature conclusion.
"You try and work so hard to make sure they're happy, make sure they're healthy, make sure they've got the best chance at a good life and that they're going to a good home," Williams says. "And sometimes they end up returned."
Bearing the at-times heavy emotional burden of animal advocacy is made easier with a close-knit "family" of Humane Society co-workers. Together, they celebrate the numerous successful adoptions that do occur. They even have the pictures to prove it.
"That's what gets us through the day," she smiles. "That's how we handle it. It's a matter of focusing on the good stuff and knowing there's only so much you can control. There's only so much you can do."
Seeking to enhance the adoption process, Williams is honing her tech prowess to revamp the Humane Society website with a brand new look.
Her secret weapon? A kitty cam.
"It's a live webcam that allows you to interact with the cats with toys through the online interface," she reveals. This innovative technology will allow potential pet parents to get to know their future felines.
Because as Williams knows, "Cats — it's all about personality."