Pumping Life Back into Waterworks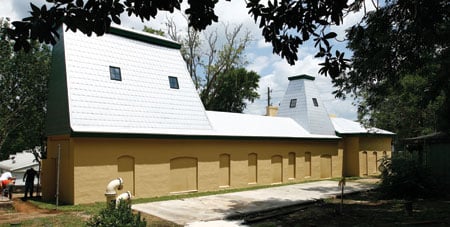 Restoration Plan Moving Along for City's First Public Water Supply Building
Pumping Life Back into WaterworksRestoration Plan Moving Along for City's First Public Water Supply Building
By Jason Dehart
There has been talk about doing something with the city's old "Waterworks" building for years – including turning the historic public works building into a restaurant. Now, Gil Ziffer says the resources may be in place to actually go beyond the talking phase.
In fact, the Florida Department of State and the city of Tallahassee have given a total of $700,000 in grants for the first phase of the project. The money received so far is being used to re-roof and stabilize the 100-year-old structure, located at the corner of South Gadsden and East Gaines Street.
Ziffer, vice president of Capital City Ventures, a nonprofit organization dedicated to the redevelopment of historical properties in downtown Tallahassee, enthusiastically extolled the virtues of the Waterworks project during a kickoff ceremony announcing the start of the renovation project in the Spring. Capital City Ventures is using the Waterworks as a "starter" project.
"Isn't this cool? Isn't this a great building?" Ziffer said. "I've had the chance over the last several years to work with several different developers, and we sit in meetings and talk about town centers and restaurants spaces. We keep coming back to 'Let's create something that looks old; how do we make that brick look really old?' But here we have it in front of us – there's no reason to re-create it. It already exists."
Jon Moyle Jr., president of Capital City Ventures, said it is important for communities to hold onto these old historic buildings and, if possible, find new uses for them.
"This one has been recognized as having historical value, and the Florida Department of State has provided monies to it," Moyle said. "It's one of the older buildings in Tallahassee.
From my perspective, you have to, as a community, make a judgment: Do you try to preserve things with historical value or knock them down? I say preserve them. Having been in other communities that have made good use of good old historical buildings, I know that to do business or have a meal in an old historic building lends a different, attractive ambience."
In 1885, a proposed waterworks bond was rejected by Tallahassee voters – an outcome that led to the resignation of three city council members. Four years later, a Philadelphia company was granted a charter to set up the Tallahassee Waterworks as a municipal water source for the city. The company took out a 99-year lease on some property southwest of today's Myers Park, and property also was bought on the corner of Gaines and Gadsden. That's where the pump house was built, according to the Historic Tallahassee Preservation Board.
All was not well with the pump house in those early days. Back then, private water companies tended to make water quality second in importance to profits, and the city struggled with water quality as long as the private company was in charge.
However, that didn't stop the well from expanding and growing along with the city's population. An artesian well was dug on site to provide additional clean water, and a small, wood-frame house with a tin roof was built to cover the well. An additional well house was built behind the first well, and in 1904 the building was remodeled with brick and truncated roofs. This is the Waterworks as we see it today.
In 1908, the city bought the water plant for $75,000. In 1916, a new, 400,000-gallon water reservoir was installed in a blockhouse behind the Waterworks. Later, in 1923, the plant was "electrified," a new concrete reservoir was built and other improvements were made, but from 1926 to 1930 the outside appearance remained the same. A fourth well was built in 1927, and in 1930 a fireproof blockhouse was built behind the Waterworks. The blockhouse housed the city's last well.
In 1957, the city abandoned the building and abandoned the last well a year later. The building then was used for storage for many years, but in the 1970s several proposals were floated that would renovate the old building into a restaurant. These ideas washed out; then, in 1991, the city applied for some preservation grants to stabilize the aging structure before it went completely down the drain.
Moyle said the final cost for renovating the Waterworks won't be known until an occupant is found for it.
"It's had different estimates but (the ultimate cost) will depend on what use is made of it," he said. "We're looking to identify a suitable tenant."
Capital City Ventures had hoped to receive an appropriation of $400,000 during the most recent legislative session. It passed both houses, but Gov. Charlie Crist vetoed the request.
Moyle, however, remains optimistic.
"I think having that money available would have been a real boost, but I don't think it is in any way a severe blow to the project," he said. "We're going to move forward and bring it through to fruition. We try to see the glass being half full. We were disappointed, but the governor has to view things from a different perspective. We will work hard to make this a reality."
To that end, Capital City Ventures has applied for a $350,000 grant from the state Division of Historical Resources. Moyle said he will find out in December if his organization will get that money.