Providing Care for Caregivers
Program founded at FSU eases their burdens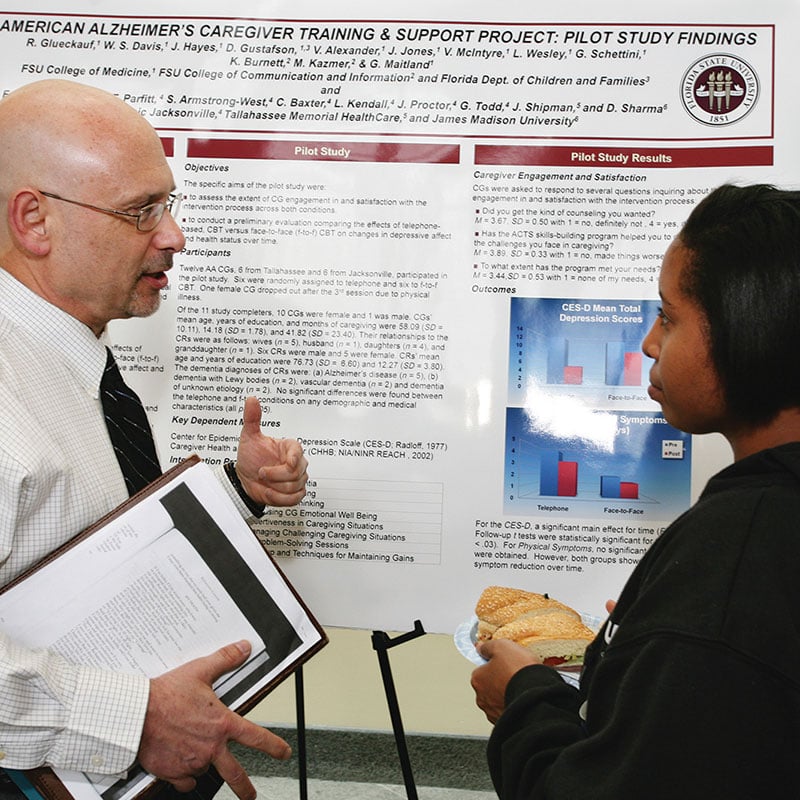 When his wife's routine visit to a physician's office located just 10 minutes away stretched into a four-hour absence, retired American Methodist Episcopal pastor and Florida State University College of Social Work educator Dr. James Proctor realized something was off.
"We'd been married for 59 years when this happened," recalls Proctor. "I observed behavioral changes in my wife and intellectually you see things, but emotionally and psychologically you kind of blot it out. Like, this is not happening to my wife."
Behavioral fluctuations had become increasingly apparent. While she had had a spotless driving record for years, Proctor's wife was in three automobile accidents in just a few months.
"We live very close to I-95 in Jacksonville," Proctor explains. "So when she had not come back in a half hour, I panicked."
His wife finally returned home. About to rush toward her, Proctor halted, noticing a "very different expression on her face."
"How did the doctor's visit go?" he asked her calmly.
"I didn't go to the doctor," she replied. Forgetting her exit on I-95, she had driven to Georgia.
Over the next three months, Proctor attempted to care for his wife as her Alzheimer's Disease progressed.
"I lost 15 pounds," remembers Proctor. "She became increasingly aggressive. She would sleep through the day and stay awake all night."
After several falls that each landed his wife in the emergency room, Proctor approached a friend at the Mayo Clinic and described his situation. He was introduced to the African-American Alzheimer's Caregiver Training and Support Project, or the ACTS Project.
Founded by FSU College of Medicine professor Dr. Robert Glueckauf, the ACTS Project connects caregivers to telephone-based and face-to-face cognitive behavioral therapy. The comparative study aimed to provide skills training while alleviating caregiver stress and mental exhaustion.
"Caregivers have to learn how to care for themselves," says Proctor. "If you don't get the help for yourself, you are likely to die before your love recipient."
Growing impassioned about caregiver advocacy, Proctor became a facilitator, coordinator and recruiter for the ACTS Program. Now, he serves as coordinator and advisory board member for ACTS 2, a two-year study that is integrating lessons from the inaugural program into the African-American faith community. In equipping church leaders with the same skills as professional counselors, ACTS 2 provides expanded reach and impact.
"As we are taught and trained and held accountable to sit with people who are caring for loved ones and relate to them in a spiritual manner, we help them become stronger," says Proctor. "It helps them to recognize that there's a difference between being whole and being cured."
As a cornerstone of the African-American community, the church also serves as an educational space that can serve to help people move past traditional, but misguided, beliefs that may make caregivers reluctant to place a loved one in an institutional setting.
"It is very, very expensive to place someone in a facility," Proctor explains. "And there is a kind of taboo in our community. You can't put your loved one away. You don't do that to a loved one. There needs to be a major educational thrust in our community that lets people know that you don't put people in a nursing home because you don't love them. You put them in a facility so you can help better care for them."
At 87 years old, Proctor realizes he lacks the physical capacity to care for his wife. She now lives in a nursing facility.
"I see my wife every day," says Proctor. "I serve her food every day. I go in the morning one time. I go at lunch another time. I go in the afternoon. I am there any time she is put to bed. I do not have the strength to lift her, to bathe her, to dress her. But I still care for her."