On The Move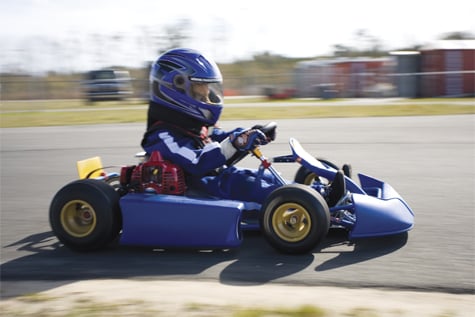 The Monticello Karting and Motor Club is a go karter's dream
Ladies and Gentlemen, Start Your Engines …The Monticello Karting and Motor Club Provides an Exhilarating Good Time
By Erica Bailey
Floridians are no strangers to racing. Each February, thousands make the pilgrimage to the Daytona 500 to enjoy the thrill of the track as spectators. But just 30 minutes from Tallahassee is the Monticello Karting and Motor Club, a 1.1-mile drive-it-yourself go-kart track that – while not NASCAR fast – still gives novice racers all the speed they can handle.
Jean Christophe Courreges and Tim Phipps started talking about opening a track four years ago. After looking for property in Gadsden, Leon and Jefferson counties, they finally settled on 100 acres in Jefferson County. To help design the track, Courreges enlisted the help of friend Juan Pablo Montoya, a Formula 1 driver and winner of the Indianapolis 500. Since opening in March 2006, the sport has grown as fast as … well, you get the picture.
An Auspicious Beginning

Courreges, like many of his customers today, got involved with karting through his 11-year-old son, Will.
"I took my son to drive karts in Europe, and I remember how fun it was," he said. "I used to race when I was 18, 19 years old."
A native of France, Courreges has worked as a boxing promoter for the past 20 years and decided to take a year and a half off to complete the project and get it running.
Once Courreges and Phipps obtained the proper permits, they began building the track. Literally.
"We built it physically," Courreges said. "I never drove a (heavy) machine in my life, and we drove machines and rollers and bulldozers – we did it ourselves. The only thing we did not do was the paving … That's just rewarding for us, rather than paying a company to do it for us."
Montoya's involvement goes beyond the track design. The karts used in Monticello are an Italian brand called Easykart that Montoya imports to North and South America.
"When we told Pablo that we were thinking about building a track, I think he saw a good (place) for his brand to grow in America," Courreges said.
Karting, while not as big in America as it is in Europe and Asia, is gaining ground.
"Karting is the basis of pretty much every racer in the history of racing," Courreges said.
And Monticello is looking to make its mark on the karting map as one of the largest tracks in the United States.
"The president of the WKA (World Karting Association) came here and called it a big circus," Courreges said. "It's a big track – it's as big as it's going to be for karting."    
In the Driver's Seat

With one trip around track, you're hooked. Start with the driving school to get your first taste of being behind the wheel of a go-kart. For $35, you get an hour-long driver training session in which you learn about the karts, the equipment, the track and the rules of racing. The school is good for one year and is a must if you want to rent the speedway's Club Karts.
Low to the ground, with speeds up to 40 miles per hour, the beginner's Club Karts are fun and pretty hard to flip over – a good thing to know when you find yourself losing control. Safety equipment also is provided with the rental.
The track isn't just for family fun. It also provides reservations for private parties and corporate events. It's a good way to create healthy competition and have fun doing it.
"People don't realize that you can do it from 5 to 95, if you're in shape," Courreges said. "Some come as a hobby and they just get behind the wheel … Physically, it's tough to drive that fast – it's hard. And there are a lot of guys who do it and love it."
And coming from personal experience, the Club Karts definitely are a fun way to get started on the go-kart track. Easy to operate – right foot go, left foot stop – they look like bumper cars but go a lot faster. I got a chance to test out the track, along with three coworkers, and even though the track was wet (leading to several spinouts), it was exhilarating. We all left with huge smiles on our faces and a plan to do it again.
The next big step is to buy your own kart. For racers as young as 5 years old, the Easykart Kid Kart starts at $1,795 and comes completely assembled. For older drivers, the karts get bigger and faster. Retailing for $5,995, the Easykart Shifter is the top-of-the-line for kart drivers ages 15 and up, and speeds can get up to 100 miles per hour.
"It builds confidence," Courreges said. "You learn to drive, which is helpful in life. The typical client is a 40-year-old man with a couple of kids. They bring their kids first and then they look at it and say, 'I can do it too.'"
Alan Hanstein, a software consultant in Tallahassee, was originally looking to race karts himself; his 7-year-old son, Hunter, is now the family racer. "It's been an incredible experience so far," Hanstein said. "It's a great way for parents to spend time with their kids. The kids all have this great camaraderie; they're all part of a group."
The Hansteins were also impressed by the safety of the track – a must for any parent watching their child get behind the wheel of a vehicle. "The facility is amazing, top-notch," Hanstein said. "The barriers are very extensive." 
All the go-karts have to be WKA-certified to race. The engines are sealed on the karts so that they can't be enhanced, keeping it an equal competition. It takes skill, concentration and practice to win a race – and the effort is worth it.
"In boxing, you make money, but usually when you finish working, everyone is mad at you one way or another," Courreges said, referring to his original career. "The difference here is they give you a smile on their faces."
Gaining Popularity

Spread mostly by word of mouth in the karting community, the Monticello track slowly is growing more popular. On any given weekend, racers will come from throughout the South. Some bring their own karts, and to many it's a big event.
The track will be the setting for the Grand National race in September as drivers compete with others from North and South America to be eligible to compete in the World Championship, held in Italy. The winner of Monticello's Grand National will get a paid trip to Italy, a kart and a mechanic – and a chance to drive in the World Championship.
The big races should provide a significant boost to local economy.
"We are going to fill up the hotels, fill up everything there is," Courreges said. "You've got hundreds of people who are going to come for four or five days and spend their money there. It's up to Monticello to grab the opportunity."
Courreges and Phipps are hoping to make the track more than just a place to race go-karts. They want to develop the area around it to make it beautiful to visit too.
"This is a place where Tim and I and our children want to have fun," Courreges said. "We want to keep that nature kind of look with green grass and colors … When you go there, it's just peaceful. That's really what we're looking for."