Not-So-Haunted Mansions
Vacation Homes at Walt Disney World are a Family Attraction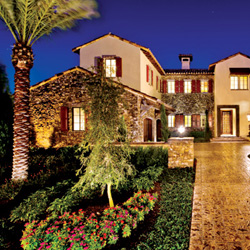 Courtesy Golden Oak at Walt Disney World
This 6,700-square-foot, five-bedroom house includes five full baths, a wine room and a separate guest suite overlooking the pool. Every home has a gourmet kitchen and an expansive courtyard with a summer kitchen.
As any seasoned parent/grandparent knows, with their children's busy, working lifestyles, visits home can become few and far between. But a second home in a vacation paradise is sure to attract far-flung family for more frequent visits. And what could be more attractive than a vacation place located in the Walt Disney Resort?
That's the kind of lifestyle new residents can expect at Golden Oak, a new master-planned community just three miles from the Magic Kingdom.
The lifestyle begins with the splendorous, detached homes themselves. Enter through the heavy wooden doors of any Golden Oak manse and you'll find a jaw-dropping view of spacious, monastic galleries, high ceilings, massive ceiling timbers and marble tile floors. Kitchens, living rooms and patios open before you with all the space and grandeur of a Grand Canyon vista. Fixtures, appointments and furnishings are lush and inviting. In fact, these magnificent works of classical art are built for one purpose: entertaining.
"We expect all our residents to do lots of entertaining," said Disney Destinations spokesperson Stacey F. Thomson. "These are places for multigenerational families, places for making family memories."
Thomson said Golden Oak is specially designed for those who may have a fondness for all things Disney and want to have a place where the family can gather — and that can be passed down through the generations. "A lot of buyers are already familiar with the Disney brand and are Disney Vacation Club members," she said.
And while it would seem logical to live here year-round, that isn't necessarily the case for Golden Oak buyers. "These are second and third homes, but our buyers will have the flexibility to stay as long as they like," Thomson said. "We expect them to be here more often than not." The homes cannot be rented out as income properties.
Golden Oak will initially consist of three types of single-family homes. Village homes capture the spirit of the Mediterranean on lots up to one-quarter acre in size. Estate Homes sit on half-acre lots and will feature old world architectural styles, including Tuscan, Spanish Revival, Venetian, Italianate, Dutch Colonial and Island Colonial. Grand Estate Homes will accommodate the needs of larger families and will live up to their name. Prices start at $1.4 million and go up to $8 million.
The initial construction phase will offer 81 home sites featuring four distinct neighborhoods, all built by custom homebuilders. At build-out, over the next eight to 10 years, Golden Oak is anticipated to have approximately 450 homes. The master plan was developed by Walt Disney Imagineering, which is famed for its magical place-making, and you'll find the Disney touch in some of the smallest details, such as a Mickey-shaped tray ceiling in a child's room and hidden Mickeys in the interior and exterior finishes.
Courtesy Golden Oak at Walt Disney World
The grand courtyard homes of Golden Oak are notable for their impressive open spaces. Every pool, master bath, dining hall and master bedroom is its own special retreat. Residents here are only minutes away from the Magic Kingdom, but these majestic settings have a magic all their own.
In Kimball Trace, the charming Tuscan-inspired village of stately courtyard homes, the average estimated home size is 2,700–4,000 square feet. But if you feel the need for something bigger, go for a home in the Carolwood village, which will feature homes from 5,000 square feet to 12,000 square feet. Average home size is 6,000 square feet.
No two homes will be the same, but will share some basic features, including a high-tech control panel in each master bedroom suite (and accessible remotely via iPad or smartphone) that handles security, temperature settings, video systems and sound systems.
Residents will be spoiled by all the special attention and services available to them as residents. They'll be afforded the special privilege of having Disney's famed guest service at their command, even when they're away. A dedicated team will help arrange personal, residential and resort requests such as move-in services, pre-arrival and post-departure home maintenance services, door-to-park transportation, Disney parks and special event tickets, golf tee times, dinner reservations, private VIP tours, in-home parties and dinners, and more.
They'll also have access to a 16,000-square-foot clubhouse called "Summerhouse," featuring a private dining area, lounge, family room, pool, outdoor fire pit, courtyard, event lawn and park. Also coming soon to Golden Oak: a 445-room Four Seasons Resort hotel and a golf course designed by Tom Fazio. From the glass-enclosed rooftop restaurant of the Four Seasons, guests will be able to see Disney fireworks while they dine.
For more information, go to disneygoldenoak.com or call Golden Oak Realty at (407) 939-5577.