No Mere Comic Salesman
It's a bird, it's a plane — no, that's Ned Stacey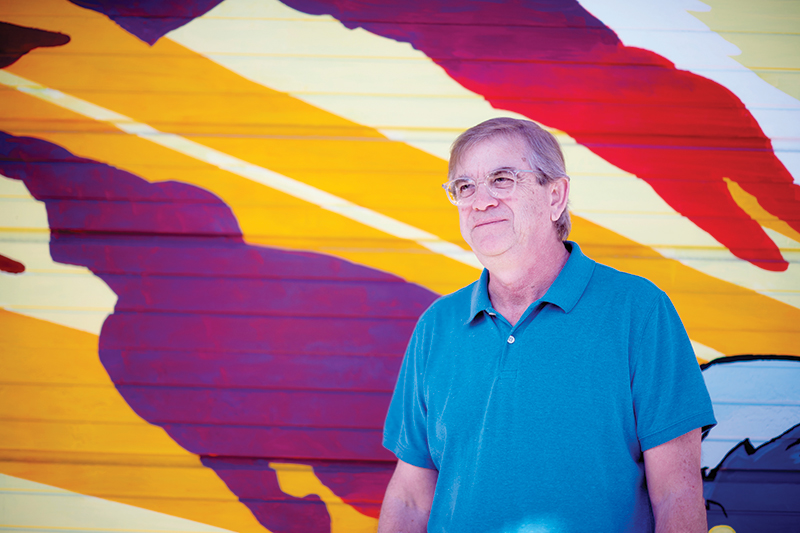 Ned Stacey can leap stacks of comics in a single bound. His store is filled to bursting with games, collectibles and graphic novels. With a warehouse of over 80,000 comic books, choosing what to display in his shop is a challenge. But with over 40 years in the business, Stacey has a highly refined gift for understanding trends.
Not unlike an origin story out of the comic books he sells, Stacey discovered his destiny by happenstance. Before opening Cosmic Cat Comics, he followed his passion for art.
"I've always done photography," Stacey said, noting that he received his first single-lens reflex camera from his father at the age of 10. Dad was the director of the medical center at the University of Virginia and had a love of film and photography that he passed on to his son.
Superheroes overcome many obstacles and battle cosmic forces to become who they need to be to best serve their communities — or save the world. Stacey's journey was shaped by loss at an early age.
When he was 14, his father died suddenly while on a business trip and was discovered a couple of days later, alone in his car on the side of a road. Stacey was motivated to pursue their shared passion for photography for the both of them. He joined the yearbook staff in high school and has studied the arts throughout his life.
Stacey's grandfather, Alfred E. "Ned" Stacey, was a co-founder of the Carrier Corp., the company that pioneered air-conditioning. When he died in 1975, Alfred left his grandson a sizable inheritance. Stacey used some of that money to purchase a vintage car and another chunk to go to college. He enrolled in the University of Georgia Arts School in the '70s, intending to become a commercial photographer, but left after his sophomore year.
While he learned plenty of art history, drawing and liberal arts, he had not touched a camera after two years and wanted more hands-on experience, so he left college to open his first business.
Wanderlust overtook the native of Charlottesville, Virginia, and he began an entrepreneurial journey. He visited many cities across the South but was primarily focused on Florida.
"Once we came through Tallahassee, we pretty much knew we'd stay here," he said.
The university was a huge draw. There, he found employees and customers. He began his business endeavors by opening a record store, and at the time had no real interest in comic books. Ever the opportunist, however, Stacey acquired some of the inventory of a failed graphic novels store and displayed it at what was then Cosmic Cats Records. As records were replaced with other media, comic books slowly took over, and he changed the name to Cosmic Cats Comics and Records, eventually dropping Records.
He went from having no real interest in comic books to owning tens of thousands, which he will continue to sell online despite his pending retirement.
For years, Stacey would ask customers if they might want a comic book store. He was willing to give them one. Finally, a regular took him up on the offer. He's giving away the store, but he will continue with artistic endeavors.
He has a son living in Boston and another, a retired Navy man, living in Michigan. With nothing holding him and his wife here, Stacey may embark on a new adventure.
"If we are looking to move anywhere right now, it's Oregon," where Stacey would pursue collodion wet-plate photography.
Collodion wet-plate photography involves a process by which a soluble iodide is combined with cellulose nitrate (collodion). The mixture is used to coat a glass plate where an image is stored until it can be developed in a darkroom. Excess exposure to light will destroy the image. Since it was invented in 1851 and has been largely replaced, few artists continue the practice, but Stacey recently met with a collodion photographer in Oregon who is willing to teach him the technique.
Stacey is a Southwestern regional artist with paintings and photography on display at the gallery next to his store. He is active in the Council on Culture & Arts and attends regional conferences whenever possible.
"I've essentially been shown at every gallery and museum in town," he said, including shows at FSU and FAMU. He's also been to Thomasville and Atlanta and did a big show in South Carolina last year.
He received one of his highest honors as a regional artist at the Gasparilla Art Festival in Tampa, where he was named one of Florida's Emerging Artists.
He describes his contemporary art as "weird," influenced as it is by his experience in the comic universe. He has also dabbled in contemporary realism.
---
Cosmic Cat Comics
650-5 Railroad Square | (850) 224-5554
Follow them on Facebook @Cosmic Cat Comics
---