Musical Maturation
Rachel Hillman's meanderings are adding up to something good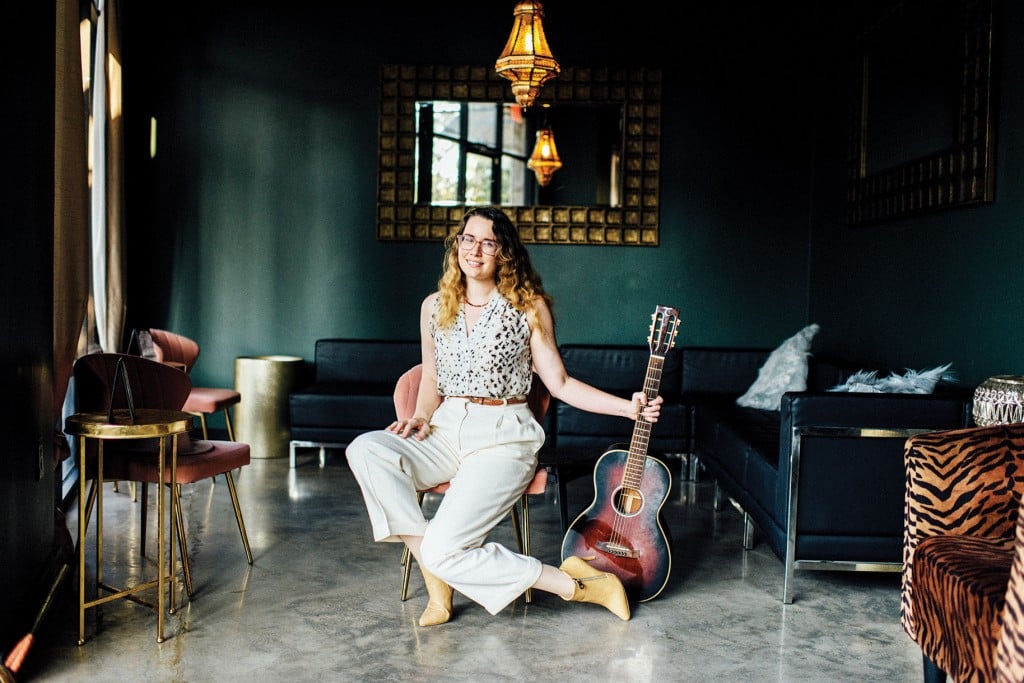 As a song, Rachel Hillman would have to be "The Fool On The Hill." And that's not bad, at all! As a vocalist, musician and songwriter, she is an inspired, happy wanderer, a fool who "sees the world spinning 'round," defined by words such as beginnings, spontaneity, originality.
Hillman's musical stops take her schlepping mostly throughout the top half of Florida —Pensacola, Gainesville, Jacksonville and points in between — with her boodle over her shoulder on a stick. Once, during a brief residence in Nashville, she continued to trek all the way back to the Panhandle for engagements.
It's a lifestyle she refers to with mild irony, as "gigging," part of the advanced, musical journeywoman's dues. But, if she keeps going the way she is, Hillman's ever-deepening talents are certain to move her from gigging to touring before long.
Her Euterpean blessings can sneak up on you. Her best arrangements are evocative, sometimes subtle, sometimes in your face and often hooked up to lyrics with the understated intensity of haiku. So far, she's put out three albums — Bonfire (2017), Roadie (2018) and Influences (2019) — plus two singles, together representing progress across a spectrum of musical genres from ingénue pop, with a pert and perky faith in soul mates and first kisses, to the Nashville bluesy-soulsy discovery that life ain't never promised you no rose garden.
Her most recent album, Influences, goes a long way to reconciling the two previous albums in a quirky and sometimes wry, Maria Muldaur-jazz style. She lightheartedly vocalizes in "A Place Where We All Can Eat" about a pathway to felicity through simple things and pleasures like sharing a meal with friends and family. It's a progression, she reflects, that "hopefully" signals the approach of her musical maturation.
Hillman puts it right up front that her childhood upbringing was a case of "split parenting."
"My father is English and my mother Bolivian. I was born in Tallahassee, lived for a while in Fort Lauderdale with my mom, and have since moved back to Tallahassee where my father still lives," she explained.
Starting at age 12, Hillman threw herself into choir classes and in the course of her high school years was a member of seven different choir groups, ultimately earning the title of "student director." She was among Carla Connors' students and dreamed of a career in opera like Tallahassee's classic soprano diva.
Hillman came away from high school with a scholarship to FSU and swan-dived into the academics of her passion. But after three years, she experienced a growing sense of alienation, possibly a conflict between the passionate and the academic in her life. Expressly, it was discomfort with the pretensions of the school's rarified opera culture. Disillusioned, she dropped out of academia and sought refuge in opera's polar opposite.
After six, prodigal, eye-opening months in Nashville, Hillman "hitched on back to FSU."
"Neither my parents nor even college could have prepared me culturally for the Nashville scene," she said. "The majority of musicians I ran into there were all trying to fit into one of the industry pigeon holes, and with my English and Bolivian background, I didn't have a clue about how to be a simple country girl."
Nevertheless, her sojourn in Nashville must have turned Hillman's focus to New World music because, back in school, her passion seemed to click into sync with her recently matriculated classes in jazz history and theory.
"I love the way there's a flow between jazz musicians, the ability to start out with a common theme, then spontaneously respond, each to the others' variations," Hillman said. "And it's American-made music! Ella Fitzgerald, Anita O'Day, Rachel Price, Gossiping Butterflies! They're great!"
Recently, a colleague described Hillman as probably the hardest working musician in North Florida. Either solo or with the Tallahassee Swing Band, Hillman's venues in Florida's capital city include The Moon, the HiFi Jazz Cafe, Bowery Station and an American Legion post.
"I'm still learning," she said. "I'm working on my voice, on my writing, on my lead guitar playing. I'm learning Spanish so that I can speak to my grandmother in her native language."
Yet, as self-deprecating as she is about her unique talents in the efflorescent Panhandle music scene, Rachel's online Reverbnation page contains more than one message like the one from an admirer who wrote, "I would love to make a song with you. I'm a singer!"
Hillman, the happy wanderer, laughs and looks about herself. Something dawns on her.
"Oh, and here's something," she enthused. "I've just recently discovered Led Zeppelin!"
Rachel Hillman performs "Tallahassee Swing" music on Tuesdays from 7:30 to 9:30 p.m. at American Legion Post #13,
229 Lake Ella Drive. She is scheduled to be at Tallahassee Nurseries for a show on Saturday, Nov. 6.