Masters of Art
FSU's Master Craftsman Studio works humbly behind the scenes, blending tradition, craftsmanship and education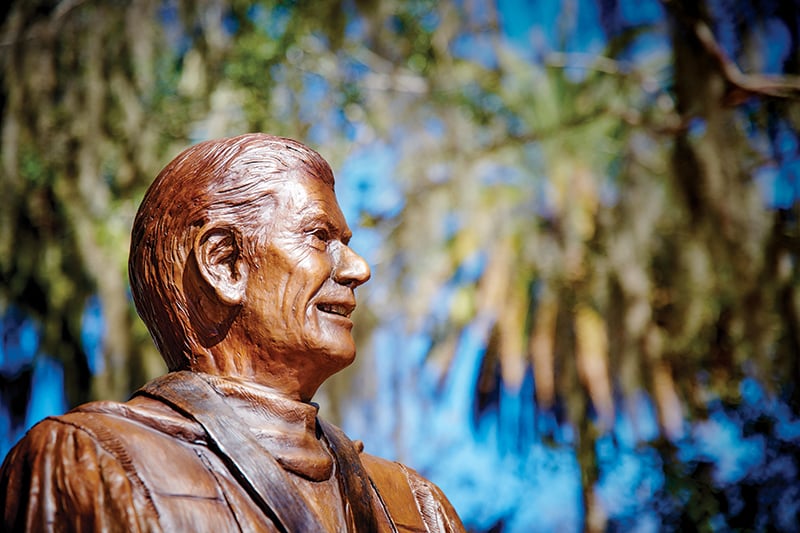 Feel like a stroll through an art museum? How about an open-air sculpture garden or the contemplation of handcrafted stained-glass windows?
If so, a tour of Florida State University may be in order. Spread across 487 acres, the FSU collegiate-Gothic style campus has, through presidents, deans and devoted alumni, evolved not only as a center of learning but also an environment that calls upon legacy and art to enliven the campus.
Iconic statues of Seminole princesses, contemplative emeritus presidents, even leaping ballet dancers brave the elements in bronze across the campus. There are artistic memorials to fallen public servants and brave airmen who attended FSU, glorious stained-glass works, bas-relief carvings and artwork molded into rounded walls. The Donald L. Tucker Civic Center even features a handcrafted spear sculpture. And all of it fabricated at FSU.
But how did over 50 bronzed forms and other artistic works find their way onto a college campus?
In a less-than-impressive one-story building off the main campus on Gaines Street, you'll find the director of the Master Craftsman Studio (MCS) John Raulerson, a boyish 50-year-old whose heart beats a Seminole chop.
He doubles as FSU's director of facilities and waste management, though his calling has always been art and, especially, its construction. For the past 10 years, Raulerson has overseen the creation of public artworks for the university and commissioned pieces for the community which helps finance the studio's mission.
Created in 2000 by past president Sandy D'Alemberte and then MCS director Robert Bischoff, Raulerson said the studio's debut project was the "soaring stained-glass windows" at Dodd Hall Heritage Museum.
Students, staff and faculty handled every aspect from the design of medieval-style crests to fabrication and installation of the commemorative windows. But that was just the beginning. Echoing Raulerson's own artistic credo that "you should do something with art," today MCS reflects its initial mission: "to bring creativity and entrepreneurship together to facilitate sustainable artistic enterprise and education."
And that means teaching students, typically 24 per year, to make beautiful things and operate as professionals.
"When a client arrives with a project, they, the student interns and the staff, sit down to examine the feasibility of design, the engineering, the fabrication, the costs and the time needed for completion — all aspects of a project, not just the artistic ones," explained Raulerson.
And yet, the artistic challenges are exciting. With both full-time and part-time artists and artisans, Raulerson described "conference table" preliminaries, called "charrettes," as a place where practicality and vision find unison.
"Juan Comas, one of our designers, can immediately sketch out a concept in such detail that we're almost ready for shop drawings and blueprints," laughed Raulerson.
Rick Humphery is a master at precision-lasered letters. Karen Pritzl is a "magician" of stained-glass storytelling. Phil Gleason manages the studio. Multimedia artist Maggie Jones manages interns. And Mark Dickson and Sandy Proctor are figurative sculptors.
"Each of them is renowned both at MCS and independently," Raulerson added.
It is from them that the students learn.
And the community has often tapped into the artistry of MCS through commissioned work.
Stroll past "Declaration," the glass sculpture across from the MCS at Gaines Street and Woodward Avenue. The City of Tallahassee paid $200,000 to cap off the area's makeover with a glittering rainbow of lights in the middle of a roundabout. Inside the main workshop, past and in-process commissions are to be found. A shelf of "skulls," made for Disney, sits at attention next to bas-relief dolphins to be used on license plates. A set of megalithic panels in deep blue and brilliant red glass geometry are being set like jewels for installation at Westminster Oaks.
"These commissions are what keep us going," said Raulerson.
A second stop on the Master Craftsman tour would quicken the heart of most men who love to tinker and build. Inside yet another nondescript building shared with facilities and a fleet of garbage trucks, Raulerson proudly sweeps his arm across a panoply of machines, gadgets and raw materials that the artisans will turn into art.
A massive, hollow aluminum beam will be turned into "wood" and mounted above a client's driveway. A stack of lumber from campus trees and even Tully Hall floorboards will be turned into bespoke writing pens handed out on special FSU occasions. And in a corner, wrapped in plastic as if he might spoil, waits a super-life-sized statue of a somber official. Carved at MCS and cast in bronze at the Inferno Foundry in Georgia, the figure patiently waits until the two-ton gantry will lift him up and out, toward a new home.
John Raulerson's "realm" at MCS, he said, is exactly where he wants to be. Formerly an FSU art professor, he sees what he does now as the vital junction of art and public space — opening it to all.
"This university program is unique in the country. In fact, the head of the art department at the University of Wyoming will be visiting soon to see how we do it."
With pride, Raulerson glances back at the unimpressive exterior of his workshop, noting that Florida State University has been designated the "fifth most beautiful college campus in the nation." And with a nod of knowledge and certainty, his smile suggests that it might one day snag first place.
---