Local Restaurants Offer Tantalizing Tastes from Around the World
Explore Exotic Options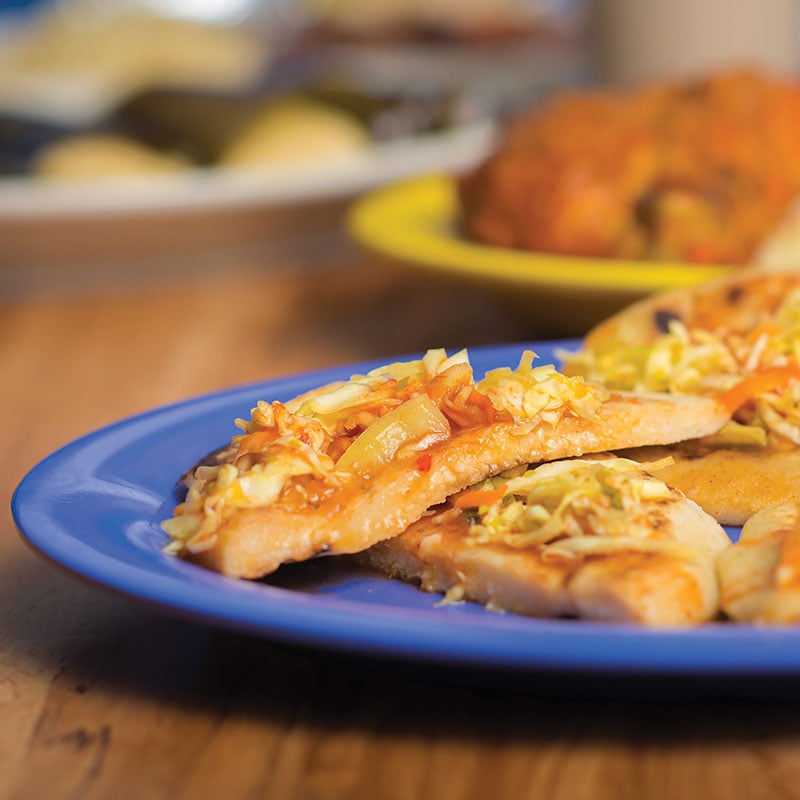 It's easy to find burgers, barbecue and Buffalo wings in Tallahassee. But how about pupusas, pho or pinakbet?
We have those, too. In fact, the Capital City offers a treasure trove of ethnic restaurants with menus that take us around the globe and chefs who are proud to share the cuisines of their homelands.
Candy Hernandez brings beloved recipes from her native El Salvador to cozy El Viroleño. Inspired by their family meals in faraway Java and Borneo, Iwan and Yeni Tan prepare traditional Indonesian dishes at Tan's Asian Cafe. And at Sahara, Sophia Al-Siroa transports diners to the Middle East with rich flavors and exotic spices.
Each translates into a culinary adventure. And these are just a few of the city's multicultural destinations.
If you're eager for a new dining experience, here's a look at 10 tantalizing tastes to try in Tallahassee.
Bandeja Paisa at Super Perros: Save your appetite for this traditional Colombian dish, which originates in the province of Antioquia, where the residents are known as paisas, or country folk. They must be hearty souls, because this is an enormous platter packed with chorizo (fried pork sausage), chicharron (fried pork rinds), sweet plantains, white rice, pinto beans, salad, white corn arepa and fried egg ($13.99). Yum! Along with Latin comfort food, this quaint eatery serves burgers and hot dogs (after all, Super Perros means Super Dogs) topped with crushed potato chips, pink sauce (mayo and ketchup), mozzarella and pineapple sauce. Pair with refajo, a blend of beer and Colombiana soda.
2010 W. Tennessee St., (850) 421-2378
Bulgogi at Korean BBQ: Join the fans who have discovered the South Korean specialties at this tiny, no-frills gem, where the focus is on the food. Cook-owner Seunghwan "Swan" Lee prepares eight or so authentic dishes, but the big attraction is the oh-so-tender beef bulgogi ($9.99), marinated in a soy-based sauce and grilled with scallions and sesame oil. Barbecue pork is spicier but also terrific. If sharing, add an order of silky sweet potato noodles with veggies. Dishes are served with sticky white rice in a plastic foam box. Order at the counter and then load up on complimentary sides — must-try kimchi and soups, plus beverages of soothing barley tea and sweet rice milk. All are included in the tab, which is so reasonable you can afford to be adventurous.
2624 W. Tennessee St., (850) 574-4151
Dosas at Mayuri Indian Restaurant: Tallahassee has several fine Indian restaurants, but Mayuri is the only place we've found that serves dosas, which resemble a rolled crepe or pancake with a paper-thin crispness. Mayuri offers a complimentary mini-version during the lunch buffet, but you'll find more than 30 full-size dosas ($6.99-$15.99) at dinner. This South Indian treat is made with a batter of ground rice and lentils ladled over a hot griddle. Dosas can be eaten plain or wrapped around assorted fillings, such as onions, nuts, cheese and vegetables. The masala dosa is a favorite, filled with mashed potatoes transformed by turmeric, cardamom, cumin and other spices. Break off pieces and dip into coconut and tomato chutneys and the tangy lentil soup, sambar.
1108 S. Magnolia Drive, (850) 402-9993
Ethiopian Stew at Nefetari's Fine Cuisine & Spirits: Owners Dana and Sharon Dennard like to call dining at their eatery "a royal experience." It's certainly a global one, with stops that include Egypt, India, Asia, the Mediterranean and the Caribbean. From Ethiopia, there's a vegetarian stew platter that looks more like a feast. First, your plate is covered with a house-made, unleavened injera bread that resembles a flat pancake. It's topped with mounds of chopped vegetables and organic lentils, seasoned with an Ethiopian spice mix called berbere. The stew platter comes with your choice of two sides, including firm Chinese black rice and "talking spinach," both vegan and gluten-free. Break off chunks of bread, scoop up the toppings and eat with your hands.
812 S. Macomb St., (850) 210-0548
Pupusas at El Viroleño: Candy Hernandez makes these humble corn cakes by hand in the 50-seat nook she operates with her daughter, Luvy Carballo. Pupusas ($1.50-$2.50) resemble flatbread arepas, but they're thicker and stuffed with melty mozzarella, meat, loroco (a Central American vine flower bud), beans or other fillings. The camaron is one of the best, packed with perfectly cooked shrimp nestled in the warm masa. Pupusas come with salsa and curtido, a zingy Salvador-style coleslaw. The menu includes a long list of Latin entrees. Pair with a fruit shake or horchata, a nonalcoholic drink made from rice and milk.
460 W. Tennessee St., (850) 681-2700
Nasi Goreng Jawa at Tan's Asian Cafe: Nasi goreng jawa is a good introduction to Indonesia's often fiery fare. This classic dish is a Javanese version of fried rice with a little more kick. Pick your protein or get the whole shebang — stir-fried pork, chicken, beef and shrimp — served with pickled cabbage and bean sprouts, topped with a fried egg. To kick it up a notch, add Indonesia's famed chili sauce, sambal. Tan's also has a big selection of Chinese dishes and sushi.
2743 Capital Circle NE, (850) 523-4282
Pork Adobo at Real Sarap: Four nurses who work at Tallahassee Memorial HealthCare decided the city could use a Filipino restaurant. So in April, they opened Real Sarap, offering homestyle cooking. If many dishes seem familiar, it's because Philippine fare reflects Latin, American and Chinese cuisines co-mingled with island ingredients and taste. In pork adobo, the meat is simmered in a tangy vinegar and soy-based sauce spiked with garlic and other spices ($8.99). Other Filipino favorites include pinakbet (vegetables flavored with shrimp paste), lechon kawali (deep-fried pork belly), lumpia (reminiscent of a spring roll) and pansit bihon (stir-fried noodles with veggies). If you're indecisive, go for the combo plate.
435 W. Tennessee St., (850) 224-7325
Pho at Pho 7: Vietnam's ubiquitous soup is a breakfast staple, a street snack and a family meal, complex and soul-satisfying. Pho (pronounced fuh) features a savory broth and tender rice noodles, served with your protein choice and a colorful array of fresh herbs, sprouts and garnishes. The restaurant features several variations of pho, but adventurous diners and Vietnamese customers go for the meat-intensive House Special with brisket, tiny strips of tripe, meatballs and tendon. Squirt lime into the savory beef broth and toss on some sprouts, basil leaves and fresh chili peppers.
2121 W. Pensacola St., (850) 385-7467
Shorbat Adass at Sahara Greek & Lebanese Cafe: Sophia Al-Siroa can still recall her mother cooking pots of red lentil soup in a small village in Jerusalem where she lived as a child. "Poor people didn't have meat, but we had beans," said Al-Siroa, who opened Sahara 15 years ago. "And lentil soup is filling enough for a meal." The russet soup, cooked with onions, tomatoes and a hint of cumin, is served with pita bread and lemon. It's available as a cup, but you'll want a bowl ($3.99, $4.99). Other home-cooked specialties include tabbouleh, stuffed grape leaves, hummus, gyro and chicken kebabs, and the eggplant dip, baba ganoush.
1241 E. Lafayette St., (850) 656-1800
Thai Red Snapper at Reangthai Restaurant: This snapper is artfully presented with the head perched up, tail intact. The fish is removed, filleted and stir-fried with an abundance of fresh vegetables, then tucked back in place. What makes this dish sublime is an exquisite sauce made from the broth of fresh vegetables and herbs, fragrant of lemongrass, cilantro and garlic. The price varies (expect $30-plus), but the serving is big enough to share. Chef-owner Donna Mulsing, a native of southern Thailand who opened Reangthai 21 years ago, also serves the whole snapper deep-fried and crispy, a version she says is popular with Asian customers.
2740 Capital Circle NE, (850) 386-7898