Living in Darkness and Light
Kate Pierson reflects on life and on herself a year after the Hot Yoga shooting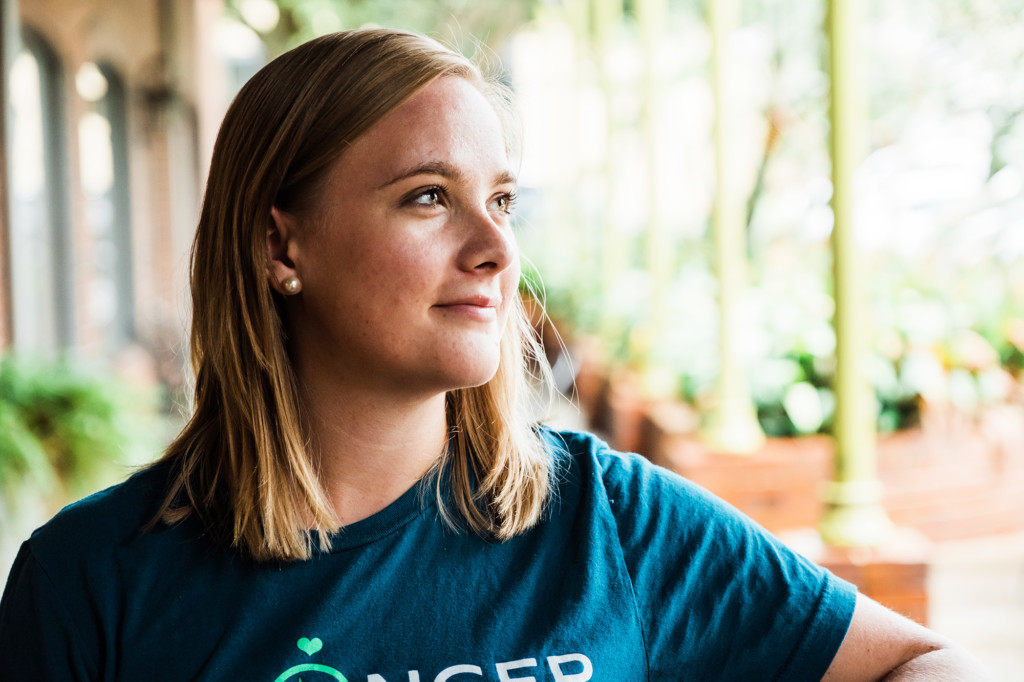 I sat on the patio of a popular Tallahassee eatery and sipped on sweet tea with lemon. I took in the surroundings, including Thomasville Road, and felt a sense of peace, growth, even pride, for having regained the ability to step foot there.
One hundred forty-three days before, I sat in that spot, shocked and traumatized. The police wanted a statement from me as I sat at the same table at Food Glorious Food, still shaken and reeling from what had happened steps away at Hot Yoga Tallahassee.
I was a member and receptionist there on Nov. 2, 2018, when Scott Beierle walked in, took two lives and changed my life and others' lives forever.
I think about it almost every day — just the two of us talking at the front desk, him asking about the busiest days of the week and how full the class would be and me showing him around the yoga studio. I found him chatty and polite, seemingly a little nervous for his first yoga class.
What I didn't know is that he had a gun and that he would use it to devastate my yoga family.
It was the last time that I felt completely unaware of my surroundings. Up until that event, I had lived my life thinking that bad things happened in some parts of the world but not around me, because I was safe. I guess you could say I'd lived somewhat of a sheltered life, mostly untouched by tradegy.
My parents raised me to acknowledge that I'd meet people different than me but that I should accept and celebrate them, not meet them with caution and judgment.
I didn't assume anything about Scott Beierle. I didn't judge him based on what he looked like or the fact that his yoga mat was still wrapped in plastic, indicating that it was recently purchased. I simply accepted him.
On Saturday, Nov. 3, I woke up differently. I was physically aching from the tension and stress on my body, emotionally drained and mentally unavailable. I remember thinking, "How am I supposed to move on from this? How can anyone go about their daily lives normally?" I was afraid that I wouldn't ever be the same again.
Yes, the shooting changed me. While I used to give strangers the benefit of the doubt, I now question their every move. While I used to feel so far removed from what was going on in the world, I now have an exit/survival strategy for every possible situation.
Over the summer I went through a SCUBA certification course. We were practicing our skills at a university swimming pool when I noticed an older man walking around with his hands behind his back. As he began to pass us, I immediately scanned my environment for exits. Could I go underwater? Would that even protect me? The closer he came the more my heartrate increased.
I caught a glimpse of something in his hand that was black. When he finally pulled his hand around to the front of him, I saw his iPhone. I silently sighed.
While I used to get afraid at night because I feared home invasion, I now consider my bedroom my safest haven. I'm no psychologist, but my best guess is that I've now experienced real violence outside of my home. Inside my home for the months following the shooting, I experienced peace and support.
A year later, that remains the case. When I'm outside, I still get nervous when I see a white male rummaging through a bag. I've registered for a carry/conceal class. And in yoga class, you can bet on it: If someone walks into the room late, as Scott Beirele did, I open my eyes and watch closely.
A colleague once told me that trauma doesn't merely change us but sparks a rebirth. I indeed identify with a new sense of self and drive.
I'm no longer concerned about the direction of my life. I don't constantly fret over career choices, five-year-plans, or even the day-to-day annoyances that used to send me through the roof.
And I've come to realize that control is an illusion. I can't control everything that happens to me, but I can control my reaction to it. When a shooting happens, I could choose to never leave my house or to not let it control how I live.
I've also found myself desensitized to mass shootings. My sister and I were in a hostel in Budapest in August when we saw the news of the El Paso shooting. As others stood around the television and gasped, I thought to myself, "Why are they surprised? If it could happen at at Hot Yoga Tallahassee, it could happen at Walmart."
I feel that I exist today in darkness and light yet have emerged as a better, fuller human being.
I communicate more often with my long-distance friends. I make time to see and spend time with the people I love, and my priorities have replaced materialistic and superficial goals with ones that lead to a satisfying life. That includes seizing on opportunities to build relationships.
I suspect that this shift came from the death of fellow yoga student Nancy. I saw Nancy every Sunday night at the studio, and we never exchanged more than greetings and small talk. It wasn't until after this incident that I learned about what an incredible person she was.
I was heartbroken because she was no longer here and because I hadn't even tried to get to know her. Never again will I forgo the opportunity to make a connection with another person.
And I won't ignore opportunities to grow and to do what I love. That includes yoga at Hot Yoga Tallahassee.
I've attended more yoga classes this year than ever. I crave it. I feel even more connected to my practice and the place. I had a tough time going back. When I finally got the strength to do so in early January, I sobbed through my first class. I hadn't been back in more than two months, and my emotions were my release — the realization that I could go back to my studio and get what yoga gives me.
It still feels like home. Although it never will be the same there, I somehow find it peacefully familiar.
As soon as I see the sign for Betton Place, I reflect on everything at once, from the time that I took my first class at Hot Yoga to the time that I went running in terror down the stairs from the second story. You might find this surprising, but I'm at peace with all of it.
In March, I got a call from Steve Hendrix, a Washington Post reporter in town to write a piece about hate crimes targeting women. He asked me if I'd be willing to share my experience with him and suggested that I meet him at the studio.
I instead suggested meeting steps away, outside Food Glorious Food. I wanted to be respectful of the studio and the students who may have been practicing there. I also figured Food Glorious Food seemed the appropriate place to meet because I had spent the majority of that night in the iron chairs on the restaurant patio.
By this point, I was already back at the studio as a student and attending four to five classes a week, so being in the area was part of my new normal. I just took in the beautiful Tallahassee weather and reflected on how far I had come since Nov. 2, 2018.
As I sat on the patio, the reporter remarked how surprised he was that I talked about my experience with such ease.
I told him that I'd done my grieving, processing and accepting.
I've also had the honor of watching my fellow warriors in their individual healing journeys. Seeing them travel, find joy and come back to yoga fuels my soul.
I am not the same person today as a year ago. But I couldn't be happier with who I've become.