Live, Work and Play in the Heart of the City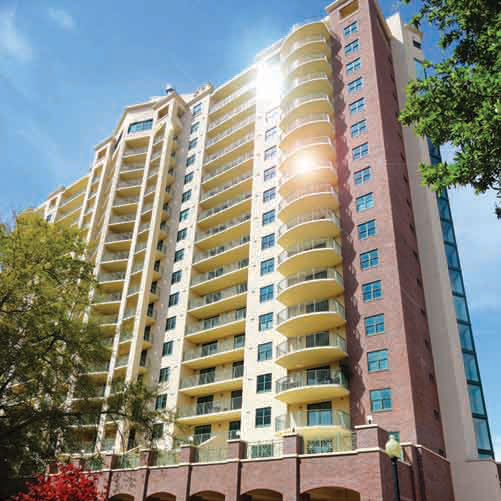 Want to work and play in downtown Tallahassee, but at the end of the day return to a living space full of high-quality amenities? The Plaza Tower, a centrally located landmark in Kleman Plaza, provides residents with a taste of the downtown life and an escape into luxury.
The 23-story Plaza Tower has commercial and restaurant space, as well as 19 levels of luxury condos with breathtaking vistas. The project was begun in 2008 but was tangled in foreclosure during the recession before the vast majority of the units could be completed or sold. These brand-new designer models were completed in March 2015.
The entrance to the building was also remodeled. From the start of your journey through the Plaza, you are greeted with a sense of luxury and relaxation, from the vibrant blue color scheme to the shimmering chandeliers that greet you in the foyer.
There are three floor plans to choose from, with one- and two-bedroom options for sale. The one-bedroom units are 703 square feet, and the two bedrooms have 1,295 square feet. There are also eight 2,300-square-foot penthouse units. Each plan provides spacious bedrooms, kitchens, bathrooms, living room areas, balconies and walk-in closets with the opportunity to select designer finishes.
The Plaza Tower prides itself on the amenities offered to residents, providing the utmost convenience. Amenities include secure, multilevel covered parking, 24-hour secured entry, onsite management, private storage facilities and a mailroom.
With all of your amenities readily available, you can easily take the elevator down to the bustling center of Tallahassee, where work meets play and business meets pleasure. The location is ideal for the empty-nester who enjoys a lock-it-and-leave-it lifestyle, the business professional whose playground is the downtown location or the student currently attending Florida State University's law school.
"This property offers the unique ability to own brand-new construction in downtown Tallahassee at reasonable prices with no maintenance and enjoy amenities such as concierge services, secured access, private-garage parking and views that are second to none," said broker Jason Naumann.
---
Quick Look
Address: 300 S. Duval St.
List Price: One bedroom starting from $133,000;
Two bedroom starting from $226,000
Contact: Jason Naumann, Broker, (850) 933-0328