Leon's at the Lake
Chef is realizing plans for new lunch spot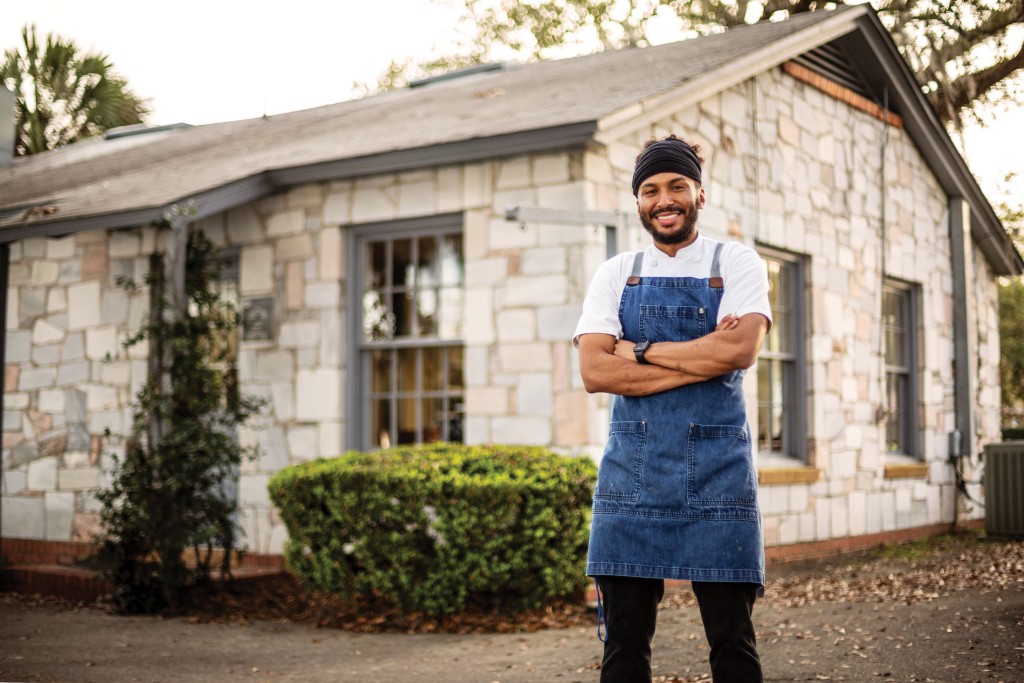 A local tourism brochure describes Tallahassee's Lake Ella as a beautiful park "perfect for a quiet stroll or walking your dog while enjoying a cup of coffee or an ice cream cone purchased from one of the cottages surrounding the lake."
With respect for all the good that tourism marketers do for the Capital City, the description misses the mark. The cottages don't surround the lake; they're mostly nestled along North Monroe Street, with a couple on side streets off Monroe that lead down to the water. Perhaps most importantly, though, it doesn't capture the essence that makes Lake Ella not only a gathering place, but a community.
Leon Brunson has taken the time to learn about the community that is Lake Ella. His new restaurant, Leon's At Lake Ella, which is set to open later this year or early next year in the Cottages at Lake Ella, will reflect the community that he has adopted as his own.
"People from all walks of life gather at Lake Ella," he said. "Some come from their homes to walk their dogs. Some bring their kids. Some come here who have no home at all.
"But it seems like there's no level of judgment, no stress," he continued. "This is a friendly community. I want Leon's on the Lake to reflect that community."
Back in 2020, Brunson wanted to buy KB Kitchen, a business that Kool Beanz owner Keith Baxter had planned to open as a weekend breakfast and brunch spot in the cottage formerly occupied by Mickey's Lakeside Cafe. It didn't work out that time, luckily for Brunson, as the COVID-19 pandemic was just around the corner. When he discovered earlier this year the business was available, the timing seemed right.
Leon's At Lake Ella is undergoing renovations inside and out, and the business will open in phases. Brunson calls it a "slow and steady release," with lunch service opening first.
"It's going to resemble Mickey's, a place where families can come for a healthy lunch," he said. "There's fast food all around us. We're not doing that. No processed foods. We'll have salads, soups and sandwiches, not a huge menu but a nice selection. We'll have a vegetarian special and a chef's special."
He wants to work out any kinks in the lunch service before adding more layers to the business.
"We have seen what has happened in the food service industry since the pandemic began," Brunson said. "We're not getting the level of service we used to get in many places, and we're not getting the quality of food we used to get in many places. We want to provide both."
One of the innovations he plans to add is QR codes posted along the trail around the lake. If there's a line out the door of the restaurant, customers can scan the code, place their orders and pay for them online, then wait for a text to tell them their to-go order is ready.
When dinner service is added, it will be more akin to a concert tour schedule than a nightly opportunity for diners. For example, he might schedule what he calls a "deep dive" into a particular cuisine on three different evenings. Diners pick the date they want to attend and buy their tickets online. Because the cottage is cozy, seating likely will be limited to about 20 people. People will be able to learn about themed dinners through social media, his website and a newsletter. The cost for each dinner will vary depending on what is being served.
"Dishes with more expensive proteins will be on the pricier side," Brunson said, "but all the dinners will be interactive and engaging."
Tickets could be as low as $50 for three courses up to $125 or $150 for five or six courses. The restaurant will have a beer and wine license, including a selection of local beers, and Brunson also plans to serve specialty cocktails adding herbs and fruits to the wine.
Eventually, he wants to add private dinner parties to his evening offerings.
"Right now, if you're looking for a private venue for a gathering, you're either in a side room in a busy restaurant, or in a nice space, but you have to outsource the food," Brunson said. "We'll be able to provide both."
During the worst of the pandemic, when restaurants had to close or shift to take-out only and let go of most or all of their staff, Brunson shifted to catering but also offered free cooking lessons. He wants to continue teaching others who love cooking. He participated in cooking demonstrations this year at the Food and Wine Festival sponsored by Cleaver and Cork, the Tallahassee Community College Foundation's popular annual culinary event and signature fundraiser.
He's a busy guy with a passion he wants to share. He wants to support local farmers and producers, encourage sustainability and healthy habits, and respect traditional Southern cooking while introducing new flavors and traditions.
"Lake Ella is a healthy and happy community," he said. "I want to make sure we stay true to the people of Lake Ella."