Keeping Monarchs Aloft
Project promotes milkweed propagation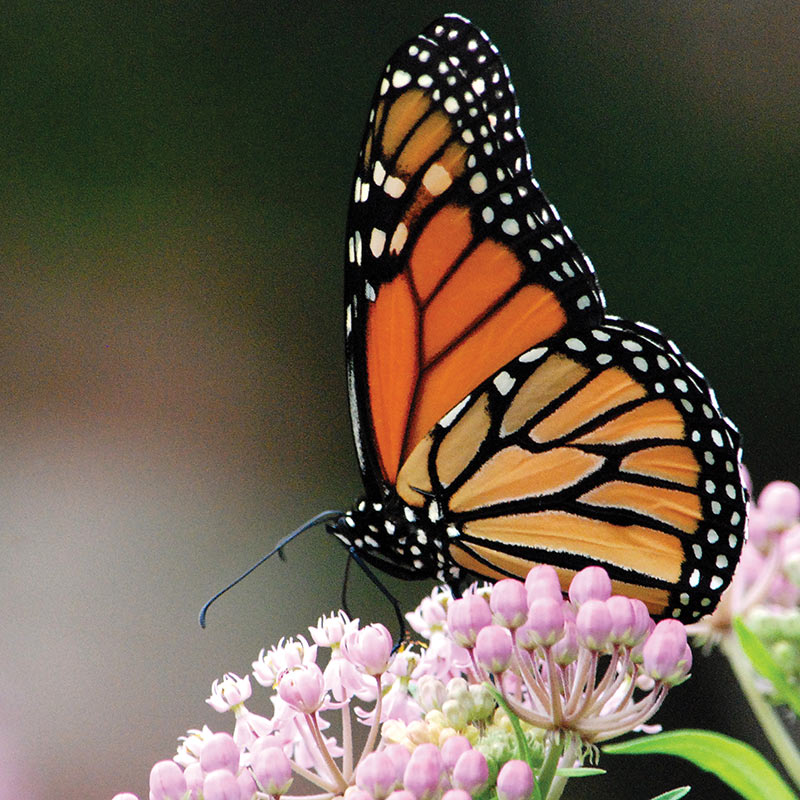 Got milkweed?
This is a question that monarch butterflies or, more particularly, their larvae might plaintively ask.
Monarch caterpillars feed exclusively on milkweed plants, and the dramatic decline in monarch populations in the past 20 years has coincided with the loss of millions of acres of milkweed throughout North America due to development and agricultural practices including the use of weed killers.
That is, an 81 percent decline in the monarch population — as measured by the numbers of hectares occupied by the incredibly durable black-and-orange insects when they overwinter in the pine forests of the Mexican state of Michoacán — has been linked to a corresponding 58 percent decline in milkweeds.
There are other factors affecting monarch populations, but the loss of milkweed is chief among them, according to Ranger Scott Davis at the St. Marks National Wildlife Refuge. Davis, a botanist, is the coordinator of the Monarch-Milkweed Initiative at St. Marks. The project encourages property owners to plant milkweeds to help restore their one-time prominence.
There are more than 100 species of milkweed, so called because of the sticky stuff that oozes from their stems when they are ruptured. Twenty-one species are native to Florida, and Davis has worked to identify those that are most easily grown. Three species stand out that way — pink, aquatic and butterfly milkweed — and are available at plant nurseries such as Native Nurseries in Tallahassee.
"Restoring monarchs is not a hard fix," Davis said. "It's not like trying to save Florida panthers or red wolves and finding a way to reintegrate them into the wild. Monarchs are easy. Little acts matter. The milkweeds in your yard make more of a difference than you realize."
Most of the migrating monarchs that pass through St. Marks in the spring and the fall travel a flyway that extends from the Northeastern U.S. along much of the eastern seaboard, then cuts across South Georgia and North Florida to the Gulf Coast. Individual butterflies, riding the leading edges of cold fronts, complete the entire north-to-south migration. The southbound monarchs hug the Gulf Coast all the way to Mexico, roosting in red cedar trees and sabal palmettos and feeding on salt bush blooms. The more arduous return trip, however, amounts to a relay race requiring three generations of butterflies.
Floridians interested in assisting the travelers should provide egg-laying monarchs with native milkweeds in the spring and native wildflowers for consumption in the fall. Cultivating milkweeds requires patience. The native plants don't flower until their fourth or fifth season.
Monarchs, unlike delicate moths with dust that comes off on your fingers, have evolved to endure long migrations.
"By the time they reach St. Marks," Davis noted, "they have flown through rain and possibly snow. They have been attacked by birds, and sideswiped by vehicles. If the weather is right, they may cover 50 miles in a day. That's quite impressive, but a large number do not make it, which is why it is important that large numbers of them reproduce during the growing season."
Davis encourages caution about the milkweeds that may appear as volunteers in yards. In Florida, those plants are likely to be non-native milkweeds that harbor year-round a protozoan parasite that infects and kills monarchs.
Native milkweeds die back to the ground each fall — and the protozoans die with them. Non-native invasive plants, which originated in Central America, resist dormancy, even in the coldest of Tallahassee winters, and remain loaded with the nasty protozoans when the monarchs come through in the spring. So it is that Davis calls upon property owners to cut all milkweeds back to the ground at Thanksgiving.
Milkweeds and wildflowers serve monarchs as aid stations benefiting runners along a marathon course. Their race is long.
"Last fall at St. Marks, we captured a monarch with a tag (a numbered adhesive dot placed on a wing)," Davis said. "We contacted Monarch Watch (a cooperative network of students, teachers, volunteers and researchers with an interest in monarchs) and learned that it had traveled 977 miles.
"It was tagged in Toronto."
---
Creatures Beyond Reason
My parents built one of the first houses that came out of the ground in the suburban Minneapolis subdivision where I grew up. Our place was surrounded by empty lots home to scads of milkweeds. To curious children, they had much to offer. The plants, themselves, were complex and fascinating, and it seemed as if they had been planted expressly for our amusement. We pulled apart their odd pods, revealing countless seeds on threads of silk within. We collected with ease red-and-white milkweed beetles, confining them in mayonnaise jars. And we always found surprising the discovery on the underside of a leaf of a striped monarch caterpillar with its antennae fore and aft. Our mothers told us that the caterpillar would one day become a butterfly, but at the time, that notion exceeded our understanding. And, mostly, it still does.