It's A Wrap
A dozen plus gift ideas for your naughty and nice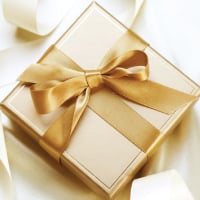 2013 GIFTING TIPS Start your gifting for next season with these helpful tips:
» Pay attention to what your loved ones mention and start a "wish list." Keep it in your car's glove box, or, if you're tech-savvy, on your smartphone.
» Set an overall gift budget. Apportion an amount to people on your list.
» Look for off-season deals such as bicycles in the fall and jackets in the spring. Don't forget to buy kids' clothes up a size, though.
» Whether it's in a seperate account or a piggy bank, put a little money aside for gifts during the warmer months. It will help reduce some holiday stress next December.
Gifting Manly
Buying a gift for a man can be tricky. Most men don't drop hints waiting for you to surprise them. If you ask them what they want, they'll say, "I don't know. Surprise me." While they're secretly hoping you'll deliver a bow-topped Lamborghini in the driveway, you're thinking more practical — and realistic. Unfortunately, by the time you've deciphered his clues and figured out what he needs, he's likely gone out and already bought it for himself. To help, we've laid out some manly gifts any guy is sure to love. From watches, guns and knives to sausage, salmon and even massages, we've got you covered.