Holiday Change Up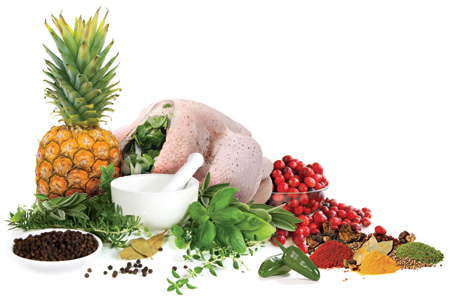 Kick your holiday recipes up a notch with gourmet twists, or make them healthier with a few fat-reducing tips
Holiday Change UpThis Season, Give a New Twist to Traditional Dishes
By Caroline Brewster
The myriad of office parties, neighborhood get-togethers and familial obligations that the holidays bring allow us a unique opportunity to sample delicacies from the kitchens of our friends and neighbors. An atmosphere of goodwill and sharing sets the tone for the season as we exchange recipes and traditions, giving our taste buds the savory, sweet, tart and salty fare that holiday festivities require.
Sticking to tradition at the holiday table is a requisite for most families. Be it Mom's turkey and stuffing or Aunt Fran's pecan pie, certain elements of the holiday meal are not to be tampered with.
In my family, we make our stuffing with cornbread. We call it dressing and think that everyone else should too. If they don't, then they are fools with no sense of taste. We are snooty about our dressing, exacting and particular.
When I was very young, my family learned our neighbor used oysters in her dressing, which she called stuffing. Oysters? Stuffing? How dare she, we thought, our heads spinning at the idea. It was blasphemous, tawdry even; the very thought of it threatened to destroy Christmas.
The stuffing incident came and went, and Christmas survived the grievous insult. The choices my neighbor made in cooking outside the box helped me to realize that traditions are traditions simply because of repetition and acceptance. While there's nothing wrong with sticking to what you know, there is something to be said for expanding your recipe box just enough to create a new tradition all your own.
Whether you're a gourmand tired of the same old dish, a weight watcher hoping to lighten the load of the holiday table or a lover of the classics aiming to add another recipe to your repertoire, simple tricks and a little imagination spice up holiday eats without compromising the sacred ties we have to our old favorites.
We've compiled recipes from chefs and a home cook to help you in your quest for culinary greatness this holiday season.
Brined Turkey with Aromatics From Chef David Gwynn
The first is a gourmet take on a classic recipe from David Gwynn, executive chef and co-owner of Cypress Restaurant with his wife, Elizabeth. Gwynn suggests a unique preparation for the traditional holiday turkey using non-traditional ingredients, such as jalapeños and juniper, to add pizzazz to the dish. He allows for maximum flavor by brining the turkey before cooking, a technique that leaves the meat moist, succulent and well worth the extra effort.
Needed
5-gallon bucket or stockpot
Refrigerator, cooler or other vessel large enough to hold a 5-gallon stockpot
Thermometer
Brine Mixture
18-pound fresh turkey, thawed
1 gallon vegetable stock, homemade or Swanson's
1 cup kosher salt
1 tablespoon black peppercorns, whole
6 bay leaves, whole, dried
1 tablespoon juniper, crushed
1 tablespoon allspice, crushed
1 gallon ice water, set aside
Aromatics
1/2 of a large yellow onion, diced
2 stalks celery, large dice
1 large or 2 small carrots, large dice
2 jalapeños, halved lengthwise
8 sage leaves
10 sprigs thyme
6 cloves garlic
Preparation
Prepare turkey by removing goodies (gizzards et al) from inside the bird's cavity.
Combine all brine ingredients, except ice water, in a stockpot and bring to a boil, stirring to dissolve solids. Remove from heat. Let cool to room temperature and refrigerate until thoroughly chilled, about an hour.
Day Before
Combine brine mixture with ice water in bucket or stockpot. Gently place the turkey into the brining liquid. Brine for eight to 10 hours, turning bird over at least once. Place the stockpot in a refrigerator or in a large vessel of ice water to cool. The refrigerator/cooler should maintain a temperature of 40 degrees or cooler.
Day of Cooking
Preheat oven to 325 degrees. Remove turkey from brine mixture and pat dry with paper towels. Fill cavity of bird with aromatics.
Place turkey onto a racked roasting pan and brush it with a neutral flavored oil to brown.
Cook in oven for three to four hours, until the internal temperature reaches 160 degrees. When checking the temperature, probe the turkey at the thickest point of the bird, inserting the thermometer at an angle. To maintain the maximum amount of flavor, avoid over-puncturing. Cover the turkey with tinfoil midway through cooking to prevent burning the skin.
Remove turkey from oven and cool for 15 to 20 minutes to allow the juices to re-assimilate.
Judy's Gravy Goodness From Judy Langston
Gravy is the one item on the holiday table that trumps all others. Savory, salty and bursting with flavor, this holiday staple brings meat and potatoes to life. For those of us watching our waistlines during the holidays, the thought of pouring fat-laden gravy over an already calorie-heavy meal is enough to send us running for the gym. Judy Langston of TasteBudz Café and Catering offers up a slightly altered gravy recipe that cuts down on the bad fat and calories but maintains all the goodness that is gravy.
Needed
1 cup finely chopped onion
2 stalks finely chopped celery
2 tablespoons butter
1 tablespoon olive oil
4 tablespoons flour
2 cups low-fat, low-salt chicken broth or defatted turkey broth
¼ teaspoon Kitchen Bouquet
2 cups 1-percent milk
½ teaspoon salt
½ teaspoon black pepper
¼ teaspoon each ground sage and rosemary
Preparation
Melt butter in a saucepan over medium-high heat. Add oil, celery and onion and sauté until soft. Add the flour and stir until absorbed, at least two minutes. Stir in the broth, milk and Kitchen Bouquet and bring to a boil. Add the seasonings, stirring gently. Reduce heat and simmer until thick, about five to 10 minutes. Straining the celery and onion is optional, but Judy suggests leaving them in to complement the smooth texture of the gravy.
My Mother's Holiday Cranberry Salad From Jane Dallet
For some of us, the holiday table is a place to let loose and indulge. After a year of eating right and watching the waistline, a mounded plate of mashed potatoes, green bean casserole and savory cranberries are just the reward we're craving. In order to get the most out of your once-yearly bacchanalia, make sure that each dish you choose is made with love and forethought. Jane Dallet of Tallahassee shares her mother's tried-and-true recipe for Cranberry Salad. Be forewarned: Once you've tried this tasty side dish, you'll never be satisfied with cranberries in a can again.
Needed
1 15-ounce can crushed pineapple
1 3-ounce box lemon Jell-O
1 package fresh cranberries
¾ cup sugar (or 1 cup if you prefer it very sweet)
1 cup coarsely chopped walnuts (or pecans, if you're from the South)
Preparation
Drain the pineapple, reserving 1 cup of the pineapple juice. Set pineapple aside. Prepare the lemon Jell-O in a decorative bowl, following the directions on the box, but replace the 1 cup of cold water with the cup of pineapple juice. Place the Jell-O in the refrigerator until it has begun to set.
Grind the fresh cranberries (a blender would work) and add the sugar to the cranberries. Set aside. When the Jell-O is soft-set, add the sweetened cranberries, the pineapple and the walnuts/pecans to the Jell-O and place back into the refrigerator until completely set.
Low Fat Pumpkin and Golden Raisin Bread Pudding From Chef Brian Knepper
Brian Knepper, executive chef at the Governors Club, created a lighter version of a classic bread pudding to satisfy both the decadent palate and the dedicated weight watcher. Knepper changed up the recipe by replacing regular sugar with Splenda and used healthier breads for the base of his dish rather than glazed doughnuts or other fat and calorie-laden bread. The recipe is designed to provide maximum flavor with minimal guilt while still staying true to tradition.
Needed
12 ounces stale Nature's Own* multigrain bread, cut into 1-inch cubes
1 tablespoon unsalted butter
2 tablespoons canola oil
4 cups local pumpkin meat (seedless; no skin), medium dice
1 pinch of ground ginger
1 pinch nutmeg
2¾ cups fat-free milk
2 eggs, lightly beaten
2 cups golden raisins
3 tablespoons sugar in the raw or firmly packed Splenda light brown sugar blend
2 tablespoons tupelo honey
2 teaspoons vanilla extract
1 teaspoon ground cinnamon
*Nature's Own Bread is great because it doesn't contain high-fructose corn syrup. Available at Publix and Wal-Mart.
Preparation
Preheat the oven to 350 degrees. Lightly coat a 9-inch square baking dish with cooking spray.
In a large, nonstick frying pan, melt 1½ teaspoons of the butter over medium heat until frothy. Stir in 1 tablespoon of the canola oil. Add half of the pumpkin to the pan and sauté until evenly browned, about 10 minutes. Sprinkle a pinch of nutmeg and ginger onto the pumpkin and then transfer it to a plate. Repeat with the remaining butter, oil and pumpkin and add one more pinch of ginger.
Arrange half of the stale bread cubes evenly in the bottom of the prepared baking dish. Top with half of the sautéed pumpkin and then the remaining bread cubes. Scatter the raisins over the bread.
In a large bowl, combine the milk, eggs, 2 tablespoons of the sugar, the honey, vanilla, and cinnamon. Whisk until blended. Pour the milk mixture over the bread and cover with plastic wrap. Let stand for 20 to 30 minutes, pressing down gently every so often until the bread absorbs the milk mixture. Remove the plastic wrap and arrange the remaining pumpkin on top. Sprinkle with the remaining 1 tablespoon sugar.
Bake until a knife inserted into the center of the pudding comes out clean, 45 to 55 minutes. Let cool for 10 minutes before serving.
Serve with vanilla frozen yogurt and powdered sugar.
{nomultithumb}