Geraldine's Serves Up Country Charm
Geraldine's Serves Up Breakfast and Lunch, Southern-Style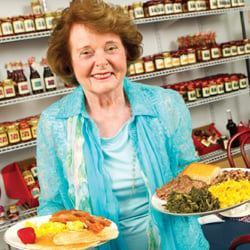 Scott Holstein
Whether you're wanting breakfast, lunch or something sweet and spreadable, Geraldine Rudd is ready to serve it up with a friendly smile.
If you're looking for home cooking served like you remember at Grandma's house, Geraldine's Originals fills the bill. And your fried chicken and country-style breakfasts will be served by an honest-to-goodness grandma, 85-year-old Geraldine Rudd.
The breakfast and lunch shop isn't easy to see, tucked in the furthest corner of the Canopy Lane shops at 2522 Capital Circle N.E. There are just six oilcloth-covered tables, but they're often full of patrons enjoying what has to be the most reasonably priced breakfast in town. The special (pancakes, bacon and coffee) is just 99 cents and nothing on the menu costs more than $2.50. The cheap eats continue through the lunch hour, with a $3 chicken salad sandwich — the creamy version — and a lunch plate that includes a meat such as chicken-fried steak or pork chops, two vegetable sides, bread and a drink for $8.
Throughout the 1980s and '90s, Rudd was the proprietress of The Blackberry Patch, a business that cooked up jams, jellies and syrups from her Tallahassee home. That business was sold, but her restaurant includes displays of a wide array of her new line of products under the name "Geraldine's Originals" for home use or boxed up to give as gifts.
If the service isn't speedy enough, you can shout your order to Mike Travis in the kitchen, but you're always assured of a warm welcome from Rudd and her peekapoo named Honey. "I just enjoy visiting with everybody that comes through that door. If we're not already friends, we'll be friends." She says her regulars, "tell me it's just like being at home — and that's the way I like it."
DINNER  Twice this year, I've done a two-week detoxification program that required me to eat tons of organic vegetables, which meant several trips to Earth Fare and the New Leaf Co-op to stock up. There must be something in the (purified) water, but the nicest people seem to work in both places. Before the detoxing began in earnest, I enjoyed Earth Fare's Prime Rib Tuesday and the meat and sides (mashed potatoes and sautéed mixed vegetables) were restaurant-quality delicious. For $8.99, you get meat sliced to order, along with sides.