Gadsden Arts is a 2023 Blue Star Museum
Gadsden Arts is also offering new daytime outings!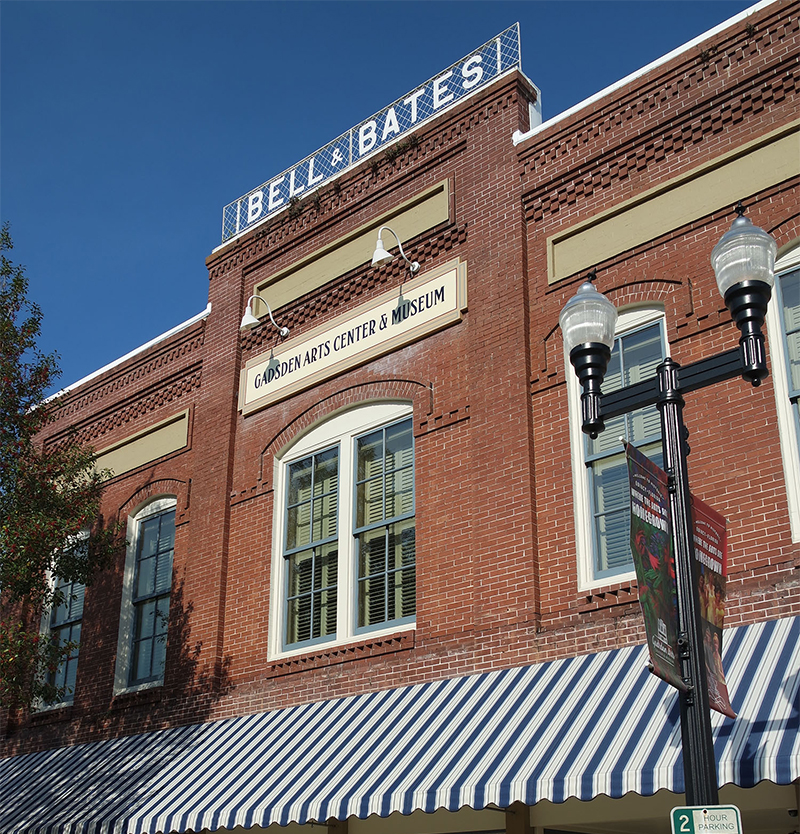 The Gadsden Arts Center & Museum announced it will join museums nationwide in the Blue Star Museums initiative, a program that provides free admission to currently-serving U.S. military personnel and their families this summer. The 2023 program will begin on Armed Forces Day, Saturday, May 20, 2023, and end on Labor Day, Monday, September 4, 2023. Find the list of participating museums at arts.gov/bluestarmuseums.
Blue Star Museums is a partnership between the National Endowment for the Arts and Blue Star Families, in collaboration with the Department of Defense and participating museums across America.
"We thank the 2023 Blue Star Museums who invite military personnel and their families to experience the many wonders they have to offer, whether it's a glimpse into the past, an encounter with awe-inspiring art, or a moment of discovery," said Maria Rosario Jackson, PhD, chair of the National Endowment for the Arts. Gadsden Arts is helping to enrich the lives of military families and build meaningful connections between our nation's military and their local community."
Blue Star Museums include children's museums, art, science, and history museums, zoos, gardens, lighthouses, and more, and hail from all 50 states, District of Columbia, and the U.S. Virgin Islands. The current list of participating museums will continue to develop over the summer as organizations are welcome to register to be a Blue Star Museum throughout the summer.
The free admission program is available for those currently serving in the United States Military—Air Force, Army, Coast Guard, Marine Corps, Navy, and Space Force, members of the Reserves, National Guard, U.S. Public Health Commissioned Corps, NOAA Commissioned Corps, and up to five family members. Qualified members must show a Geneva Convention common access card (CAC), DD Form 1173 ID card (dependent ID), DD Form 1173-1 ID card or the Next Generation Uniformed Services (Real) ID card for entrance into a participating Blue Star Museum.
Follow #bluestarmuseums on Twitter @NEAarts and @BlueStarFamily @GadsdenArts
---
Gadsden Arts offers new daytime outings for art-loving adults!
Looking for some fun, art-filled days this summer? Gadsden Arts is excited to announce two brand-new experiences that art lovers are sure to enjoy. First, Dine & Discover the upcoming exhibition, Golden Legacy: Original Art from 80 Years of Golden Books, and later in the summer, embark on an Art Day Trip to Gainesville!
On June 22, 12–1:30 p.m., bring friends to Dine & Discover: Golden Legacy, where you will visit over luncheon in the Bates Community Room and hear the stories of world renowned artists who also created original illustrations for Little Golden Books from Curator Ashley Williams. After lunch, see 80 years of original Golden Books illustrations in the Sara May Love Gallery, with staff on hand to answer questions. Talk with practicing embroidery artists in the Munroe Gallery, featuring Carole Fiore's show, Thread Transformed; and see contemporary children's book illustrations by Elizabeth Lampman-Davis in the Zoe Golloway Gallery. Wrap up your visit browsing sale items by 99 artisans and authors in the Fletcher Museum Shop.
On July 26, 8 a.m.–6 p.m., join Gadsden Arts for an ART-venture to Gainesville, where you will discover a wealth of art and nature in the heart of wild Florida! Travelers will visit the Harn Museum of Art, and explore an expansive collection of more than 13,000 works. Special exhibitions will include Florida Impressions and The Rice Collection of Cuban Art. After a guided tour, enjoy a Caribbean-inspired luncheon, and end the day roaming Kanapaha Botanical Gardens. With 24 major collections of exotic plants, the Gardens feature giant Victoria waterlilies, Chinese royal bamboo, waterfalls, a butterfly garden, and more!
Art Day Trip registration for GACM members and their guests is $165/person, nonmembers are $175/person. Reservations include round trip transportation from Tallahassee to Gainesville and all venues, admissions, luncheon, and road trip treats. Enrollment is open now through May 19.
Dine & Discover: Golden Legacy registration is $25/person for GACM members, or $175 for a reserved table for 6. For nonmembers, registration is $35/person, or $225 for a reserved table for 6. Space for both of these events is LIMITED—advance reservations are required. Register today to guarantee your spot!
For more information and to register for these events, visit www.gadsdenarts.org/events/. Want to be the first to hear about new events at Gadsden Arts? Subscribe to our monthly e-news.
---
About Gadsden Arts
The Gadsden Arts Center & Museum inspires exploration of the visual arts to enrich life for everyone, bringing people together and contributing to the cultural and economic vitality of our community. Gadsden Arts is the unique provider of major traveling exhibitions and free Art for Children programs for the region, while promoting more than 300 local artists. Entering its 30th year of service to our community, the museum is open Tuesdays – Saturdays year-round, with daytime, evening, and weekend cultural events and trips, and guided visits for any group. The innovative ArtZone drop-in family studio open every Saturday 10 a.m.–5 p.m. More information www.gadsdenarts.org.
About the National Endowment for the Arts
Established by Congress in 1965, the National Endowment for the Arts is the independent federal agency whose funding and support gives Americans the opportunity to participate in the arts, exercise their imaginations, and develop their creative capacities. Through partnerships with state arts agencies, local leaders, other federal agencies, and the philanthropic sector, the Arts Endowment supports arts learning, affirms and celebrates America's rich and diverse cultural heritage, and extends its work to promote equal access to the arts in every community across America. To learn more, visit arts.gov or follow us on Twitter, Facebook, Instagram, and YouTube.
About Blue Star Families
BlueStar Families (BSF) is the nation's largest chapter-based military and veteran family support organization. Its research-driven approach fosters strong communities with a focus on human centered design and innovative solutions. Since its founding in 2009, BSF has delivered millions of dollars in benefits and impacted more than 1.5 million people each year. For more information, click here and follow along with Blue Star Families on Facebook, Instagram, and Twitter.
---