FSU Marine Lab Explores The Seas and Shorelines
FSU's Coastal and Marine Laboratory Uses Socially Conscious, But Practical Science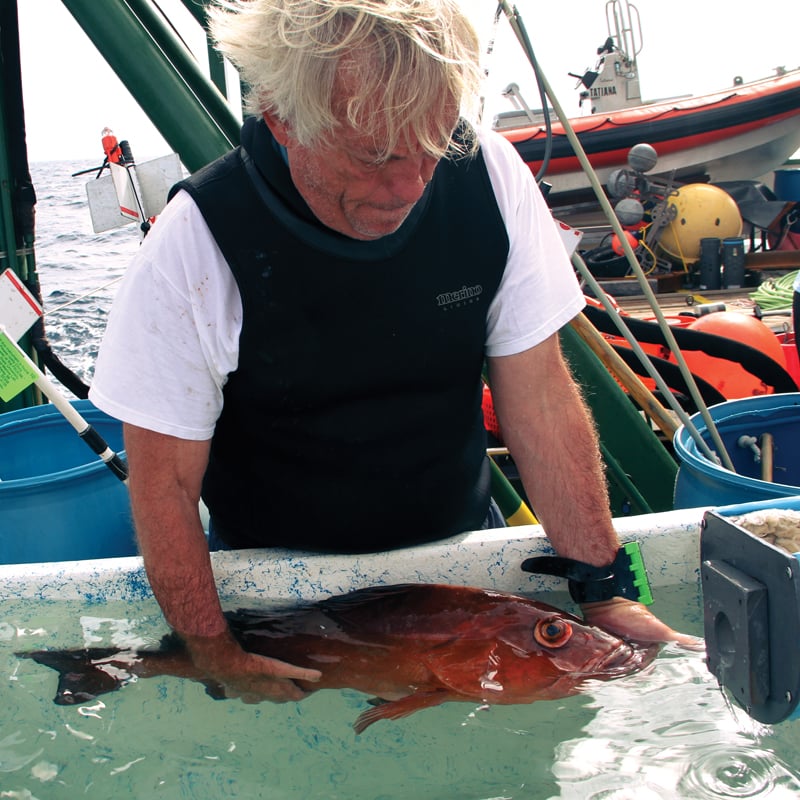 Florida State University research faculty member Felicia Coleman loves the smell of fish and seawater.
"That," she tells a visitor to the university's Coastal and Marine Laboratory in St. Teresa, "is the smell of research."
Coleman grew up "hanging out on salt marshes" with her father and brothers. "My dad was a banker — and a really good naturalist," she said. Wandering the wetlands near Charleston, South Carolina, Coleman soaked up her father's love of nature along with his instincts for business. It all came together in 2006, when she was named the lab's director.
Easy to miss, the Marine Lab is located on Florida's Forgotten Coast, hidden behind a fence draped with honeysuckle on the scenic Coastal Highway 98. Behind the peaceful façade however, hides a thriving research community working on topics as diverse as oil-spill effects on deep-sea sharks and coral reef ecology.
The lab opened in the late 1960s and has since expanded to encompass offices, lecture rooms, dormitories, laboratories, outdoor tank systems, an academic dive program and a fleet of research vessels including a 65-foot-long aluminum catamaran named the R/V Apalachee.
Under Coleman's leadership, the lab has grown steadily in international reputation and recognition. It is developing a master plan for the 21st century and hopes to double in size to eight resident faculty members, each supported by a team of graduate students and staff.
The lab is also home to the Coleman-Koenig Research Laboratory, whose work on Goliath grouper was featured in National Geographic magazine last July. As their name suggests, Goliaths are massive fish, which used to number in the thousands but were so heavily exploited in the past that fishing them has been banned since 1990. Chris Koenig, a rock star among reef ecologists, has spent decades studying this species and is using his research to fight for continued protection for the vulnerable, slow-growing fish.
The biology and ecology of fishes is an important part of the research conducted at the Marine Lab. Dr. Dean Grubbs works on sharks and their relatives, including those that live in the shallows such as the endangered sawfish, as well as sharks that live thousands of feet below the ocean surface. Very little is known of these elusive creatures, and his research is critical for their conservation and management.
Fisheries ecologist Chip Cotton focuses on life histories and age and growth of a wide range of fish species, from estuaries to the deep sea. This important information for fisheries management is not available for many species, including some of commercial value.
Sandra Brooke, currently the Marine Lab's only invertebrate biologist, works on corals and their associates. Her recent work has focused on deep sea corals in the southeastern United States, where her research helped define boundaries for deep coral protected areas. Since moving to the Marine Lab, she has begun working on the shallow hard-grounds in the northern Gulf, areas that support much of the local seafood industry but are relatively unexplored. Researchers don't have to go far offshore into deep water to find areas that are understudied.
The Marine Lab is also busy training and teaching the next generation of scientists, with 10 graduate students working with the Marine Lab faculty, and undergraduates regularly visiting to work on projects and internships.
Marine scientists are happiest doing hands-on research at sea and on the seashore trying to find out "how the natural world ticks," said Coleman, but they also spend lots of time holed up in conference rooms with peers, writing proposals for limited pools of public and private funding.
The lab maintains regular communication with policymakers in government and industry, as well as with state and federal agencies involved in protecting the ocean and coastlines.
"We finish a study and call up and say, 'We'd like to come give a talk,'" Coleman said. In addition, the lab has stepped up its public outreach, welcoming tour groups and hosting public lectures. The lab also hosts the Saturday-at-the-Sea program for area middle school students.
"Science is at the core of how we will survive on this planet … clean air, clean water, and a sustainable food supply," Coleman said. While attaining these goals is often a struggle and not always popular, "everyone here is fearless," she said with pride. "We don't mind controversy, and there's been a lot of it."
Researchers are often challenged to communicate scientific findings in a way that shows the value of preserving natural resources, particularly when exploitation is much more profitable. This is particularly difficult for the deep sea, which most people will never visit. Scientists recognize however, that the only way to change a situation is to present their data in a clear, concise manner, and try to create public understanding of the importance of the creatures or ecosystems they study. 
Coleman and her colleagues are driven by a need to better understand how animals, plants and humans "make a living in the ecosystem." Although the seas and shorelines are under unprecedented pressure, she remains optimistic and focused on the future.
"Yes, it's a constant battle and not everybody listens … but the truth is out there, and today's students want to do science, not just for science's sake, but also in a socially conscious context."
---
To learn more about the Marine Lab and its programs, visit marinelab.fsu.edu.
Sandra Brooke also contributed to this article.