Former Jefferson County Commissioner Is In Hog Heaven
The farmers' family business puts rare pigs on a pedestal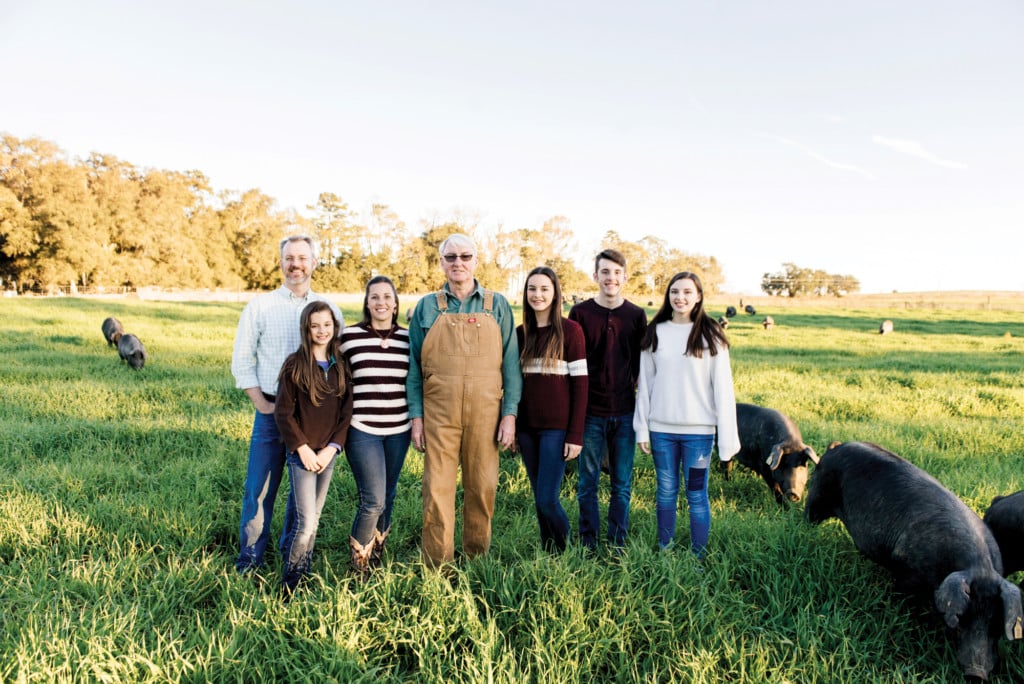 Garbed in overalls and a light jacket to protect against a chilly fall morning, the fit, youngish-looking and white-haired 75-year-old Hines Boyd wades knee-deep into hogs.
"You want them gaining a pound or pound-and-a-half a day and to be stress-free," Boyd says as he pets his sociable animals.
Stress, he explains, not only reduces the pigs' desired daily weight gain, it can affect weaning times, litter sizes and meat quality.
"You want happy pigs," Boyd says.
The ones he raises appear more than pleased.
Some 800 roam 100 acres of his ancestral farm in Monticello — rooting, grazing and lazing in pastures or foraging in woodlands.
These aren't ordinary pigs, and Boyd is no ordinary pig farmer.
A Ph.D. and former Jefferson County commissioner, Boyd hails from one of Florida's founding families and is deeply rooted in the land that his family has owned and farmed going on eight generations.
He feels a duty to the land and an obligation to his ancestors to hand it down — chances are, full of rather rare livestock.
The porkers that he raises at his family's historic Glendower Farms are purebred, black-hoofed Ibericos, a select breed native to the Iberian Peninsula and one of a handful of herds in the U.S.
Spaniards call Ibericos "olive trees on legs," because of their garnet-red, marbleized meat, buttery, nutty-sweet taste and high oleic-acid content.
Coveted by the cognoscenti as a delicacy, Iberico ham rates as the world's finest, a luxury akin to caviar, truffles and Kobe beef.
A naturally cured Iberico ham leg can sell for upwards of $1,000. So exquisite tasting, it's served in paper-thin slices.
To the farmers, achieving such premium quality comes at a price.
"This isn't an easy pig to raise compared to confined factory-raised pigs," Boyd said. "They're less prolific, slower growing, and don't convert feed as efficiently. That's the tradeoff for good taste. It's literally a slow food — slow and expensive."
Boyd traces his Jefferson County roots to the 1820s and counts among his relatives several state legislators and former congressman Allen Boyd, principal owner of Boyd Family Farms, of which Glendower is part. Allen is the younger brother of Hines.
Hines Boyd holds a doctorate in animal science from the University of Florida and served two terms as a county commissioner.
He announced in August 2016 that he would not seek a third term, saying that he wanted to spend more time with his family and his new venture.
"I miss the debating," said Jefferson County Commissioner Betsy Barfield, who served six years alongside Boyd, largely as his counterbalance on the board.
"He certainly made me think. Commissioner meetings have become tamer. But when Commissioner Boyd came up with an idea, no one could dissuade him."
That strong will and tenaciousness helps explain how a Ph.D.-holding politician could end up raising swine in his 70s.
It started in 2013, when Boyd, also a realtor, helped two Spanish entrepreneurs find oak-forested land in Texas to raise Ibericos, whose distinctive flavor comes in large part from their acorn-rich diet.
Manuel Murga and Sergio Marsal cofounded Acornseekers, a pioneering outfit that a year later introduced Ibericos into the U.S., with acknowledged assistance from Boyd.
Soon afterward, White Oak Pastures in Georgia imported its own purebred Ibericos.
And in 2015, Glendower Farms, the Boyd family's ancestral home, became an Acornseekers' affiliate.
The idea, Boyd says, was that affiliate farms such as Glendower would raise Iberico pigs, and Acornseekers would market the products. In 2018, however, Boyd decided to go independent.
"I don't mind telling you it hasn't been easy or without stress," Boyd says of his transition into marketing and selling.
So why persist at his age?
"I'm too heavily invested," Boyd said.
Heritage also weighs on him.
A short walk from the fenced pastures where the pigs roam stands the house where Boyd and his siblings were raised and where his son Whit and family live.
The house dates from 1920, built after a fire destroyed the original pre-Civil War structure.
Nearby, a brick-walled cemetery holds multiple gravestones memorializing Boyd's ancestors and other departed family members.
Parts of the surrounding nearly 2,000 acres have been family-owned since 1839.
"Our family is incredibly blessed with rootedness in a single piece of land," Boyd said. "It's rare for family enterprises to survive into the third generation. We're into our eighth. I feel a strong duty not to let that end in my time."
That explains the multi-generational aspect of the pig operation, which entails growing the pigs and shipping them to a facility in nearby Madison County for slaughtering.
While Boyd manages the breeding, marketing and selling, daughter-in-law Heather and her four home-schooled children — Finley, Maggie, Grayson and Abigail, ages 11–16, respectively — largely handle the day-to-day care of the pigs, along with the business' social media promotions.
"Mondays we dine together and hold family business meetings," Boyd said.
"The kids get to chime in. There are no holds barred. We talk about the good, bad and ugly. It's a workshop on running a small business."
Boyd said Whit concluded as a teenager that he wouldn't be able to make a living as farmer.
He's a physician assistant at Tallahassee Memorial Family Medicine Monticello and helps on the farm as he can.
Boyd aims to pass the pig operation to his grandkids, provided the venture succeeds and one or more of them want to pursue agriculture.
"Some will say I'm crazy," Boyd said. "But that's my motivation."
In the meantime, he thinks his grandchildren are benefiting from the experience, a view that his daughter-in-law shares.
Heather Boyd says her children are contributing to a worthwhile family enterprise.
They're learning about teamwork and about setting goals, overcoming obstacles and more.
"I'm proud of the determination, worth ethic and consistency that they're learning from working on the farm," she said.
All involved are learning about a niche market.
They're in the business of raising and selling pig products, not of curing hams — a lucrative but time-consuming process.
"We can't afford at this point to go two to three years for a ham to cure to get revenue," Boyd said. "It's bad enough waiting 15 to 24 months to grow the pigs."
Glendower focuses on the fresh meat market and direct sales to online customers and farm-to-table and high-end restaurants, such as the Governors Club in Tallahassee and Café Boulud in Palm Beach, where Rick Mace is executive chef.
Mace says his restaurant aims to showcase Boyd's "high-quality product and tell the story behind it."
"We've dealt with a lot of heritage pork and farmers from around the country, and Hines carries some of the best," Mace said.
"He's not trying to manipulate the product other than to be specific with the breed and finish the hogs on a ration that encourages the marbling, which translates into more flavor."
Such feedback gives Boyd hope about his business, which he considers time well spent, regardless of how it turns out.
"It's been a challenge and lots of fun, frustrating and stressful as it is at times," he said.
"It beats staying home and watching television. Part of staying energetic is being active in mind and body as one ages."