Evita Med Spa Opens In Tallahassee
Tallahassee's new premier Med Spa provides unparalleled beauty experiences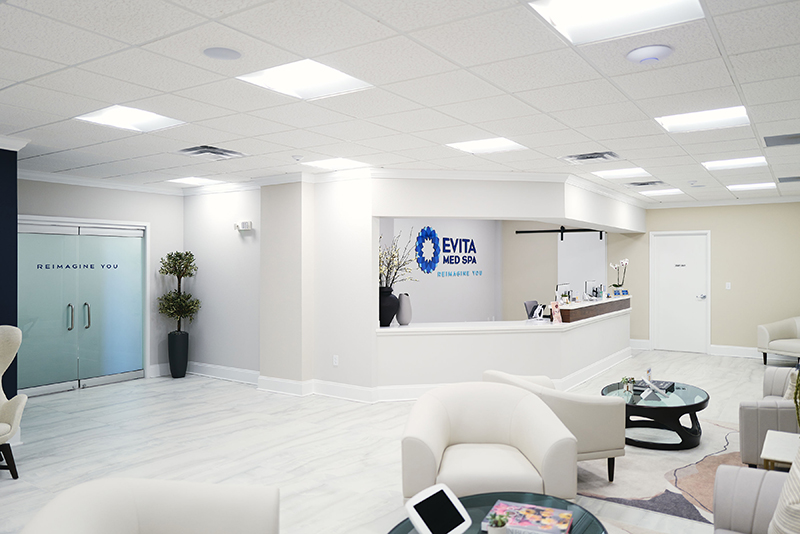 Evita Med Spa announced the grand opening of their new facility in Tallahassee on Jan. 26. Utilizing cutting-edge, state-of-the-art technology, Evita Med Spa aims to indulge the mind, body, and senses by fusing together the relaxing and lavish ambiance of a day spa with the expertise of medical professionals and highly trained practitioners to provide a one-stop shop on your journey to cultivating beauty from the inside out.
Focused on reimagining the beauty experience, they've curated a collection of luxurious products and advanced technologies to provide the most current, innovative, and effective beauty treatments with minimal to no downtime, including Botox, dermal fillers, PRP microneedling, facials, massages, laser hair removal and laser skin resurfacing.
To celebrate their launch, Evita Med Spa invited the public to a grand opening celebration on Thurs., Jan. 26. Guests enjoyed champagne, appetizers, wellness juice shots, complimentary chair massages, Evita swag bags for the first 50 guests and a won free spa treatments.
"We are excited to bring a new med spa experience to Tallahassee, unlike anything seen before in Florida's capital city," said Tina Vidal-Duart, founder and ceo. "Evita Med Spa was named after my daughter, Eva, and means 'Living One' or 'Life/Breath.' We couldn't think of a more perfect name for our med spa, where our goal is to provide a luxurious haven to restore, revitalize, and rejuvenate, as well as enhance one's overall state of well-being by delivering results-driven, quality care."
In honor of their grand opening, they are offering the following specials until January 31st: 20% off Botox, 40% off PRP Microneedling, 10% off fillers (Juvederm, Restylane, Radiesse), savings starting at $50 off per syringe of filler (Versa), 40% off all laser hair removal and laser skin resurfacing treatments (utilizing Candela Frax Pro, CO2RE, Gentle Max Pro Plus) and 25% off all facials and massages.
During the grand opening, founder and ceo Tina Vidal-Duart said, "We are excited to bring Tallahassee a top-shelf, state-of-the-art med spa facility. A facility that offers the widest ranges of services in the region. When you built a world-class community, when you build a high quality of life, business will come and today is the embodiment of that vision. And we are pleased and proud that Evita Med Spa has chosen to make Tallahassee home."
Evita Med Spa is located at 313 Norton Drive, Suite 101, Tallahassee, FL 32308, and is open Tuesday thru Friday: 10 a.m.-7 p.m., Saturday: 10 a.m.-4 p.m., and is closed on Sunday and Monday. For more information or to make an appointment, call: (850) 583-7661, email info@evitamedspa.com or visit: www.evitamedspa.com.
---
Founded in 2022, Evita Med Spa in Tallahassee, Florida is a 3,000 square foot state-of-the-art facility that features 10 treatment rooms and an unmatched team of nurse practitioners, licensed aestheticians, and massage therapists. One of the only med spas open on Saturdays in Tallahassee, they offer the full spectrum of aesthetic and wellness treatments, including Botox, dermal fillers, PRP Microneedling, facials, laser skin resurfacing, laser hair removal, and massage therapy and plan to expand their service offerings in the coming months with the incorporation of a comprehensive wellness program. Utilizing high-quality, science-backed skincare products from their own private-label line, Evita Beauty, and targeting all skin types and conditions, they customize a routine rooted in results-driven, quality care and use cutting-edge, state-of-the-art technologies to provide a one-stop-shop experience and the most current, effective and innovative beauty treatments with minimal downtime.
---