El Jalisco is A Family Affair
Sisters and brothers keep their father's restaurant creation booming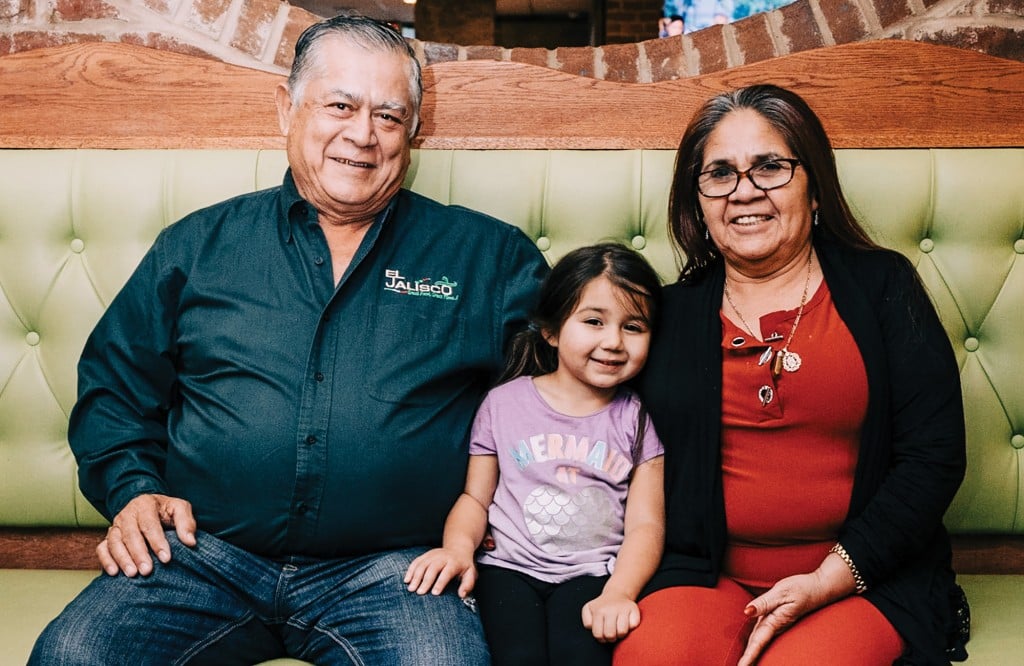 When they get a moment to reflect on the zesty empire that their father cooked up, the nine children of Jose Jesus Carranza don't ponder long.
"We just say, 'Thank you, God,'" said a daughter, Maria Carranza.
Then they get back to work.
There's an El Jalisco Mexican Restaurant, and then some, for each of them.
In the 21 years since its founding, El Jalisco has exploded to locations throughout Northwest Florida. You can't drive far in Tallahassee without running into one. And if you head toward the beach, you might run into one or two El Jaliscos on the way.
The company has grown so quickly that the retired founder's eldest child must think about it when asked about the number of locations her family owns.
"We have … oh, wow," Maria said. "There's four in town. Then there's Eastpoint, Blountstown and Crawfordville, so that's seven …"
She kept counting until she got to 11. That includes one restaurant in Destin, one in Lynn Haven, one in Panama City and even one in Montgomery, Alabama — all run by brothers and sisters, other relatives or close associates.
The Carranza children suggest that they're hardly hoarding and counting, except for what they call their blessings.
"The first two years were hard for us," Maria said. "After that, I say, a blessing at a time."
Some 23 years ago, Jose Jesus Carranza and his wife, Rosa Maria Torres, brought their family to the United States from the western Mexico state of Jalisco, which they would consider a wonderful name for a restaurant. They found their way to Panama City, then moved to Marianna.
Jose was working in the Mexican restaurant business in 1999 when he spotted and leased a vacant former Waffle House in Eastpoint, a fishing community near Apalachicola. Family members painted the building and built booths and tables.
Jose opened it as a Mexican restaurant that, on the advice of the building's owner, offered American breakfast.
That meant he had to learn about poached eggs, for example, and he got his family involved in everything. He'd cook. His wife and oldest daughter would wait tables, and other children who were old enough would help in the kitchen.
It proved a challenge for the family, which at first made enough money only to pay the lease, Maria said. They also had problems getting buy-in from the community, which had little experience with Tex-Mex food — the predominant fare of Mexican restaurants in the U.S. — and with the new folks in town who made and served it.
"People were looking at us like, 'You're strangers. What are you doing here?'" Maria said. "They'd look at the food, and it was like, 'I don't want to pay for that s—.'"
Other examples included a 25-cent tip from a table of seven and a woman who chastised her for not speaking English, she said. "They'd tell us, 'Go back to your town. You're illegal.'"
Family members said they'd respond to the cruelness with warmth, asking hostile customers what they could do to make them happy. In one such case, a woman who begrudgingly had come in regularly with her husband asked for an egg sandwich on wheat toast, an item not on the menu.
The woman changed her attitude and demeanor when the restaurant delivered and kept delivering on her request, Maria said. Before long, she said, the woman would refer to servers and cooks as "my Jalisco family."
"We had to let people know that we're not bad people," Maria said. "We're good people, and the reason we're here is for work. I think people love us now because they see what kind of people we are — hard-working people."
The 13-table location stayed full, prompting Jose Jesus Carranza to open locations in Blountstown and Crawfordville. In 2008, he opened his first Tallahassee location, on North Monroe Street, and later added locations on Capital Circle Northeast, in SouthWood and on Kerry Forest Parkway.
El Jalisco's colorful new photo-heavy menu features Tex-Mex favorites such as fajitas, burritos, quesadillas and more, plus a drink menu that trumpets the margarita. Family members said the company has emphasized healthier eating, with char-broiled options and less emphasis on oil and butter.
Recent restaurant improvements include a bigger, company-owned location in Eastpoint, a brand-new building in Crawfordville and about $300,000 in upgrades at North Monroe, they said. They aim to build more restaurants, perhaps in other parts of Florida, when the time is right.
"Everybody knows El Jalisco now," said Victor Carranza, 32, a younger brother of Maria Carmen, 44. "It takes time to let people know that we've got good food."
Victor serves as general manager. He oversees operations, including menus of all 11 restaurants. He also owns two rivals: Cancun's Sports Bar and Grill, on West Tennessee Street, and Sabor Fresh Mexican Food, on West Call Street.
To underscore El Jalisco's unconventional, family-focused corporate structure, the founder's eldest child said she doesn't carry a title.
"I work anywhere they put me to work," Maria said with a laugh.
She largely divides her time among the North Monroe Street, SouthWood and Kerry Forest Parkway restaurants, serving as hostess, helping in the kitchen, washing dishes or waiting tables. When pressed, she acknowledges that she helps manage the North Monroe Street location.
"If we don't have people to do the job," she said, "we do the job."
She said she and her siblings must be prepared to work on weekends or without notice if an employee doesn't show up for work. That also goes for a younger sister, Alma Totten, who stays home with her kids but helps when she's needed.
As their father did, the siblings also get help from their children.
Their mom does the bookkeeping, and their dad — though retired — can't stay away. He frequently shows up at his restaurants to watch what's going on.
Non-family employees say they're happy to have earned the family's trust. When the family has a cookout or celebrates a birthday party, all employees get an invitation, said Francisca Chinchilla, who helps run the North Monroe Street location.
"They treat you like family, and that makes a difference," she said.
On Sundays, family members meet in the Gadsden County town of Greensboro, where the patriarch and founder of their growing empire raises cows, goats and chickens, drinks fresh milk daily and makes his own cheese.
"He waits for us," Maria said, referring to the Sunday routine. "The first person who comes to the house has to cook the food."