Disney Imagineer Teaches FSU Students Magic of Storytelling
At FSU, Mk Haley teaches more than just animation.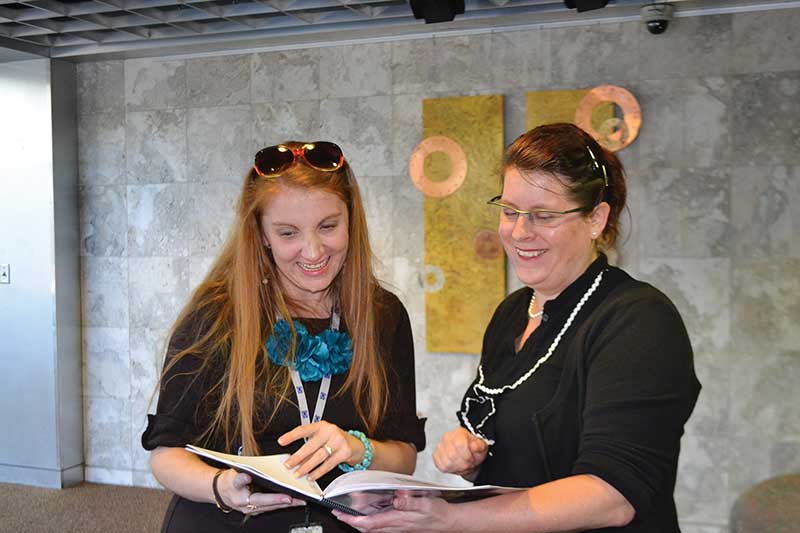 Storytelling is the essence of the themed entertainment classes that Mk Haley teaches at FSU during fall semesters.
Not storytelling in the conventional sense of character, plot, setting and conflict resolution, although storyline, physical space and thematic cohesion/coherence are very much parts of it.
But storytelling as a process involving research, creativity, interdisciplinary collaboration and critical thinking — skillsets that Haley maintains are necessary in every field.
"These are the areas where industry, any industry, is saying that entry-level employees are desperately lacking," says Haley, an Imagineer with the Walt Disney Company and one of multiple entrepreneurs-in-residence from various industries partnering with FSU's Jim Moran School of Entrepreneurship in Tallahassee.
Haley titles her class "Creating Experiences" because she doesn't want her students, whose majors are varied, to think it's solely about entertainment.
"Because it's not," she asserts. "It's about working in groups across disciplines."
She cites Imagineering (imagination plus engineering), Disney's research and development arm responsible for designing and building experiences at its theme parks, resorts, cruise ships and other entertainment venues, and encompassing "over 130 disciplines — everything from accounting to zoology."
A person may excel at whatever, Haley says, but if they don't work well across fields, "they're coexisting, not collaborating."
"Working on teams and across disciplines is something my students struggle with," she says. "So, any time a good idea happens, and it only happened because two disciplines got together, I like to stop the class and say, 'Hold on, you guys get it, right?'"
Storytelling, as Haley explains it, involves the use of physical space to create experiences. It relies on teamwork, meticulous research, attention to detail and flawless execution — hallmarks of Imagineers.
"It's a struggle to tell people what a story is," Haley says. "Many people think it's taking a theme and cramming the Grimm Brothers atop it. And that's not it. It's the idea that everything around us — the physical places that we build — communicate information. So that if you were to wake up flat on your back in the center of Dodger Stadium, you would know where you were. How? There's no sign that says baseball stadium. But everything about that space tells you what it is. Whether it's a classroom, library, church, grocery store or art gallery, there's a combination of form and function and physical space that tell a story. So, if we're looking to tell a specific story, we do it with the physical space."
She cites Apple stores and sporting arenas as examples of highly themed experiences.
"How you behave in there and what you see at what point is extremely well orchestrated," Haley says. "As are most shopping experiences. The Apple Store literally looks like a proscenium from outside. If you think of sporting arenas, they're highly immersive entertainment venues. They've got projections on the walls, giveaways, color themes, and good and bad guys. There's as much a story there as anywhere."
A Massachusetts native with a master's in computer animation, Haley has been with Disney since 1994, serving in both creative and technical roles. She has also taught in one capacity or another since day one.
Indeed, because of her prior teaching experience in graduate school, she quickly became the go-to person at Disney whenever someone was needed to lead group tours or give new hires orientation talks.
"And it just exploded," Haley says. "Anytime anyone asked for a conference lecturer, it was me; then it got into legitimate teaching gigs."
She came to FSU through Peter Weishar, formerly dean of the College of Fine Arts and currently with the Jim Moran School and founder/director of the Themed Entertainment Institute (TEI), whose mission is to develop the next generation of designers and producers for Florida's themed-experience industry.
A trusted Disney partner from his days at Savannah College of Art Design, where he established the nation's first Master of Fine Arts program in themed-entertainment design, Weishar chose Haley as entrepreneur-in-residence for his budding TEI.
The setup allows Haley, and by extension Disney, a unique relationship with FSU.
"We (Disney) have great relationships with other university departments," Haley says. "Like we've partnered for years with Carnegie Mellon robotics. But we didn't have a relationship with a whole school. The entrepreneur-in-residence program allows me this option. It may be the only program of its kind in the country where a university has folks from different industries partnering with the school."
The relationship is mutually beneficial. FSU gains Haley's expertise.
As for Disney: "Of course I'd like to steal all the good students," Haley says laughing. "But really, we just want to make the industry better. Because at some point, that pays off for us. It might not be today or tomorrow, but if everybody is better at what they do, eventually it gets back to us."