Dishing With Marsha Doll
She's a Southern-Style Modeling Agent With a New York Attitude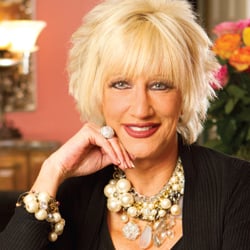 Scott Holstein
Marsha Doll at home in Tallahassee.
With a spiky golden blonde hairdo, short skirt, sky-high heels, blinged-out jewelry and energy to spare, Marsha Doll is easy to pick out in a crowd.
For 35 years, the modeling agent and coach has had entrée to agencies around the world — particularly in the center of the modeling universe, New York City. Doll, 52, also judges modeling competitions and, several times a year, holds weeklong "boot camps" in New York for aspiring models. Her latest endeavor is serving as a cohost for The Greg Tish Show airing Sunday nights at 11 p.m. on FOX 49.
Doll grew up in Perry, the adored child of parents who owned a department store started by her Jewish Lithuanian grandfather that's now run by her husband of 17 years, Dean Faulkenberry. (The name Doll is for real, from her first marriage.) Her "perfect little Cinderella life" ended with her mother's death and the loss of her only sibling a few years later. In 2007, Doll was stricken by cancer, first in one breast and then a completely different type a few months later in the other. At the same time, her lucrative side business in professional staffing dropped precipitously with the recession; but her tribulations have given her a new attitude. "I love money, I love nice things, but you know what? I'm just kind of over it," she said. "I've had a great life. I've learned a lot through quite a bit of adversity, but I've been very fortunate and I want to share that with the world."
1. You're always dressed to the nines. Isn't being casual one of the advantages of working from home?
I dress up every day; that's one of the things I teach. Women especially, if they work out of their homes they get in that rut of going downstairs in your nightgown. Getting dressed and putting on my makeup makes me feel more powerful, even when no one's here. It's for me.
2. Have any hidden talents?
I can twirl a baton and ride a unicycle. Once, I did both at the same time up and down the street. People thought I was absolutely bonkers.
3. Tell our readers the story of Louie.
I'm in the middle of cancer, I've got my nightgown on, I'm looking out the kitchen window and I'm just crying hysterically. All I can think about is that I need my mom, who had died a few years earlier. I look up and a bright red cardinal is just staring at me. I named him Louie — my mother's name was Louise. Now, three years have passed and he comes when I call. I can't wait to get up in the morning and see Louie every day.
4. Do you have to be tall, young and skinny to be a model?
There's room for anyone in this business. I don't care what age, I don't care what size you are; you can do this business. Turn on the TV and what do you see? You see real people, and that's what modeling is all about. It's not who's the prettiest in a beauty pageant; it's selling a product. So if you're selling Geritol, you need a 60-, 70-year-old person … not some hot blonde that's 19 and tall and skinny. High fashion? That's another story. If you're not five-foot-nine or above and have 36-inch hips or smaller you can forget it in high fashion. It's not going to happen.
5. Where do you recruit candidates for your makeovers?
Walmart. Because everybody has to go to Walmart for some reason or another — and usually you don't dress up.
6. Do you have a favorite place to be?
I love to go to my condo on the beach in Panama City Beach. It's a beautiful wraparound unit.
7. What's your splurge?
I don't blink at $500 dinners at Daniel Boulud's in New York City. That's my thing. We eat our money, no doubt.