Corporate Home-Quarters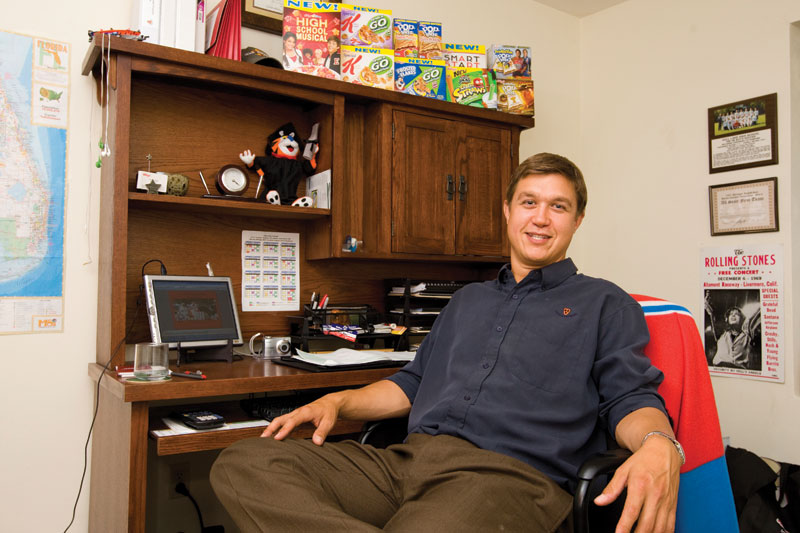 It's time to look at telecommuting
Home/Work Without ProblemsAs Telecommuting Gains in Popularity, the Line Between Personal and  Professional space is Ever More Blurred
By Jason Dehart and Maria Mallory White
Most people would agree: The morning commute to work in rush-hour traffic produces a pain specific to the posterior region. Now, with the price of gasoline continuing to climb, workers are feeling it in the pocketbook, too.
And the anguish is spreading.
"People concerned with the effects of gas prices are significantly less attentive on the job, less excited about going to work, less passionate and conscientious and more tense," says Florida State University College of Business Professor Wayne Hochwarter, who surveyed more than 800 full-time employees this past spring when gas prices hovered at about $3.50 per gallon. "These people also reported more 'blues' on the job. Employees were simply unable to detach themselves from the stress caused by escalating gas prices as they walked through the doors at work."
Looking for some relief? Maybe it's time to leave the bumper-to-bumper traffic behind and steer your career along the Information Superhighway. If you're tired of congested roadways, concerned about air quality and fed up with high prices at the pump, telecommuting could be your answer.
The Value of Virtual Venues
Even before fuel costs began to spike, workers and employers around the globe began embracing the telecommuting or "telework" phenomenon. "Telecommuting is second only to 'casual days' as the fastest-growing shift in traditional working patterns," reports the American Telecommuting Association, which defines the practice broadly as "any method for working productively while away from the traditional office."
In the three decades since the term "telecommute" was first coined, academia, state and federal governmental agencies, and countless individuals have sampled and studied the work-at-home option for a broad spectrum of jobs and industries. "One of the most pleasant surprises about telecommuting is that it's a win-win-win situation for the individual telecommuter, the employer, and society as a whole," according to the ATA.
Notorious for its red tape and bureaucracy, the U.S. government reportedly has outpaced private employers for years in adopting telecommuting – by as much as a 3-to-1 margin in 2007.
On the state level, fully a decade ago, after conducting two three-year studies, Florida embraced telecommuting as an official option for its employees.
Working from home is a voluntary option for state employees with amenable jobs, says Anna B. Gray, manager of work-force development and benefits in the Florida Department of Management Services' Division of Resource Management, which oversees the state personnel system. By law, "All agencies have to identify and maintain a list of positions appropriate for telecommuting," Gray says.
"Initially the focus of the program was in terms of work-and-life-balance issues, and initially it was designed to be a recruitment or retention benefit," Gray says.
"(Telecommuting) was an alternative work arrangement primarily to meet the needs of employees and to show some flexibility."
During the most recent legislative session, the state's program was on the agenda once again, and its mandates were tweaked.
"In today's world the emphasis, of course, is now on energy savings, gas emissions and energy conservation," Gray says.
Back in the earliest days of the state program, the logistics commanded much attention.
"At the very beginning, personal computer technology was still very new," Gray says, "so there was a lot of emphasis devoted to how to set up a home office, what sort of technology and what type of dial-up technology and additional equipment was needed.
"Nowadays, it's so fluid because a good percentage of employees already own personal computers or have Wi-Fi access," she says.
Big Companies, Local Commutes
T.J. Arends makes a living selling cereal for Kellogg Company, which has its headquarters in Michigan. He is a regional salesman stationed in Tallahassee, and he covers portions of the Florida Panhandle, Alabama and Georgia. He moved here from Michigan in late October 2007, and says that while he spends a lot of time on the road visiting clients, telecommuting is an essential tool for any modern business.
"I have a home office, Internet, fax, the whole works, so I can be completely functional," he says. "I have all the administrative applications at my house. There is a lot of benefit to it. I can definitely see with gas prices and commodity prices on the rise, and with the discipline of an employee they can get as much done in their own environment without having to be in one office."
However, the lines between work and home blur right away.
"When you don't have an office to go to and work out of home, there's always something to be done, and it's hard not to work all the time," Arends says. "Business is always there. I think about work on the weekends, too. One of my rooms is my office. I hear the e-mail, so it's hard to shut if off completely. But at home, I can do my work in my robe or whatever – I don't have to get all buttoned up."
Looking ahead, Arends says he can see more people telecommuting in the future.
"As far as the trend is concerned, the technology of today and the remote access to all of the interfaces and secure servers means you can access all the same info you could at a regular work station or office," he says.
Small Companies Profit, Too
Being able to compete globally is a big thing, even for the small company. Modern communications technology enables newspaperclips.com of Tallahassee to keep track of its far-flung employees.
"We have 22 employees, and for the most part the majority of them are in Tallahassee and Austin (Texas), but we have folks in California, Seattle and we also have two people in India full time," says newspaperclips.com boss Jim Wacksman. His company specializes in providing real-time, electronic news clippings to a variety of clients ranging from state governors to public relations firms.
Wacksman's 10-year-old company is a microcosm of how technology has changed the way business is run. For the past 100 years, clipping services existed for PR firms to justify their budgets to clients, by showing them how much press they were getting. Today's electronic clipping services are about getting fast information that subscribers can use immediately.
"From our very first year, one of our earliest subscribers was Jeb Bush, and he would get every single article about him from 200 papers, and even the Spanish papers, by 7 a.m., so he knew everything that mentioned his name and he knew exactly how to respond to reporters," Wacksman says. "It's all about information you can use."
The modern clip-gathering practice is known as "harvesting the data."
"Most of our employees that telecommute, they basically scan the Internet for news," he says.
However, only a few human hands do the work these days – "data mining" systems account for 90 percent of the information gathered.
"When we first started, we probably had 30 employees to provide content from just Florida; today, 10 are able to harvest news from 30 states," Wacksman says.
Most of his employees are either responsible for research and collecting content, or selling subscriptions to the service. But for the ones collecting the data, it can be a 24-7 job. That's where telecommuting comes into play.
"To work from home is just about the only way to do that," Wacksman says. "I wouldn't want somebody coming to the office at 3 a.m. to do that. Why do that when things can be integrated so well? We have people from Texas to Florida who never have to go to the office."
It's the same with the sales department.
"We have some stay-at-home moms with professional sales experience who have given up the traditional sales office for the sake of staying home with their families," Wacksman says. "They enjoy sales and are able to put in a few hours a day with us on their schedule without tying themselves to a traditional work environment. It's a win-win situation.
"What's really neat is how flat the world has really become … because of our ability to communicate," he says. "It doesn't get any better than the guys in India. We are able to take advantage of worldwide talent and resources. We have access there, where just a few years ago we were limited, literally, geographically."
What Wacksman likes about the "telecommunity" he manages is that to him, it's all about performance. He doesn't care where they work, as long as they get the job done.
"As long as we reach certain goals, I don't care if they hit that goal while at the beach or pounding pavement," he says. "The challenge in that is I get a sense that we don't really have anchors anymore in our days. You don't unplug at 5 p.m. I spend 50 percent of my time outside the office, and there's no 'off' button. That's the unique challenge.
We all have our cell phones, BlackBerrys, and these are really game-changing improvements. But on the other hand, I'm as likely to be responding to e-mail at 2 a.m. as I am at 2 p.m."
Potential Benefits of Telecommuting
• Increased performance
• Increased productivity (25 percent or more)
• Increased job satisfaction
• Reduced absenteeism
• Lower employee turnover rates (by up to 25 percent)
• Reduced energy consumption
• Reduced demand on our transportation system
• Helps with compliance for the Americans with Disabilities Act
• Empowers employees to operate at their full potential
• Employees have more control of their work environment
• Encourages flexible working hours, and potential savings in time and money
• Reduces the frequency and distance of commuting to work
• Potential savings in utilities, office rental and parking
• Reduces pollution
• Saves energy resources
• In an emergency when employees may not be able to get to the office, work can continue.
Source: "Telecommuting: A Guide for Managers and Employees Considering Telecommuting," Florida Department of Management Services