Building Faith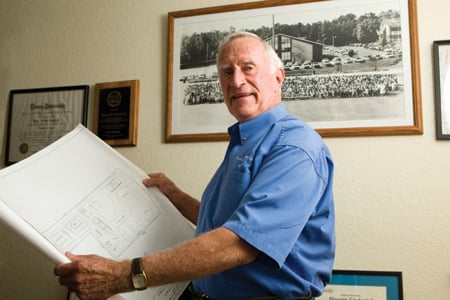 Former principal Jim Pound "unretires" to start a new school in Wakulla CountyPhoto by Scott HolsteinBuilding FaithAfter 20 Years at NFCS, Jim Pound Works to Establish a New Christian School in Wakulla County
By Bonnie Holub 
He wears a three-piece suit and a bowler hat and comes-a-calling on Sunday afternoons. We sit in rockers overlooking Ochlockonee Bay, chatting about life, wildlife, Wakulla County and health. The year is 1980 and Dr. James H. Pound is one of the first neighbors I meet when I move to Wakulla County. He and his wife have a log cabin on the bay a few doors down from our place that was originally owned by state Sen. William C. Hodges and his wife, whose main residence was Goodwood Plantation. Pound, a prominent surgeon in Tallahassee, was the senator's physician and bought the cabin, which he used as a weekend retreat, from Mrs. Hodges.
Over the years, we talk on many topics. One afternoon, he'll recite classic poetry by heart, talk about the latest articles in his medical journals and adamantly promote the idea of people getting preventative check-ups.
He is humorous and spirited, the latter quality abundantly displayed after a 1985 hurricane damages many of the docks along Ochlockonee Bay. Most people help each other identify and recover pilings and wood slats, but some take the opportunity to pick up large amounts of wood that isn't theirs. Pound, who is probably in his late 80s at the time, tells me while brandishing his fists, "If I were five years younger, those guys wouldn't get away with that!"
Little do I know when I meet Dr. James H. Pound that I will have the future pleasure of welcoming a second James H. Pound to our bayside community. Like his father, James H. Pound Jr. is an interesting, accomplished and charming man. The younger Pound is the founder of North Florida Christian School, where he would serve as principal for 20 years.
When Pound retired from NFCS in 1988, he received warm praise from Stanley Marshall, a friend and former president of Florida State University: "I know many people whom I would categorize as good Christians," Marshall wrote to Pound "I also know many I regard as good educators. But the number who can be called good Christians and sound educational leaders is a highly select group, and you are one of those."
After his retirement, Pound would go on to establish another school in Wakulla County. So why, after an extremely successful and rewarding career, does he take on such a task … again? It's an intriguing story.
Jim Pound and I met after his dad passed away and Pound began remodeling the old log cabin.
At the time we met, Pound didn't know how much this cabin on the bay, where he spent time in his youth, would significantly influence his later life and work.
"The cabin was a log-built fishing shack," he reminisces. "We had to bring in our own water, there were no facilities, and it was terribly hot in the summer. But it was wonderful. Really wonderful. I spent hours on the shore exploring and fishing as a child. I never wanted to go home. One of my vivid childhood dreams was to live on Ochlockonee Bay."
Pound was born in 1932 in Chattahoochee, where his father was superintendent and chief surgeon of the Florida State Hospital. His mother, Heloise Howard Pound, who was a nurse, met his father at Emory University.
When the family moved to Tallahassee, Pound enrolled in kindergarten at Caroline Brevard School, later attended Sealey School and graduated from Leon High in 1950. Like his parents, Pound attended Emory, graduating, after a two-year hiatus in the service, with a master's degree in exploration geology. He was hired by the Texaco Corporation immediately after college in 1957 with the highest monetary job offer in the graduate school – a whopping $500 per month. He and his wife of two years, with whom he eventually would have four children, moved to Houston for the job.
During the Houston years, Pound says he was not a devout Christian. However, he and his wife had two preschoolers and he wanted them to be raised with Christian values, so he began visiting various churches in the city, looking for a spiritual home. One of the churches he attended offered an affiliate Christian school and, on the Sunday that Pound visited, a group of 5-year-olds from the school performed after the sermon, singing and reciting scriptures. But the activity that most amazed him was when the pastor asked the students to read from the Sunday paper.
"It is remarkable. These 5-year-old children reading from a paper, which they had not previously seen," Pound says. "I remember thinking, 'I would give anything if my children could have a school like that.'"
After Pound and his family returned to Tallahassee around 1959, he couldn't forget the young children and their impressive schooling. While talking to friends about the idea of a Christian school in Tallahassee, one told him about a new preacher in town, Rayburn Blair. A former Marine, Blair preached from a storefront location on Monroe Street. He and Pound would become good friends.
Because of his public interest in a Christian school, Pound was approached by the pastor of Southside Baptist Church, Robert Taylor, and church member Jim Smith about starting a school. Although Pound assisted with establishing Tallahassee Christian School, he left the governing board shortly after the school opened, and began to visit and study the operation of Christian schools throughout the state. His employment at the time involved a great deal of travel, allowing him to visit and learn more about these schools.
During this time, Pound approached Blair with the idea of starting a school at Temple Baptist Church – and North Florida Christian School began. Twenty acres of undeveloped land were purchased "out Meridian Road" for the church and school buildings. (It's the site where the church and school still stand.)
The first school – one classroom – was erected in 1966 and opened its doors to 40 kindergartners from Tallahassee and throughout North Florida. The next year, enrollment jumped to 140. More classrooms were built and Pound became the full-time principal. Under his guidance, NFCS grew to a full campus with all grade levels, an athletic program, a gymnasium, a dining room and buses for transporting students from throughout the Big Bend.
By the time Pound retired in 1988, enrollment at NFCS had grown to 1,650.
"I felt like I had accomplished my mission," he says. However, apparently a higher power said, "Not so fast, Jim."
After retirement, Pound's childhood dream of living on Ochlockonee Bay played on his mind, and in 1996 he set about making arrangements for the move. He spent a great deal of time remodeling the log cabin, making it a modern and comfortable while retaining the historic characteristics of the structure.
But after relocating to Wakulla County, Pound realized retirement hadn't dampened his energy. After working in real estate for a short time, "divine guidance" seemed to lead him down another path.
He was hired as principal of Charter School of the Arts, Science and Technology, a new public charter school in Wakulla County. The three years he spent there were satisfying to a point, Pound says, but his heart was in teaching Christian principles using "the Bible and prayer." Since C.O.A.S.T. was a public school, he wasn't able to employ the resources that are the foundation of his guiding principles.
After leaving C.O.A.S.T., Pound began assisting a longtime friend with his publishing business. While selling ads, he made a call on Wakulla Springs Baptist Church, a place that was familiar to him.
"A few years before, when I was remodeling the cabin, I made several trips a week to and from Tallahassee, getting materials and such," Pound says. "On those trips, I noticed land was being cleared in the northern part of Wakulla County adjacent to Highway 319. One day a sign went up announcing Wakulla Springs Baptist Church. A feeling went through me at the time that is hard to explain.
"I felt the Lord was telling me, 'This is where I want you to build a Christian school,'" Pound says. His reply to the Lord? "But I've already done that."
Pound tells of his meeting with Wakulla Springs Baptist Church Pastor Gary Linton, who he had never met before: "After we had taken care of the business for which I had come, he said, 'Yesterday I was at Temple Baptist Church and asked who was responsible for North Florida Christian School. I was told, "Jim Pound." I went outside and prayed, "I need a Jim Pound to build a Christian school in Wakulla County." And here you are, within 12 hours of my prayer.'"
Pound says he was left speechless by the encounter.
"I know God is real, God answers prayers, but never have I experienced that kind of response," he says. "I went back the next day and began the development of Wakulla Christian School."
The school opened in August 2003 with just over 25 3- and 4-year-old preschool students. Pound's thought of "mission accomplished" years ago was premature. He continues as principal of Wakulla Christian School today, now with an enrollment of 98 and offering grades pre-K through third grade, with plans to add fourth grade and another classroom this year. Now housed in temporary buildings, Pound says he is using the same formula to build the Wakulla school that he did for NFCS – adding to the student body grade by grade, and building permanent structures as they can be funded.
Teaching Christian principles is a priority for the school and its leaders.
"We treat children the way Jesus would," Pound says. "I tell our teachers that our first and most important job is to love the children. Love the children. That's the key. Treat them with respect and kindness. If you do, they usually will respond in kind.
"I believe there's a spiritual component to life," he says. "When that is absent, there is an unbalanced development in the child. We care about the spiritual, mental, social, physical and academic development of our students. That, combined with a lot of love, is the reason for our success."