An Unflagging Radio Journalist
Bureau chief is dedicated to his craft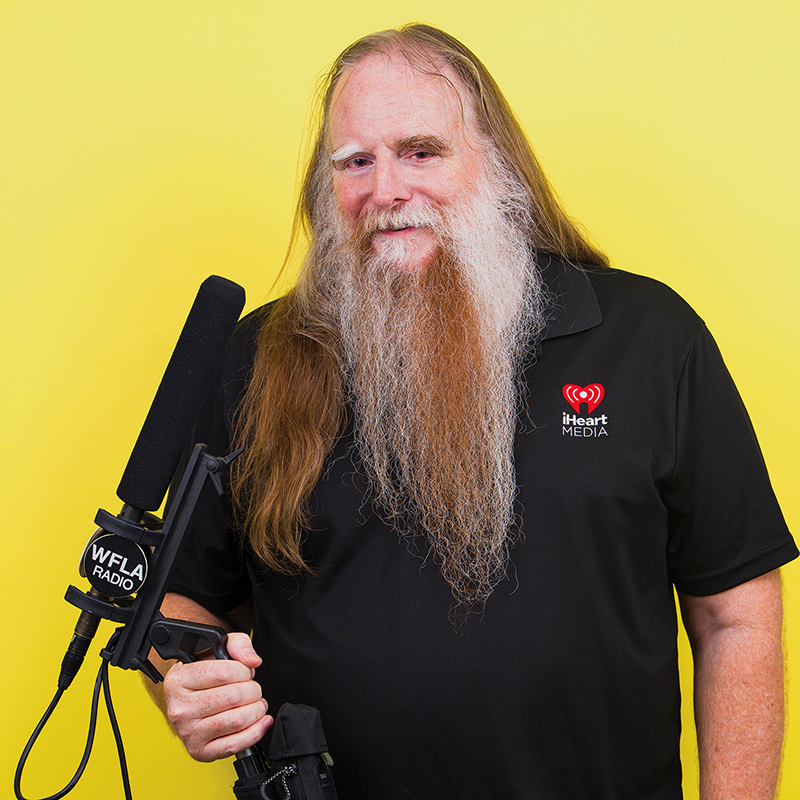 Rick Flagg is a radio journalist who files multiple stories daily as the Tallahassee bureau chief for the Florida News Network, which, according to the FNN website, reaches 90-percent of the state's vast media markets with a listening audience of 3.2 million.
But don't be fooled by the statistics. When you listen to Flagg on air or in person, he's speaking only to you. His mellow voice emanates from a complex brain and bear-like body. The man is a hairy beast with the tender heart of a caring child, gathering words to tell us what he sees in ways that inform, inspire and, on occasion, instigate.
A late-70s graduate of the Florida A&M School of Journalism, Flagg's early forays into print and broadcast media landed him a temporary gig as a political reporter in 1978 — and he never turned back.
For 38 years, Flagg has patrolled the halls at the State Capitol. His coverage of the politics, policies, people and personalities that Florida government work, or not work, is legendary. In the clammy corridors of the Capitol, Flagg is the wild and wooly exception to the rule. No other reporter works in flip-flops, cut-off shorts and flowery shirts or sports long, flowing hair and a beard down to his belly.
Flagg's childhood and teen years were spent across three continents as the son of an Air Force officer who specialized in top secret intelligence gathering, interrogation training and high-level cold war espionage. Flagg, then, knew nothing of his dad's work life details; that would have been a violation of military law. Misplaced curiosity in that game could kill more than the cat. »
Does his secrecy-filled early life fuel Flagg's insatiable hunger for deciphering the code of political conduct? Quite possibly. He's always asking the who, what, when, where questions, but he mostly wants us to know "How the heck did that happen?"
Rick searches for explanation and meaning behind closed doors and within dark depths of political minds. Government officials try to deflect Rick's probing queries, but they seldom succeed. One glance from the eyes beneath his mismatched brows prompts truth-telling from even the most resistant pol.
Who was his favorite interviewee? The late Gov. Lawton Chiles without a doubt.
"That guy couldn't even try to be evasive — it wasn't in him," Flagg said. "He enjoyed living in his own skin and freely bared his soul. He respected people and shared his love for political workings. And those incomparable country phrases. 'Never miss the chance to take a pee' was the way he said to get the job done when circumstances dictated action."
Flagg's life changed dramatically in 1981. His daughter Katie was born with Down Syndrome providing Rick and his then-wife Rose with both the greatest emotional challenge and strongest source of learning they ever experienced. Flagg says that Katie's journey with health and education challenges has taught him many loving lessons: appreciation in the face of hardship, taking joy from life's gifts and never expecting anything but the unexpected. Also, he had learned that government is essential in the lives of people with needs and should never be disregarded or dismissed in empty political rhetoric.
"If I make a promise to Katie, it's one I'm sure to keep," Flagg said. "Love demands commitment."
Then there's beekeeping, a hobby which Rick has taken to with a passion. Tucked into a corner of his lot at his Frenchtown home are eight, multi-level colorful hives. The buzzing music of their industry is an inspiration for Rick to live as nature dictates.
Worker bees live less than a month, proving that much can be accomplished in concentrated time-frames. Their flight in search of nectar and pollen brings them home to produce honey, nature's most perfect food. The bees' role as pollinator and sustainer of the life cycle of vegetables, fruits and flowers is among the most remarkable of nature's wonders. Flagg said that tending to his bees satisfies his need to respect the role all of us play in the complex game of life.
Rick Flagg is a character extraordinaire. Once you meet him, the impression of his powerful personality will last a lifetime.