A Roundup of Retail Happenings Throughout Tallahassee
What's In Store?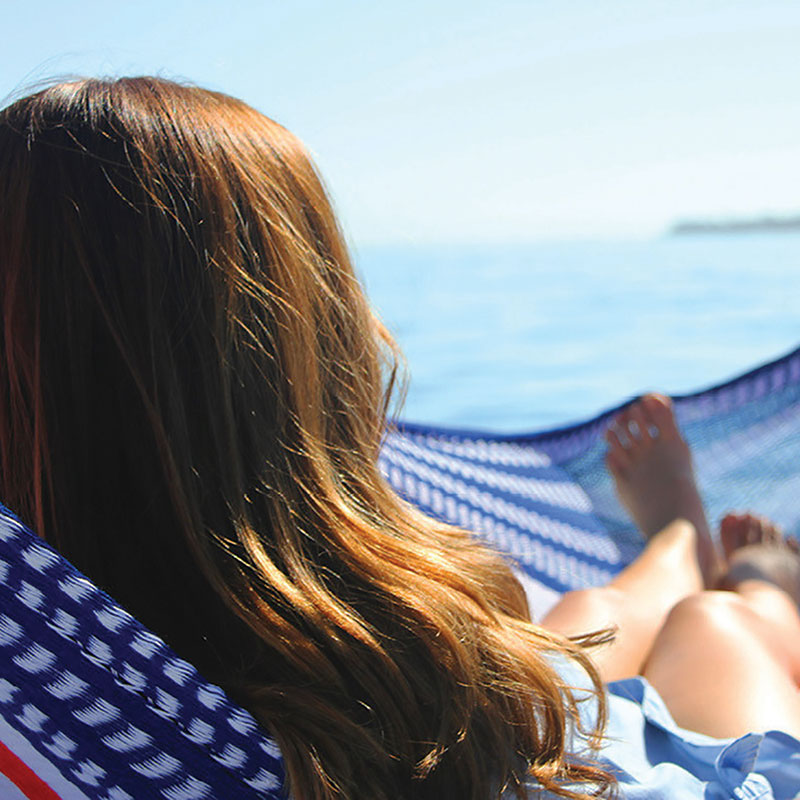 Courtesy of Narcissus
Summer is the time to kick back and relax with a beach read and a refreshing libation. Hearth & Soul invites you to indulge in lounging in a Yellow Leaf Hammock. These intricately stitched, practical works of art are both stylish and comfortable and they provide livelihoods for the artisans who make them.
Whether you are riding waves on a sailboat or strolling the beach at sunset, knitwear is a must for a North Florida summer. Hearth & Soul offers two lines that specialize in easy, breezy spring and summer style. Vince is a line for men and women featuring soft knits and cozy cashmeres. The FINE Collection originated in France and employs only the most luxurious fabrics. Silken and a tad sultry, knits embody summer style.
Courtesy of Coton Colors
---
Designer Sandals
Now in Bubblegum
New to Narcissus are unique shoes by Melissa that will enable you to put your best foot forward at summer festivities. Brazilian made, these shoes are made of recycled plastic and will bring back childhood memories with their bubblegum scent. They are eco-friendly, hypoallergenic and extremely flexible and have resulted from collaborations with world famous designers Karl Lagerfeld, Vivienne Westwood and Jason Wu. No wonder the popularity of the Melissa brand has skyrocketed.
---
Coton Colors'
COURTESY OF Gem collection
Summer lines feature vibrant hues and bold prints that are sure to brighten up any soiree or backyard barbecue.
---
The Gem Collection recently brought in two new lines, SOHO Enamel Jewelry Co. and Gabriel & Co. New York. Both are known for high-end materials including the finest silver and gold.
---
COURTESY OF NARCISSUS
Bold Bags In the warm months, many of us set off or jet off to use our much-needed vacation time. Narcissus specializes in bold bags that are both eye-catching and functional for travel. The latest collection by Rebecca Minkoff blends bright hues and durable materials. The adorable pom-pom bag screams summer. Stock your travel bag with essentials such as punchy shades of Smith & Cult lip gloss, Brighton sunglasses for your beach adventures, travel-size Tocca perfumes and a Bracha keychain to help you locate your keys once you return from paradise.