A Miracle Kind of a Place
Grace Mission provides help, hope and spiritual home for children and adults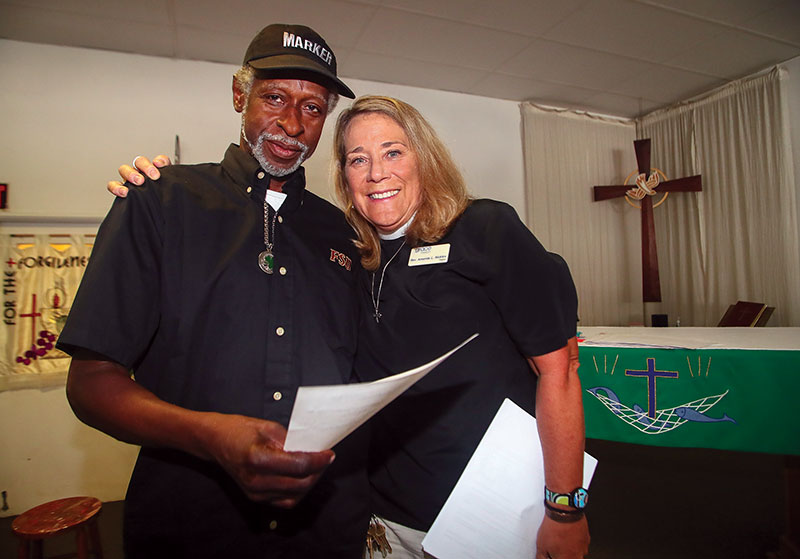 "Just as you did it to one of the least of these who are members of my family, you did it to me."
Established by the Episcopal Diocese of Florida 21 years ago, Grace Mission offers a church home — and some of the comforts of home — to the community's disenfranchised. All its parishioners are poor, some are addicts, most are homeless.
A 22,000-square-foot commercial building at the corner of North Bronough and West Brevard streets houses the church sanctuary, offices and dining hall — which will serve more than 40,000 free meals this year — as well as facilities not usually associated with houses of worship, including showers, a laundry room, and rooms full of donated clothing and toiletries free for the taking.
"Everything we do here is free. We don't charge for anything, ever," said Amanda Nickles, who is starting her eighth year as pastor at Grace.
And she feels fine if people are only listening to her sermons during services because there's air-conditioning and a free meal afterward.
"That's how everybody comes here at first," she explained. "They're still walking into a church. God still brought 'em. I know somewhere deep in their very spirits they are still hearing the message, the good news."
Nickles encourages more fortunate people not to judge but to see others "how Jesus would see them."
"You look at them much differently. You see a soul. You see a person — you see a really cool person, actually. You see the divine spark that they have," she said. "Understand that it's just somebody that has fallen onto hard times. It doesn't matter what the reason is, they're just having a hard time. Why can't we make life easier for people if we can? We're not enabling them. If they've got a grumbling stomach, they're not going to hear a word you've got to say. So we model Christ to them by helping them …."
Her faithful are able to repay these gifts with trust and honest conversation — and by healing.
"You start seeing that transformation, you start seeing the heart soften," Nickles said. "They begin to start dreaming dreams again. Their dreams have been taken away for so long but now … the hope gets restored in their lives and they start having hope that, you know, my life can change (and) things can be different."
Grace Mission has a relatively small annual budget of $300,000, funded mostly by the diocese, local churches and fundraising. It takes no government or nonprofit money. There are three full-time staffers and three are part-time. The lion's share of the mission's work is done by volunteers, expected to log about 20,000 hours this year. "If I didn't have volunteers, I wouldn't be able to run this place," Nickles said. "They're my lifeblood."
Expanding their world
Another major effort for Grace Mission is its year-round children's program. During the school year, it provides an academically based after-school program for about 25 first- through fifth-graders who live nearby in the Springfield Apartments, part of the Tallahassee Housing Authority. In the summer, there's a week-long reading academy and an opportunity to sleep away at Camp Weed, an Episcopal summer camp in Live Oak.
Three days a week, the academic program picks up children from Riley Elementary School and delivers them to the Episcopal University Center for one-on-one tutoring provided by local college students, chapel on Wednesdays, and creative free play. They are fed a hot dinner and then delivered by bus to their front door.
"Some of (the children) don't get out of the neighborhood much. It's school, neighborhood, school, neighborhood right here," said Elizabeth Crowe, who started the program 15 years ago "with a pack of notebook paper and some pencils and a couple of kids."
"Expanding their world is something we can do," she continued. "It's all about possibilities and what they can do. And someone needs to tell them 'you can do this.' "
The Christmas season is special throughout the mission. Church members are invited to give back by writing letters to Santa, which are then delivered to Macy's. The store makes a $1 donation to the Make a Wish Foundation for every letter written and this year's goal, Nickles said, is 2,000 letters.
They are also encouraged to reach out to their families by writing Christmas cards to family members, even if they are estranged.
Grace Mission's Christmas service attracts upwards of 200 people and is followed by a dinner where worshipers are seated and served a traditional holiday meal at festively decorated tables. "The laughter and the joy that you see in people's faces … that's really nice," she said.
The youngsters have their own family night, which includes a service at St. John's Episcopal Church, followed by a plated dinner. The event ends with each child being presented with a large, black bag full of wrapped gifts, chosen especially for them.
"Pastor Amanda" reflected on the work being done through Grace Mission, saying, "It's amazing what God does. It's truly a miracle. But then, this place is a miracle kind of a place."
---
Want to help?
Grace Mission is able to operate through the generosity of the Tallahassee community. Here are a few things you can donate to help:
Your time (to see volunteer positions, visit the website at gracemission.net)
Your money
Underwear (L, XL)
Razors
Deodorant
Toilet paper
Paper towels
New Christmas cards
Men's shoes
Kitchen items, household items (not furniture)
Towels
Shampoo/soap/lotion (sample-size and regular)
Laundry detergent
Eggs
Copier paper and other office supplies
Batteries
Christmas gift wrap, tape and bows