Florida's Most Beautiful Parks Are Closer Than You Think
A Day Outside and Dinner Nearby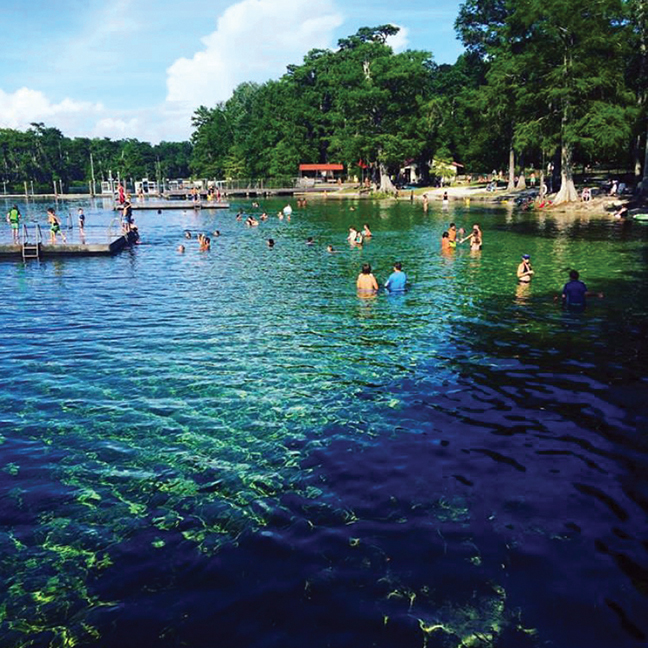 Wakulla Springs State Park
Fans of monster classic "Creature of the Black Lagoon" may recognize some of the film's backdrop when visiting Wakulla Springs, where beauty runs deep. The park boasts some of the world's largest and deepest freshwater springs. Swimmers and sunbathers will love the charming, kid-friendly beach outside the Wakulla Springs Lodge, built in 1937, which also offers a full-service dining room, soda fountain, gift shop, and bathhouse. Be sure to take a riverboat ride down the winding Wakulla River, where manatees can be spotted, especially in cooler months.
465 Wakulla Park Drive,
Wakulla Springs, (850) 561-7276
Stroll to lunch, full dinner or snack:
Wakulla Springs Lodge, 550 Wakulla Park Drive, Wakulla Springs, (850) 421-2000
St. Marks National Wildlife Refuge
It doesn't get much wilder than the St. Marks Wildlife Refuge, which comprises over 70,000 acres of habitat, along 45 miles of Gulf coastline and crossed by the Florida National Scenic Trail. Forest swamps, lakes, marshes and seagrass beds nurture an exceedingly high diversity of plants, amphibians, reptiles, birds, mammals, and invertebrates. Opportunities for fresh and saltwater fishing are plentiful here, and two boat launches provide access to Apalachicola Bay.
1255 Lighthouse Road,
St. Marks, (850) 925-6121
Grab a beer with the bikers:
Ouzts Too, 7968 Coastal Highway, Newport, at the St. Marks River Bridge, (850) 925-6448
Bald Point State Park
Located where Ochlockonee Bay and Apalachee Bay meet, Bald Point is not your typical beach. Visitors seek out this scenic state park for its birding, wildlife spotting, fishing, and hiking. Beachgoers looking for a stretch of undeveloped and wild shore can access the water at three points, while nearby, five trail heads lead to miles of hiking through sandy coastal scrub. In the fall months, it's common to spot bald eagles and other migrating raptors or monarch butterflies on their way south. 146 Box Cut Road, Alligator Point, (850) 349-9146
Admire the water while you dine:
Angelo and Son's, 5 Mashes Sands Road, Panacea, (850) 984-5168
St. George Island State Park
A Gulf barrier island accessible by way of a four-mile bridge, St. George Island is known for its pristine, white-sand beaches, consistently rated among the best in the U.S. and perfect for an afternoon of swimming or sunbathing. Fishing opportunities also abound on the Gulf and Apalachicola Bay sides of the island, and the park is famous for shelling. Highly recommended for a daytrip from Tallahassee. If you're able to stay over, either by renting a house on the island or pitching a tent at one of the park's campsites, take the opportunity nightly to stargaze.
1900 E. Gulf Beach Drive,
St. George Island, (850) 927-2111
Enjoy scrumptious, no-frills, fresh catch:
Lynn's Quality Oysters, 402 U.S. 98, Eastpoint, (850) 670-8796
St. Joseph Peninsula State Park
This is another top-rated beach and park, at the tip of Cape San Blas across St. Joseph Bay from Port St. Joe. The sand is white and the water is clear at this relatively untouched section of shoreline, where you're likely to be the only person on the beach and shelling, snorkeling, and scuba diving (offshore) are encouraged.  Some of the tallest sand dunes in the state are found here, as well as nesting turtles.  Campers love this park for its ample facilities with water, electricity, picnic tables and grills, and primitive camping available in the preserve. Visitors from near and far choose to return year after year.
8899 Cape San Blas Road,
Port St. Joe, (850) 227-1327
Featuring oysters that "slept in the bay last night":
Indian Pass Raw Bar, 8391 County Road 30A, Port St. Joe, (850) 227-1670
SPECIAL ADVERTISING SECTION