2014 Best of Tallahassee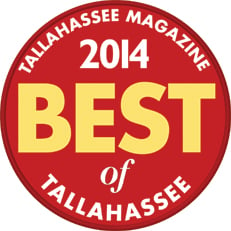 You voted — and, ladies and gentlemen, the results are very much in. This year, we have an exciting mix of old and new when it comes to our "Best of Tallahassee" awards. From first-timers to old favorites, these restaurateurs, service providers and shop owners have worked tirelessly to win your loyalty and trust. Now it's your turn to be a good neighbor. Come celebrate all their hard work at our annual Best of gala, held at Goodwood Museum & Gardens' Carriage House Nov. 18. Wander on over to www.tallahasseemagazine.com for all the details.
Food & Beverage
Appetizer: Bonefish Grill
Seriously, who can resist the scrumptious Bang Bang Shrimp appetizer at Bonefish? Next time you're in, give the Ahi Tuna Sashimi or Twisted Edamame Hummus a spin. You'll be glad you did.
Honorable Mention — 101 Restaurant
Asian Restaurant: Masa
Located in the bustling Midtown neighborhood, Masa is an Asian-inspired seafood and sushi restaurant with a touch of elegance. Perfectly suited for cultured taste buds, Masa's modern take on Eastern flavors has turned it into a local favorite. A great choice for lunch with co-workers or dinner for two.
Honorable Mention — Azu Lucy Ho's Restaurant
Bakery: The Cake Shop
Whether you're in the market for a single dainty cupcake or a towering five-tier wedding cake, the folks at The Cake Shop have you covered. Beloved for their innovative cupcake flavor combinations (like salted caramel, strawberry white chocolate cream and German chocolate), a trip to The Cake Shop is a great way to celebrate all the delicious moments life has to offer.
Honorable Mention — Tasty Pastry Bakery
Bar: Madison Social
In its first year in business, this CollegeTown watering hole became THE place to have a libation. Can't beat the view of Doak Campbell Stadium and patrons enjoy the rustic/industrial vibe that includes garage doors that are rolled up on pleasant days and ice-filled troughs in the patio picnic tables to keep bottled drinks icy cold.
Honorable Mention — Sidecar Gastrobar
Barbecue: Sonny's BBQ
If you're on the hunt for some down-home cuisine, look no further than one of Sonny's three Tallahassee locations. With a diverse barbecue menu featuring everything from juicy smoked pulled pork to chargrilled chicken, and pit master-crafted spare ribs, there's no need to travel far to indulge in a taste of true Southern-style dining.
Honorable Mention — Piggy's BBQ
Breakfast: The Egg Café & Eatery
Indulge in a home-style meal at The Egg. With a selection of hearty entrees (may we recommend one of their numerous omelets, a variation of their tasty Eggs Benedict or a classic bowl of grits) and beautiful baked goods, this casual café is the stuff breakfast dreams are made of.
Honorable Mention — Canopy Road Café 
Brunch: The Egg Café & Eatery
If the early morning hours have dwindled away, fear not — The Egg also serves up a delicious brunch. Featuring an adaptable menu, patrons can expect the same friendly service and cozy atmosphere, with a burst of flavor. Favorite brunch items include the savory Croque Madam, a slice of homemade quiche or a sizzling skillet entrée.
Honorable Mention — The Front Porch
Cajun Restaurant: Coosh's Bayou Rouge
Authentically Cajun and perpetually delicious, Coosh's serves up some of the Bayou state's most classic dishes. Every day is Mardi Gras with Louisiana favorites such as jambalaya, muffalettas and seafood gumbo. Try a taste of New Orleans with their popular cheesy shrimp and grits layered in a savory cream sauce with a side of perfectly crisp hush puppies.
Honorable Mention — Harry's Seafood, Bar & Grille
Casual Dining: Chicken Salad Chick
For a relaxed meal that's served quicky-quick, nothing in town beats the Chick. It's fun to grab a scoop or a sandwich and settle in to the brightly lit restaurant — now with two Tallahassee locations to catch up with friends. The only hitch is the 15 different varieties of this Southern-style classic to choose from — it may take several visits to find your favorite!
Honorable Mention — Ted's Montana Grill
Catering: Klassic Katering 
Once again, Klassic Katering has nabbed the No. 1 spot as one of Tallahassee's most beloved catering companies. With a rich history in the region and a lifetime of culinary insight, the masterminds behind the delicious concoctions emerging from the Klassic kitchen will surely cater to whatever needs your event requires.
Honorable Mention — Chicken Salad Chick
Celebration/Special Occasion Restaurant: Cypress Restaurant
Cypress is known around town as the place to go for any special occasion. Embracing a totally divine, farm-to-table take on gourmet, Cypress' impressive menu and authentic recipes will give you cause to celebrate. And with an intimate and upscale atmosphere, there's just no going wrong. So, bon appetit!
Honorable Mention — Sage Restaurant
Coffee Shop: Starbucks 
Looking for a caffeine pick-me-up? Look no further than Starbucks! From the most decadent java creations (Mocha Cookie Crumble Frappuccino anyone?) to a refreshing iced vanilla latte, this coffee house is world-renowned for its handcrafted, quality beverages. For those of you simple coffee addicts don't fret; you can still pick up a cup of freshly roasted espresso at anytime throughout the day.
Honorable Mention — RedEye Coffee
Deli: Publix
While Florida's own grocery store has a great selection of meats and cheeses in its deli (and now an online preordering service so you don't have to grab a number and wait), anyone with a nodding acquaintance with social media knows the "Pub Sub" is the Publix deli's main attraction. Pleasant attendants are at the ready to create a deli-licious sub or sandwich to your exact specifications.
Honorable Mention — Hopkins' Eatery
Dessert: The Cake Shop
When you've finished a delightful meal, the icing on the cake is … well, icing on the cake! The Cake Shop offers a delightful array of gourmet cupcakes, as well as cookies, and other sweet bakery treats, including cakes — sized from little rounds for four to special occasion cakes serving hundreds.
Honorable Mention — Food Glorious Food
Fine Dining Restaurant: Cypress Restaurant
Whether your arranging a romantic dinner for two or an upscale business meeting, Cypress' quality ingredients and attention to detail puts them into a class all their own. As evidenced by their multiple "Best of" victories for 2014, this gem of an establishment is dedicated to providing their guests with an exceptional culinary experience each and every time.
Honorable Mention — Sage Restaurant 
Hamburger: Vertigo Burgers & Fries
With no fancy signage or decoration, Vertigo simply offers unique and unexpected flavor combinations that result in some amazingly tasty burgers. Take a bite of the wild side and try their Dizzy Duck burger with ground duck meat, blue cheese, arugula and cherry compote. You definitely can't go wrong with the Tremor burger, a crafty take on the classic American beef patty topped with truffle tremor cheese, applewood bacon, sautéed mushrooms and roasted garlic dijonaisse.
Honorable Mention — BurgerFi
Happy Hour: 101 Restaurant
Whether you like your martini straight up or with a twist, 101 has got you covered. With two happy hour specials, one from 4 to 7 p.m. perfect for a post-work cocktail, and another for the night owls from 10:30 p.m. to 12:30 a.m., there really is no excuse to not indulge your fixation for a libation. Weekdays or weekends, you can always find a friendly face during 101's happy hour.
Honorable Mention — Madison Social
Hibachi: Osaka Japanese Hibachi Steakhouse & Sushi Bar
Japanese fare and entertainment go hand in hand at Osaka. This Hibachi emporium serves up top-quality ingredients with the personalized attention of a chef preparing your meal right before your very eyes. Teppanyaki favorites chicken, shrimp, beef and scallops are paired with a starter salad, soup and a side of rice, noodles and veggies — leaving any guest feeling satisfied. It's the perfect location for large groups or special occasion meals.
Honorable Mention — Japanica Steakhouse
Italian Restaurant: Bella Bella
Italian classics take on new life at Midtown's own Bella Bella. A family-owned and operated business, Bella Bella's creative menu includes eggplant rollatini, Sicilian lasagna and chicken parmesan. With a cozy, fun interior, convenient location and exceptional service, Bella Bella is a sure bet. Just don't forget to start the meal off with an order of their bubble bread!
Honorable Mention — Riccardo's Restaurant
Locally Owned Restaurant: Kool Beanz Café
Kool Beanz's artful flavor combinations, attention to detail and approachable vibe make it the epitome of gourmet in Florida's capital city. Deliciously eclectic and locally sourced, their selection includes scrumptious creations like the boneless duck breast in a blueberry-demi glace sauce and linguini with crawdad tails and tasso ham.
Honorable Mention — Bella Bella 
Shannon Griffin
El Jalisco | Best Mexican/Latin American Restaurant
Lunch: Chicken Salad Chick
This fast-casual eatery is a must-do for the Ladies Who Lunch. While creamy chicken salad is the star of the menu, Chicken Salad Chick offers soups and turkey, roast beef and ham deli sandwiches as well as another Southern staple on bread — pimento cheese. Pick your side, too. We're partial to the Broccoli Salad.
Honorable Mention — Hopkins' Eatery
Martini/Cocktail: 101 Restaurant 
No one does happy hour quite like 101. Offering patrons an ultra cool atmosphere and an impressive assortment of cocktails to choose from, 101 and the adjacent Mint Martini Lounge are a libation lover's dream destination. 101 is the ideal spot for unwinding after work or a night out on the town with friends. Cheers!
Honorable Mention — Bonefish Grill
Mexican/Latin American Restaurant: El Jalisco
Although Cinco de Mayo only comes once a year, the folks at El Jalisco give us a reason to celebrate all through the week! With daily two-for-one margarita specials, traditional menu items like the Chile Rellenos, Shrimp Fajitas, and Carnitas with corn tortillas, you don't have to leave Tallahassee to get a little taste of the Mexican beachside.
Honorable Mention — La Fiesta
David Barfield
The Front Porch | Best Outdoor Dining Restaurant
Outdoor Dining Restaurant: The Front Porch
If dining under twinkling lights and majestic oak trees is part of your M.O., then The Front Porch is the place for you. Located in the heart of Midtown, The Front Porch's aesthetic components and delicious fare are pleasing in every way. Their Southern twist on seafood dishes combined with their idyllic locale makes them a favorite in the hearts of many.
Honorable Mention — Sage Restaurant
Pizza: Momo's Pizza & Brew
Whoever said that size doesn't matter was sadly mistaken — at least when it comes to pizza. Momo's is the only place where you can devour a "slice as big as your head!" This hole-in-the-wall pizza joint prepares their delicious pies in true New York style pizzeria fashion. The diverse craft beer selection, laid-back atmosphere, and made-from-scratch pizza have made Momo's a favorite spot of students and locals alike.
Honorable Mention — Brickyard Pizzeria 
Seafood Market: Southern Seafood Market
The seafood connoisseurs at Southern Seafood make it easy to find the freshest assortment of fish in town. With new varieties of fish brought in daily, there's no need to purchase frozen or imported fish. With a great variety of seafood on ice and prices acceptable on any budget, it's definitely worth a shopping stop.
Honorable Mention — Mike's Seafood & Oriental Market
Seafood Restaurant: Bonefish Grill 
Bonefish Grill combines family-style dining with delicious food made with top-notch quality seafood. The never frozen, prepared-to-order dishes reflect the freshness of ingredients such as cold water lobster tails, Chilean sea bass, wild Gulf grouper and rainbow trout. All of the market-fresh fish is cooked to perfection and accented with your choice of a complimentary signature sauce.
Honorable Mention — The Seineyard Seafood Restaurant
Sports Bar: Midtown Pass
You won't miss a single play from your favorite team when you have access to over 20 high-definition televisions and three massive projector screens. Thanks to their extensive selection of more than
80 bottled beers and over a dozen on tap, you will certainly find a beverage to put you in a celebratory mood. Not only does Midtown Pass boast a full liquor selection, they serve up some of the best bar munchies around!
Honorable Mention — Miller's Ale House
Steakhouse: Marie Livingston's Steakhouse
Without Marie Livingston's, life in Tallahassee would be missing something wonderful. It has all the necessary ingredients for a fine evening: upscale, yet comfortable atmosphere, helpful, accommodating staff and quality cuts of beef with a house steak sauce that's too savory for words.
Honorable Mention — Outback Steakhouse
Sushi: Masa 
For yet another year, Masa has earned honors as the spot for Tallahassee's top sushi. The proof is in the pudding — or should we say sashimi — when you taste the freshness of every raw or cooked ingredient in their specialty sushi rolls. Try their unique spin on the classic California roll, served with blue crab and mango sauce, or have the best of land and sea with the Surf and Turf roll, consisting of extra-large shrimp, cream cheese and avocado, topped with seared beef tenderloin.
Honorable Mention — Kiku Japanese Fusion
Wine List: The Wine Loft Wine Bar
Selection is paramount at The Wine Loft. Situated in the heart of Midtown, it offers its patrons one of the finest assortments of exquisite wine and tapas in the city, plus a view to match. Sip and swirl your beverage of choice from the second-floor balcony and prepare to relax.
Honorable Mention — Clusters & Hops
Wings: Wingstop
Wingstop has the art of chicken wings down pat, with equally delicious wings being served at all three of their Tallahassee locations. All of the juicy and crisp chicken wings are hand tossed and sauced ensuring a flavorful kick with every bite. From Hickory Smoked BBQ to Atomic Hot, these wing experts have a flavor for every palate. Don't forget to order a side of fries with "extra shake" for additional zest.
Honorable Mention — Buffalo Wild Wings
Service Providers
Air Conditioning/Heating: Benson's Heating & Air conditioning
Benson Green started his company as a one-man operation in 1981 and, over the decades, it has grown to a successful company employing 90 people. Benson's has loyal customers who appreciate the firm's prompt, 24-hour service and knowledgeable technicians who take the time and care to do a first-class job.
Honorable Mention — Keith Lawson Company
Alterations: Helga's Tailoring and Alterations
Behind every sharp-dressed man — or woman — are the skills of talented tailor who makes sure his clothing fits to perfection. Our readers trust Helga's for everything from adjusting hems and sleeves to custom tailoring an entire outfit.
Honorable Mention — Alterations Etc.
Matt Burke
Benson's Heating & Air conditioning | Best Air Conditioning/Heating
Assisted Living Facility: Westminster Oaks
Life is what you make of it, and at Westminster Oaks you can make it pretty good inside this quiet, wooded setting. Residents make new friends, take lifelong learning courses and enjoy a host of amenities on this beautiful campus. You'll feel right at home.
Honorable Mention — HarborChase of Tallahassee Assisted Living and Memory Care
Auto Repair: Jeff's Automotive Service Center
Be prepared to be treated like family here. Jeff stays busy at his full-service repair shop, thanks to clients who view him as honest, reliable, trustworthy and friendly.
Honorable Mention — P3 Automotive
Automobile Dealer: The Proctor Dealerships
While they've been selling cars in Tallahassee for more than 100 years, the folks at Proctor's car dealerships say they're really in "the people business" by meeting customers' needs and exceeding their expectations. Proctor Dealerships sell all of Honda, Subaru and Acura's new makes and models and also offer a wide selection of quality used cars.
Honorable Mention — Legacy Toyota
Banquet Facility: Goodwood Museum & Gardens
If you've been to a local wedding or fundraiser, chances are very good that you've enjoyed the hospitality of Goodwood. The Midtown gem offers the beautiful backdrop of a historic home, mature trees and antique-plant gardens combined with a rustic gathering hall that features all the modern conveniences that make an event enjoyable for guests.
Honorable Mention — University Center Club
Scott Holstein
The Proctor Dealerships | Best Automobile Dealer
Bank: Capital City Bank
There is a difference between having a bank, and knowing your banker — a commitment to the individual that only valued relationships can provide. During its 119-year history, providing a friendly, personal touch remains the core mission of this neighborhood bank. Selected as the best financial institution for another year, Capital City Bank has 70 offices in three states.
Honorable Mention — BB&T
Carpet Cleaner: Stanley Steemer
Look at the mess on the carpet! Better get Stanley Steemer on the phone. Their gentle hot-water extraction methods can take care of that soiled area in no time. But they do more: Stanley Steemer can take care of your hardwood floors, tile and even the air-conditioning ducts. They can also get rid of the dust bunnies on your furniture and clean up any water damage.
Honorable Mention — Bowden's Carpet Cleaning
Child Care Provider: Growing Room Child Development Centers
Children simply flourish at the Growing Room Child Development Centers. Embracing an innovative and fun approach to learning, this locally owned business was founded by a registered nurse and is dedicated to the health and welfare of their clients' children. With multiple locations throughout the county, the Growing Room provides nurturing care for children, from infancy to 10 years.
Honorable Mention — Annsworth Academy Child Development Center
Scott Holstein
Goodwood Museum & Gardens | Best Banquet Facility
Chiropractor: Dr. Gene Jenkins
​We all need to be straightened out every now and then. A healthy, pain-free back makes for a healthy and happy quality of life. Dr. Jenkins can provide that for you through great care and plenty of exercise. Live your life without limitations.
Honorable Mention — Dr. Christopher Lowery/Lowery Chiropractic Center
Credit Union: First Commerce Credit Union
Not just the best in Tallahassee, the League of Southeastern Credit Unions named First Commerce as their Credit Union of the Year. Loyal members praise the many locations throughout town, the helpful staff and a wide array of financial services to fit any financial need. Not to mention convenience of an array of Eservices, including mobile deposits.
Honorable Mention — Envision Credit Union
Civic Club: The Rotary Clubs of Tallahassee
The six Rotary Clubs in town meet morning, noon and night to fulfill their volunteer missions — to combat hunger, improve health and sanitation, provide education and job training, promote peace and eradicate polio. Local members of Rotary Clubs and around the U.S. and the world subscribe to the motto "Service Above Self."
Honorable Mention — The Junior League of Tallahassee
Computer Repair/Services: On Call Computer Solutions, LLC
Confused by the Cloud? Aggravated by the spinning beach ball? Or, worst of all, facing your computer's Blue Screen of Death? On Call is, well, on call to troubleshoot your problems and create IT solutions. And, to prove their value, the company offers a free two-hour introductory service call or consultation.
Honorable Mention — Aegis
Scott Holstein
Sharon Davis School of Dance | Best Dance Studio
Commercial Real Estate Agent/Agency: NAI TALCOR
Tallahassee-based NAI TALCOR is a major mover in the world of commercial real estate for North Florida. From making prestigious, highly publicized deals (like the 2013 sale of Hotel Duval) to staying abreast of local happenings in the retail, agricultural, multi-family, industrial and investment markets —NAI TALCOR tackles them all.
Honorable Mention — Structure Commercial Real Estate & Property Management 
Dance Studio: Sharon Davis School of Dance
The Sharon Davis School of Dance has been a pioneering dance institution in the city of Tallahassee for 37 years. The studio offers classes for children and teens in the genres of ballet, en pointe, tap, jazz, lyrical and hip hop.
Honorable Mention — The Tallahassee Ballet School
Day Spa: Millennium Nail and Day Spa
A full-service salon and spa, Millennium pampers away the stress in your life with top-notch services, ranging from massages to manicures. Custom-designed spa packages make great gifts to yourself or that special someone. Check out what their body spa experts can do for you.
Honorable Mention — So Pure Salon and Spa
Matt Burke
Millennium Nail and Day Spa | Best Day Spa
Dentist Practice: Russell B. Rainey, DMD
If you're not happy with your teeth, smiling isn't something you're fond of. But Dr. Rainey understands how bad teeth can affect quality of life, and you can trust him to craft a beautiful smile that will light up the world around you.
Honorable Mention — Drs. Glenn and Marci Beck
Dermatology Practice: Dermatology Associates of Tallahassee
Too much fun in the sun? Dry skin got you down? Adult acne rearing its obnoxious head again? Whatever the culprit, your dermal layer will thank you after a trip to Dermatology Associates of Tallahassee. Their highly trained team of dermatologists are second to none and are skilled at detecting potential problems before they surface.
Honorable Mention — Southeastern Dermatology
Dry Cleaner: Blue Ribbon
It might cost a bit more than other dry cleaners in town, but the family-owned Blue Ribbon cleaners prides itself on quality services, well-trained employees extra attention to detail and customer satisfaction at its three Tallahassee locations.
Honorable Mention — O'Brien's Shamrock Cleaners
Electrical Company: Lawson and Lawson Electrical Services
Family-owned, professional and multi-talented, Lawson & Lawson has the perfect blend of experience and service you're looking for. If you have a home, business, apartment, shopping center or any other industrial, commercial or residential building, the electricians in this company will work quickly to satisfy your demands in a timely and efficient manner.
Honorable Mention — Mathers Electric Co. Inc.
Family Physician/Practice: Tallahassee Primary Care Associates
Owned and operated by physicians, TPCA began in 1997 and today has more than 40 physicians, 250 staff and 80,000 patients. The practice offers a wide range of specialties, including aviation medicine, women's health, endocrinology, sports medicine, geriatrics and even diving and hyperbaric medicine.
Honorable Mention — Patients First
Financial Advisor: Six Pillars Financial Advisors
Caring for your financial health is the goal of Six Pillars, whether you're looking for financial planning services, portfolio management and asset allocation, retirement tax, trust and estate planning, or life insurance and long-term care planning. Team members are committed to offering services keyed to an individual or business' goals and backed by rock-solid research.
Honorable Mention — North Florida Financial Corporation
Financial Institution: First Commerce Credit Union
After 70 years, First Commerce has evolved into an award-winning credit union offering a full array of financial services to 40,000 members from several state-of-the-art service centers and 24/7 online. First Commerce also offers free money management seminars and generously gives back to the community, including sponsoring the Discovery playspace at Cascades Park.
Honorable Mention — Capital City Bank
Fitness Instructor/Center: Premier Health & Fitness Center
Conveniently located in the Market Square District, Premier is the epicenter for physical fitness in Tallahassee. From their innovative fitness classes to their relaxing sauna, membership at Premier promises personal attention and a custom approach to fitness with the luxury of big-gym accommodations.
Honorable Mention — Sweat Therapy Fitness
Flooring: Brian Barnard's Flooring America
Whether you like the comfort of cushy carpet between your toes, the cool clean look of tile or the elegance of timeless hardwood floors, Brian Barnard's expansive warehouse and showroom are well equipped to address all your underfoot needs.
Honorable Mention — ABC Flooring Center
Scott Holstein
Blossoms on Monroe | Best Florist
Florist: Blossoms On Monroe
They've moved a little bit further south and across the street, but Blossoms is still on Monroe Street and still offering some of the most creative floral designs for any special occasion or "just because." They also have specials like Good Neighbor Tuesday, when you can send a dozen premium roses to a friend for half the price!
Honorable Mention — Designs by Darin
Gym/Health Club: Premier Health & Fitness Center
Thinking about getting fit? Premier is truly a one-stop-shop to an active, healthful life. With an emphasis on next-level fitness, their 55,000-square-foot facility provides the latest in state-of-the art equipment, exclusive amenities and expert knowledge. And did we mention there's a pool?
Honorable Mention — Gold's Gym
Hair Salon/Studio: So Pure Salon and Spa
In recent years, So Pure Salon & Spa has won oh-so-many Best of victories. Teeming with talented stylists, the So Pure hair studio is renowned for coifing creative dos with their environmentally responsible line of Aveda products. Cut, color, highlights or body wave — So Pure does it all and so much more.
Honorable Mention — Millennium Nail & Day Spa
Matt Burke
So Pure Salon and Spa | Best Hair Salon/Studio
Hotel: Hotel Duval
Classy, chic, artsy, elegant and modern, Hotel Duval has an upscale attitude in a downtown location. A great place to host and impress your out-of-town visitors, and Shula's 347 Grill means you don't have to go far to find a great steakhouse.
Honorable Mention — Aloft Tallahassee Downtown
Insurance Agency: Demont Insurance Agency & Financial Services
An eight-time winner of the Best of award, this family-owned-and-operated insurance agency has been providing Florida residents with insurance for almost 50 years. Demont provides life insurance, as well as coverage on automobiles, homes, boats and other recreational vehicles.
Honorable Mention — State Farm
Interior Design Firm: Laura Bryant Interior Design
Perfecting an interior space can be tricky. Sometimes an expert's touch is just the thing to pull it all together. From sleek and contemporary to rustic and traditional, Laura of Laura Bryant Interior Design is all about blending an eclectic and beautiful design with the reality and needs of her clients' everyday lives.
Honorable Mention — Mary E. Solomon Interiors
Landscaping/Lawn Services: Capital City Lawn Care & Landscaping
Longevity, quality, professionalism and a commitment to continuing education are the hallmarks of this company, established by Ben Gunter in 1977. A wide range of services keeps the grounds of your home and business looking sharp and inviting. They have the solutions you need for the landscape challenges you have.
Honorable Mention — Esposito Lawn & Garden Center
Law Firm/Attorney Practice: Thompson, Crawford & Smiley
The folks over at Thompson, Crawford & Smiley really know their stuff. From commercial law and litigation to automobile accident claims, from family law to real estate, this Tallahassee-based firm represents their clients' needs wherever they are. And with a motto of "tough effective representation," you'll be glad to have them on your side.
Honorable Mention — Barrett, Fasig & Brooks
Limo Service: Mike's Limousine
Let's get the party started. A Tallahassee favorite, Mike's can get you there with style and panache with a fancy fleet of buses and custom limos designed to make a statement. With Mike's, the party begins once you take a seat, and it doesn't end until after the last guest is dropped off at home.
Honorable Mention — Classic Limo and Sedan Service
Maid Service/House Cleaning: The Maids of Tallahassee
Gone are the days when wasted weekends were spent scrubbing and dusting. Thanks to The Maids of Tallahassee, today a clean home is only a phone call away. Utilizing their custom "22-Step Healthy Touch" deep cleaning system, The Maids are able to clean away even the dirtiest of grime.
Honorable Mention — Molly Maid of Leon County
Monogramming/Embroidery Services: M&M Monogramming 
Hats and scarves, totes and necklaces, backpacks and bows, phone cases and wine glasses … you name it, and M&M will make it your own with a monogram. M&M has two Tallahassee locations, or order online.
Honorable Mention — Full Press Apparel
Moving Company: AMWAT Moving
It's imperative to find a moving company you can trust — after all, it's your life they're loading up into that truck. And that's why readers chose AMWAT as their top pick in the moving company category. In addition, operators Dean and Gloria Pugh are active in local business organizations and generously donate to many charitable causes.
Honorable Mention — Mike's Moving Tallahassee
Nail Salon: Millennium Nail and Day Spa
Nothing gives you a "polished" look like a good manicure, and Tallahassee lassies flock to Tammy Nguyen's Millennium to put a shine on their fingers and toes in a relaxed, luxurious spa environment. You'll find even more mani-pedi options at Nguyen's other locations, Millennium at Midtown and The Nail Bar.
Honorable Mention — Royal Nail
Obstetric/Gynecological Practice: North Florida Women's Care
Women's health is the top priority at North Florida Women's Care, and the practice is geared toward making the experience as easy and pleasant as possible, whether you're seeking well woman care, treatment for a medical issue or having a baby. The group, which includes 11 physicians, encourages communication with an online Patient Portal where patients can ask questions via email, pay bills or make appointments.
Honorable Mention — Drs. Hall and Morales
Optometry/Ophthalmology Practice: Eye Associates of Tallahassee
So often we take good vision for granted. We don't know what we have until it's gone, or seriously impaired. Eye Associates can help keep your eyes in the game. They can treat serious vision problems like cataracts and glaucoma, set you up with contacts or glasses, and even perform the groundbreaking iLasik procedure.
Honorable Mention — The Hour Glass
Painter: Marlin Coating Inc.
A fresh coat of paint can make all the difference when revamping your space. When it comes to commercial jobs, the Picassos at Marlin Coatings, Inc. are well equipped for all jobs both big and small. Locally owned and operated since 2006, this Tallahassee-based company averages 200 happy customers each year.
Honorable Mention — Superior Painting
Pediatric Practice: Tallahassee Pediatrics (TPCA)
As part of Tallahassee Primary Care Associates, physicians aligned with Tallahassee Pediatrics have a wealth of resources and collective knowledge at their fingertips. Their pediatric staff has received training in areas that relate to child growth and development and aim to provide total medical care in a relaxing and comfortable environment.
Honorable Mention — North Florida Pediatrics
Pest Control Service: Capelouto Termite & Pest Control
Got pests? Don't just reach for the Raid. Get the job done right the first time with Capelouto. This family-owned company has been a mainstay of pest protection in Tallahassee for 50 years and is your front-line soldier in the war against termite damage and other problems caused by destructive household pests.
Honorable Mention — Paul's Termite & Pest Control
Phone Service Provider: Verizon Wireless 
Hello? Are you hearing this? Verizon Wireless has nabbed the Best of spot with their crystal-clear service. With an abundance of cellular devices to choose from and an up-and-coming residential business, this 4G service provider is keeping clients happy and heard.
Honorable Mention — Century Link
Photographer: Kira Derryberry Photography
If you want fabulous photos of your kids, family or perhaps something glamorous to share with your significant other, Kira Derryberry has the vision to capture the essence of your life and its keepsake moments.
Honorable Mention — Long's Photography
Plumbing Service: Keith McNeill Plumbing Contractors Inc.
This company is all about plumbing, and their dedication to creating a perfect experience shows — from 24/7 service to the continuing education they offer to the staff, all the way down to the booties their technicians wear to keep their clients' houses clean while they're working.
Honorable Mention — White's Plumbing Inc.
Pool Repair/Service Company: Barksdale Custom Pools Inc.
When the weather is hot, nothing's better than a dip in the pool. But if your pool needs a little TLC, or you want to build a new one, Barksdale has you covered. Barksdale has 15 years of experience building and renovating pools in the Tallahassee area. Top quality products and the latest techniques ensure the best possible result for customers looking to stay cool.
Honorable Mention — Terry's Pool Service
Printing/Copying Services: Karmanos Printing & Graphics
Full-service printing, graphic design and personal, one-on-one customer service are hallmarks of this family business, which has been around for more than 25 years. While other printing shops might see a client's request as a complex project, the folks at Karmanos see it as a challenge, and will commit their high-tech methods and professionalism to making sure the end product is dazzling and amazing.
Honorable Mention — Target Copy
Residential Real Estate Agency/Agent: Hill Spooner & Elliott Inc.
The residential real estate masterminds at Hill Spooner & Elliot Inc. have been trusted members of the Tallahassee community for decades. With an eye toward the future, an acute awareness of the regional market and listing inventory, these folks have the reputation of being some of the top producers in town.
Honorable Mention — Coldwell Banker
Roofing Repair/Services: Rowe Roofing
Tallahassee summers are famous for their monsoon-like thunderstorms, and your roof bears the full brunt of nature's fury. But your roof is only as strong as its weakest seam, and leaks are bound to occur. Rowe Roofing is your Johnny-on-the-spot repair and replacement resource when the dripping starts. Don't wait!
Honorable Mention — Stubbs Roofing Company
Security System: SafeTouch Security of Tallahassee
Life isn't getting any easier for the comedic thief in the SafeTouch commercials. He hates SafeTouch with good reason — the company features a 45-second guaranteed response time, smash-and-grab protection and two-way voice communication activated when the alarm is triggered.
Honorable Mention — Redwire LLC
Sign Company: Fastsigns of Tallahassee
Signs aren't just letters on a billboard or poster. Signs drive business and commerce, and the folks at FASTSIGNS know all too well how important it is for your brand to be seen. From a humble yard sign to flags, banners, 3D signs, sophisticated "monument" signs, vehicle decals and much, much more, FASTSIGNS delivers consistent value.
Honorable Mention — Apogee Signs
Sports/Physical Therapy: Tallahassee Orthopedic & Sports Physical Therapy
Employees are the athletes of any organization. Any kind of muscle pain or injury can lead to lost productivity. So when you need to get the problem healed up quickly, the therapists at TOSPT can show you how to relieve the pain and prevent further injury. You'll be back in the swing of things in no time.
Honorable Mention — Centre Point Health & Rehabilitation
Surgical Practice: Tallahassee Plastic Surgery Clinic
Walk in to the Tallahassee Plastic Surgery Clinic and you'd think you were in the lobby of an upscale day spa. Whether you're there to have a skin tag snipped off or have some sun damage repaired, you'll be put at ease by the kindness of the staff and the steady hands of the physicians.
Honorable Mention — Southeastern Plastic Surgery P.A.
Tree Service: Miller's Tree Service
Trees are nice and shady, but older trees can be ticking time bombs waiting to collapse on your property. That's why you have to have them checked periodically, and Miller's Tree Service can get the job done. Miller's can help you take proactive action, or they can clean up the mess after the fact. 
Honorable Mention — AAA Tree Experts
Veterinary Clinic: North Florida Animal Hospital
Your pets deserve all the special care, treatment and pampering due any other member of your family, and North Florida Animal Hospital offers many services geared toward the health and happiness of your furry friends — including dental care, boarding, grooming, illness prevention, vaccinations and hydrotherapy.
Honorable Mention — Paws & Claws Veterinary Hospital
Web Design: Cuneo Creative Consultants
In today's technology-driven marketplace, a quality website is a must. The masterminds at Cueno Creative Consultants know the logistics of building a show-stopping site and have the creative foresight to bring the whole thing together — and, they've got a portfolio full of local businesses and an impressive resume to prove it.
Honorable Mention — Brick Launcher LLC
Wedding Venue: Goodwood Museum & Gardens
There are many gardened and splendorous settings to hold your dream wedding in Tallahassee, but the historic Goodwood — with its gracious charm and atmosphere, along with a Carriage House that's perfect for receptions — remains a popular, romantic and iconic venue.
Honorable Mention — Honey Lake Plantation
Weight Loss/Control Program: FIT Weight Loss & More Inc.
When your jeans don't fit, it might be time to visit FIT, where they will create a medically supervised weight loss program tailor made for you. The "and more" includes other services and treatments — such as supplements, bio-identical hormone replacement, and spa and beauty services — so you'll look good and feel good as well.
Honorable Mention — Healthy Solutions Medical Weight Loss
Shopping
Antique Shop: Killearn Antiques Mall
Whether on the hunt for collectable art, jewelry, crystal glassware or a unique keepsake from the past, you'll find it here. This antiques wonderland holds a plethora of treasures that would appeal to any curious individual with a keen eye. The knowledgeable staff will guide you toward that perfect piece of furniture to be repurposed, or simply assist you as you spend time looking through the many special items in the Killearn Antiques Mall.
Honorable Mention — Chandler Market
Cosmetic Vendor: Sephora
Located in the Governor's Square Mall, Sephora offers one of the most extensive and diverse ranges of beauty supplies within the capital city. With everything from makeup, cosmetics, skincare and perfumes, this is a one-stop shop for all your beauty product necessities.
Honorable Mention —So Pure Salon & Spa
Terri Smith Photo
The Hour Glass | Best Eyeglass Store
Eyeglass Store: The Hour Glass
This locally owned business offers a selection that surpasses even the biggest box retail stores. At The Hour Glass, hundreds upon hundreds of frames line the expertly illuminated shelves. And, their highly skilled lab technicians will have your eyewear ready and out the door in just one hour.
Honorable Mention — Eye Associates of Tallahassee
Furniture Store: Turner's Fine Furniture
Turner's Fine Furniture has been assembling the best brands in our region for four generations. Stocked with beautifully crafted designs from 50 of the world's top manufacturers, their showroom is ready to fill your home or office with quality furniture. Plus, Turner's eclectic and savvy styles are sure to fit any taste and budget.
Honorable Mention — Haverty's
Gift Store: My Favorite Things
Whether checking off your Christmas List or looking for the perfect engagement gift, My Favorite Things' unbelievable (and unbelievably beautiful) selection of merchandise is sure to do the trick. Peruse an assortment of rustic, European and chic home good creations from designers like Vietri, Simon Pearce and Salisbury.
Honorable Mention — Blue Abaco
Jewlery Store: The Gem Collection
The Gem Collection's impressive jewels have been dazzling Tallahassee since 1977. As the place to go for all of those, shall we say, special purchases, Gem Collection's selection of engagement rings, fine jewelry and Pandora accessories is utterly unmatched. Next time you're in, take a looksee at the Nina Nguyen, Yael Designs or Alwand Vahan cabinet for something fresh, too.
Honorable Mention — Tallahassee Diamond Center
Scott Holstein
The Gem Collection | Best Jewelry Store
Kids Clothing: Pink Narcissus 
Take any fashion-forward little lady to Pink Narcissus to get her Lilly Pulitzer jam into high gear. At this fabulous boutique, located in the bustling Market Square District, fun patterns, bold colors and flattering silhouettes are a must for fashionistas of all ages.
Honorable Mention — Tres Chic
Locally Owned Store: Pink Narcissus
Kids aren't the only one who can find cheerful Lilly Pulitzer designs at Pink Narcissus. A locally owned boutique, Pink Narcissus is brimming with top-of-the-line clothing and accessories destined to liven up any occasion.
Honorable Mention — Cole Couture
Men's Clothing: Nic's Toggery
"Generations of Southern style" have been purchased from Nic's Toggery. A true Tallahassee institution, Nic's is where stylish men suit up and prepare to truly dress to impress. From measurements to composing just the right ensemble, Nic's embodies the Classic American look with the greatest of ease.
Honorable Mention — Kevin's Fine Outdoor Gear and Apparel
Nursery/Garden Center: Tallahassee Nurseries
Life is always in bloom at Tallahassee Nurseries. Since 1938, their green thumbs and horticultural dexterity have been keeping Tallahassee's residential and commercial properties alike looking lush and fabulous. From the perfect houseplant to a total backyard redesign, Tallahassee Nurseries' massive selection is sure to have just the thing.
Honorable Mention — Esposito Lawn & Garden Center
Sporting Goods Store: Academy Sports + Outdoors
Academy took the Tallahassee sporting world by storm when it opened two years ago and has remained popular ever since. It provides one-stop shopping for running, shooting, camping, grilling, fishing, team sports, boating, clothing and much, much more. If you need it, chances are they've got it.
Honorable Mention — Kevin's Fine Outdoor Gear and Apparel
Teen Clothing Store: Chameleon
Shopping for tweens can certainly cause growing pains considering their constantly evolving style and sizes. However, Chameleon makes it easy to purchase the most stylish clothing for any girl in sizes 7–16. The only boutique catering to tweens in Tallahassee, Chameleon offers the cutest garments that will surely please you and your growing girl.
Honorable Mention — Cole Couture
Women's Accessories/Shoes: Narcissus
Narcissus is definitely the place to shop for Tallahassee fashionistas. With everything from swimwear to formalwear from designer brands such as Tory Burch, Rebecca Minkoff and Trina Turk, Narcissus keeps the ladies of the capital city glamorous and up with the latest fashion trends.
Honorable Mention — Cole Couture
Women's Clothing: Narcissus
If a new outfit or a session of retail therapy is what the doctor orders, visit the Market Square District's own Narcissus. Kate Spade, Tori Burch and Alexis Bittar all call this boutique's posh walls home. The stylists of Narcissus will have you decked out in the latest and most flattering styles imaginable.
Honorable Mention — Cole Couture
Entertainment
Community Event: Springtime Tallahassee
Tallahassee winters are often cold, rainy and bleak. And then spring rolls around, and it's a whole new world of light and color. That's why Springtime Tallahassee is so popular; it's family friendly, it attracts more than 70,000 spectators, the Springtime Krewe floats are fun and cheery, and kids have a blast.
Honorable Mention — Tallahassee Symphony Pops in the Park at SouthWood
Golf Course: SouthWood Golf Club
A beautiful golf course surrounded by a Tallahassee neighborhood, the SouthWood Golf Club offers fun and challenging holes for players with any level of proficiency. The wide fairways and fast greens are maintained in excellent condition and set amongst picturesque rolling hills, pastureland and ancient oak trees draped in Spanish moss. Take a break between rounds at the golf club's restaurant, which offers delectable bites with a view.
Honorable Mention — Golden Eagle Golf & Country Club
Entertainment Venue: Cascades Park
Tallahassee has gained a true gem with the opening of Cascades Park in the spring of 2014. Offering visitors a sprawling campus of outdoor and recreational amenities, including a state-of-the-art amphitheater, interactive water fountain, children's play area, Smokey Hollow Commemoration and miles of multi-use trails, the entertainment and event options at Cascades are almost limitless.
Honorable Mention — The Donald L. Tucker Civic Center
Place to Be Seen: So Pure Salon & Spa
Pampering is limitless at So Pure Salon & Spa. Treat yourself to a facial or massage, mani or pedi, a new set of highlights or a fancy updo. Or, better yet, make a day of it with the fabulous So Pure team of stylists and aestheticians. By the time you leave, you'll feel just as great as you look.
Honorable Mention — Level 8 Lounge
Place to Take The Kids: Tallahassee Museum
Ranked as one of the top museums in Florida, The Tallahassee Museum is a 52-acre paradise full of Florida native flora and fauna. The museum offers nature trails, luscious blossoming gardens and even a zip lining course! Zip liners can glide through the cypress swamp from tree to tree 60 feet above the ground. Don't miss out on the living exhibits, which allow visitors to observe Florida wildlife in environments similar to their natural habitat.
Honorable Mention — Cascades Park