2012 Best of Tallahassee Results
From Day Spas to Fish Markets, Our Readers Select Tallahassee's Finest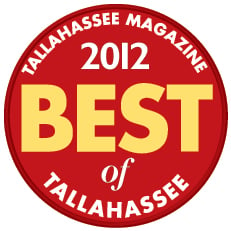 Politics and football may be the heart and soul of Tallahassee, but it's the local businesses that drive the everyday economics of the town we call home. And if you live here long enough, you're bound to find the right people with which to do business. Sometimes, though, you need a little help to get pointed in the right direction. That's why we've asked our readers to cast their votes for their favorite businesses, in almost 100 different categories. Here are the results — the Best of Tallahassee for 2012.
Some of the winners here are long-time favorites while others find themselves in the first-place spot for the first time. Either way, these entities have stepped up their game to become the best at what they do. Give them a try. We're sure you'll be pleased with what they have to offer.
Food & Beverage
Bar
Level 8
Chic. Daring. Exotic. Seductive. This luxury rooftop lounge puts you on top of the world with its upscale sophistication, comfy couches and signature cocktails served by some of the most alluring waitresses in town. And the sunsets aren't bad, either. Cheers! Honorable mention: Midtown Filling Station
Appetizer
Bonefish Grill
On a night out at Bonefish Grill, enjoy fine wines and seafood under dim lights and an upscale atmosphere. The tangy Bang Bang Shrimp alone packs a punch that draws crowds, and for just $5 on Bang Bang Wednesday, it's no wonder Bonefish landed best appetizer honors in Tallahassee. Honorable mention: Level 8
Asian Restaurant
Masa
Whether you like your seafood cooked or raw, Masa's perfect fusion of Eastern and Western cuisines is what keeps readers voting it as a perennial Best of winner. Conveniently located in the Midtown area, Masa is the perfect place to go for lunch or dinner with family or friends. Honorable mention: Azu
Bakery
The Cake Shop
For the third consecutive year, The Cake Shop has snagged "Best Bakery" — and Tallahassee's sweet tooth. With an assortment of cakes, cookies, brownies and 18 flavors of cupcakes, this Capital Circle bakery and coffee shop indulges every dessert craving. Honorable mention: Lucy & Leo's Cupcakery
Barbecue
Sonny's Real Pit Bar-B-Q
Call it "comfort food, Southern style." You can always count on Sonny's to offer consistently mouthwatering ribs, chicken and beef with all the side dishes you come to expect: coleslaw, barbecue beans, corn nuggets, sweet potatoes and, oh yes, don't forget the sweet tea. Sonny's never fails to fill you up. Honorable mention: Piggy's BBQ
Breakfast
The Egg Café and Eatery
Fresh, nutritious food, affordable prices and an elegant atmosphere to sit and talk. Whether you come for breakfast or lunch, and have a craving for beignets or English muffins, The Egg stands out as a uniquely upscale café that's definitely worth checking out. Honorable mention: Village Inn
Brunch
Mockingbird Café
From traditional Ham and Cheese Omelets to down-home Southern Chicken and Waffles, Mockingbird Café has a mid-morning menu that will make you too restless to wait for lunch. Served only on the weekends, brunch at Mockingbird is the getaway you need after a long week. Honorable mention: The Egg Café and Eatery
Cajun Restaurant
Po' Boys
You can find the good times rolling daily at Po' Boys' three Tallahassee locations. Daily specials include Muffuletta Monday — just one bite of this Cajun delight and you'll be transported to N'awlins. From beignets to fried Gator tail, Jambalaya and Bayou Gumbo, get a taste of Louisianna without the eight-hour drive. Honorable mention: Coosh's Bayou Rouge
Casual Dining
Red Elephant Pizza and Grill
Few places are like "the Elephant." It's laid back, friendly to family and co-workers alike, and can accommodate your taste buds without emptying your wallet. Walk in, sit down and start out with hot boiled peanuts, have a pizza and finish off the meal with a tasty Elephant Ear pastry. Honorable mention: Kool Beanz Café
Catering
Klassic Katering
Kustomers are going krazy for Klassic Katering's unique way of turning a ho-hum event into a customized catered experience. Whether you are having a small get-together or a large event, Klassic Katering — a Best of winner nine times in a row — shines by providing quality service and unforgettable celebrations. Honorable mention: Black Fig
Special Occasion Restaurant
Cypress Restaurant
At Cypress Restaurant, cooking reaches high art. And whether it's graduation, a birthday, an engagement, an anniversary or "just because," this sophisticated Southern-style restaurant is the place to celebrate. With their ever-changing menu, there is always something new to try. Just sit back, sip a glass of wine and celebrate with friends and family. Honorable mention: Shula's 347 Grill
Cocktail/Martini
Level 8
Whether it's a birthday celebration or just because it's Wednesday, Level 8's martinis provide a reason to go out with friends for any occasion. Their combination of a rooftop bar and an elegant drink is one of many reasons why Level 8 is always at the top of our list. Honorable mention: One-O-One Restaurant
Coffee Shop
Re3eye
Get a cup of java at RE3EYE, and you make a difference not only in Tallahassee but half a globe away. RE3EYE products are socially and environmentally responsible, and all their net profits go toward humanitarian efforts in the capital city and Guatemala. Who knew a simple cup of coffee could go so far? Honorable mention: Starbuck's
Deli
Hopkins' Eatery
This perennial Best of winner knows exactly how to take traditional lunch items and give them a twist. Whether it's potato salad in your sandwich or chicken tetrazzini on your salad, the genius combination of flavors will leave any customer wanting to try more. Honorable mention: Jason's Deli
Dessert
Tie: Lucy & Leo's, Food Glorious Food
When it comes to a post-prandial sweet, head on over to Midtown. Lucy & Leo's offers delicious cake bites in creative flavor combinations, while for decades FGF has been offering a variety of delicious desserts. Our readers split evenly on which one of these was the best. Why not try both!? Honorable mention: The Cake Shop
Fine Dining Restaurant
Cypress Restaurant
Dinner at Cypress includes your choice of fresh seafood, delicious aged meats and gourmet cheeses. With a menu like this, what more could you ask for? Maybe their Southern Pecan Pie Turnover … if you've saved room for dessert. Honorable mention: Shula's 347 Grill
Food Truck
Mobi
This restaurant on wheels has an ever-changing menu ranging from Asian barbeque to Spanish-inspired dishes and everything in between. Open for lunch every Wednesday Downtown and for Food Truck Thursdays in Midtown, make sure to catch them before they ride away. Honorable mention: Cravings
Hamburger
Five Guys Burgers and Fries
If you want a fast food burger, you won't find it at Five Guys. But if you want a good burger fast, there's no better place to try one of eight mouthwatering burgers with a choice of 16 different toppings, all made with fresh ground beef. Honorable mention: Wells Brothers Bar and Grill (Monk's)
Happy Hour
Level 8
Atop Hotel Duval, Level 8 offers a panoramic view of Tallahassee, spectacular sunsets and the comfiest couches in town. The locale is even sweeter during the lounge's daily happy hour from 4 to 8 p.m. with discounted prices on beers, wines, wells, snacks and martinis. Honorable mention: One-O-One Restaurant
Hibachi
Osaka Japanese Hibachi Steakhouse and Sushi Bar
Hibachi at Osaka is a dining experience all Tallahassee natives know and love. Not only do customers enjoy a meal fit for kings, but they get a show while they're waiting. Osaka is now serving hibachi items on the sushi side of the restaurant as well. Honorable mention: Mori
Italian Restaurant
Bella Bella Italian Restaurant
A repeat winner, this locally owned bistro serves homemade Italian cuisine for lunch or dinner in a cozy Mediterranean atmosphere. Freshly made salads and hearty pasta meals like Sicilian Lasagna dot the menu. Start your meal with Bella Bella's yummy signature Bubble Bread, topped with garlic, gorgonzola and mozzarella and baked until bubbly. Honorable mention: Carrabba's Italian Grill
Lunch
Fickle Pickle Café and Catering
When Mad About Food left the building a year ago, Fickle Pickle carried on their tradition of good food. With a menu as light and playful as its name, the restaurant offers an array of fresh sandwiches and salads, ensuring you'll never be fickle about where to head for lunch. Honorable mention: Paisley Café
Locally Owned Restaurant
Paisley Café
With Paisley's mantra of seven ingredients or fewer in every meal, flavors don't get much purer than this. Lunch items like an Apple Brie Panini and a Chicken Salad Croissant will make you feel like royalty, so it's easy to forget the humble beginnings of this new local favorite. Honorable mention: Kool Beanz Café
Mexican/Latin American Restaurant
El Jalisco
Craving a chimichanga and the best frozen margarita in town? Stop in at El Jalisco, home to authentic Mexican cuisine and an upbeat, welcoming atmosphere that feels good after a hard day at the office. Relax and enjoy their two-for-one margaritas, huge portions and great prices. Honorable mention: Morelia's
Outdoor Dining
Food Glorious Food
Cars zip along nearby on Thomasville Road, but you'll never hear a thing when you're noshing at FGF under the big oak tree surrounded by the vine-clad brick walls of Betton Place. And if the surroundings aren't enough to distract you from the traffic, the "Mackin" Cheese certainly will. Honorable mention: Andrew's Capital Grill & Bar
Pizza
Momo's
You'll never have to settle for chain pizza again with Momo's "slices as big as your head." Recently, the Market District location introduced a brewery serving up ice-cold beer. This come-as-you-are pizza joint only uses fresh ingredients, so stop in for a pint and a pizza. Honorable mention: Decent Pizza
Seafood Market
Southern Seafood
Can't always take the time to go catch your own fresh fish? Try a Southern sampling of the freshest fish, crab, shrimp and shellfish. Southern Seafood has the ability to move large quantities of seafood every other day, ensuring the freshest in snapper, grouper, tuna, scallops, salmon and more. It's the next best thing to catching it yourself. Honorable mention: Mike's Seafood
Seafood Restaurant
Bonefish Grill
Whether it's the Bang Bang Shrimp or the Mussels Josephine, there's always a reason to go to Bonefish. With fish baked, fried, grilled or sautéed, the options are endless and the tastes are to die for. Honorable mention: The Seinyard Seafood Restaurant
Sports Bar
Beef 'O' Brady's
With walls full of television sets, sports are definitely on the menu at Beef's. But you'll certainly want to try out the highly praised wings and enjoy the family friendly atmosphere (check out the local school memorabilia on the walls) at one of the franchise's three Tallahassee locations. Honorable mention: AJ Sports Bar & Grill
Steakhouse
Marie Livingston's Steak House
Dining at Marie Livingston's Steak House is always a special treat. It's not just a steakhouse that serves up savory cuts of prime rib or marbled beef, it's a Tallahassee tradition wrapped up in a low-key, dignified setting that is perfect for any occasion. Honorable mention: Shula's 347 Grill
Sushi
Masa
Sushi lovers, rejoice; you'll find more than the average California roll at this modern Japanese fusion restaurant. Choose from a selection of artfully crafted, authentic rolls, and you'll see why this restaurant's blend of Eastern and Western cultures have landed Masa honors as the No. 1 sushi restaurant year after year. Honorable mention: Osaka Japanese Hibachi Steakhouse
and Sushi Bar
Wine List
The Wine Loft
This chic, comfortable lounge in Midtown specializes in an eclectic list of wines, liquor and beer and has won this category three years running. There is a downstairs lounge and an upstairs balcony bar — the only one in Tallahassee — where you can order more than 50 specialty wines by the glass or more than 120 wines by the bottle. Cheers! Honorable mention: Shula's 347 Grill
Wings
WingStop
Wingstop can't stop being Tallahassee's top spot for wings. The chain has served more than two billion wings nationally and won best wings in Tallahassee six years in a row. Wingstop offers 10 unique flavors for their wings and a variety of homemade sides, including Fresh Cut Seasoned Fries made from Idaho potatoes. Honorable mention: Hobbit Hoagies
Service Providers
Accounting Services
Carroll & Company
You won't have to a-count for anything with Carroll and Company's trusted service. Since 1990, the firm has helped more than 1,300 clients with all of their accounting concerns. This small firm takes pride in having quality customer service and detail-oriented employees. Honorable mention: James Moore & Company
Air Conditioning/heating
Benson'S HEATING & Air Conditioning
When it's summertime and the AC goes on the fritz, you want that unit serviced NOW. No worries, Benson's is on call all day, every day — and has been for 30 years. This perennial Best of winner features service plans, polite and knowledgable technicians and a satisfaction guarantee. Honorable mention: Keith Lawson Company
Alterations
Helga's Tailoring
Whether it's a dragging pants hem or a wedding dress, Helga's is the place to go when you're looking for the perfect fit. And for those who can't find something to wear on the rack, the independently owned shops also specialize in creating custom-made clothing. Honorable mention: Alterations Etc.
Assisted Living Facility
Westminster Oaks
With living spaces from separate homes to small apartments, fabulous facilities (including the new Maguire Center for Lifelong Learning), myriad activities and some of the most interesting retirees in Tallahassee, you'll definitely want to "come for the lifestyle and stay for a lifetime" in this 130-acre community. Honorable mention: St. Augustine Plantation
Auto Repair
Newman's Auto Air
That radiator won't fix itself, so drive on over to Newman's Capital Circle Northeast location for all of your auto repair needs. Family owned and operated, Newman's is on hand to address your air conditioning and other foreign or domestic car troubles. Honorable mention: Perdue's Automotive Center
Automobile Dealer
Proctor Group/Honda
Proctor offers the best prices and selection in the area, boasting one of Tallahassee's easiest car-buying experiences. The Proctor group has a sales staff that's as dependable as their product — a brand that's earned national and international awards for best fleet fuel economy, low-emission vehicles, hybrid technology and outstanding reliability. Honorable mention: Champion Chevrolet
Barbershop
Renegade Barber Shop
Renegade has won over voters by being No. 1 in Tallahassee again. Each of the nine locations takes pride in keeping good old-fashioned barbershops thriving. Renegade can help you go from alarming to charming with friendly service and affordable prices. Honorable mention: Tony's Hairstyles
Carpet Cleaner
Stanley Steemer
Get rid of those unwanted stains with Stanley Steemer, the carpet cleaner that keeps your carpet fresh. Serving Tallahassee for 30 years, Stanley Steemer doesn't just clean carpets, hardwood and tile; they specialize in upholstered furniture and auto interiors as well. Honorable mention: Extreme Carpet Care
Phone Service Provider
Verizon
Can you hear me now? Good. As well known as their slogan, this Best of Tallahassee veteran is known for upholding the best standards in service and coverage for all phone needs. Three locations in Tallahassee make it easy to stay connected. Honorable mention: AT&T
Chiropractor
Fenn Chiropractic
Dr. James Ryan Fenn doesn't just adjust your back, he adjusts your life. At Fenn Chiropractic, they take a personal interest in the well-being of their patients by encouraging healthy lifestyles to reduce toxin intake and increase muscle tone. Honorable mention: Tallahassee Spine Center, Dr. Joseph Miller
Computer Repair/Service
On Call Computer Solutions
Computer on the fritz? Who you gonna call? On Call, of course. They'll send a highly trained technician to your home or office, or you can bring your computer in to them. They guarantee to fix your problem without losing valuable data — or there's no charge! That's an unbeatable deal. Honorable mention: Aegis Business Technologies
Dance Studio
Sharon Davis
Established in 1977 from Davis' dream of owning a studio, the school has come a long way since starting out with just two teachers. Now a beloved Tallahassee business, the studio is a great place to send the kids to learn ballet, en pointe, tap, hip-hop and lyrical dance. Honorable mention: Tallahassee Dance Academy
Day Spa
Millennium Nail and Day Spa
Enter the world of Millennium, and enter a world of relaxation. Here, it's really "all about you." Enjoy some time away from the kids with a comfy mani-pedi; or, maybe you and your significant other need a couples massage. Either way, Millenium is there to provide the relaxation and pampering you need to face everyday life. Honorable mention: So Pure Salon and Spa
Dentist Office
Russell B. Rainey, DMD
If you're not smiling when you are welcomed into Dr. Rainey's office by his friendly staff, you sure will be when you walk out. And whether you're getting a no-stress cleaning or a total smile makeover, it's sure to be beautiful!  Honorable mention: M. Darrh Bryant, DMD
Dry Cleaner
Blue Ribbon Dry Cleaning
For more that 15 years, this locally owned and operated dry cleaner has been making sure Tallahassee stays spotless. Blue Ribbon has three locations, the most modern equipment, a satisfaction guarantee and a 15 percent discount coupon you can download from their website, blueribbondrycleaning.com. Honorable mention: Shamrock Cleaners
Dermatology Practice
Dermatology Associates
When you live in the Florida sunshine, you're obliged to find a good dermatologist. You find that and more at Dermatology Associates, which offers quality care and a friendly staff dedicated to filling all your skin care needs. Honorable mention: Southeastern Dermatology
Electrician
Lawson & Lawson Electrical Services
The good folks at Lawson & Lawson have more than 200 years combined experience in the electrical trade (that's a lot of wiring). They're also the biggest contractor in the Tallahassee area. When they arrive on site you can be sure they won't leave until the job is not just done, but done right, and in a cost-effective manner, too. Honorable mention: Seminole Electric
Embroidery
M & M Monogramming
Looking for that special gift for someone or even yourself? Make it personal with a monogram. Leave your mark on towels, jewelry, tote bags or just about anything you can name. A repeat winner, M&M's shop is located in Glendale Square on Thomasville Road. A little browsing will provide you with plenty of inspiration. Honorable mention: That's Mine!
Family Physician/Practice
Patients First
While it would be nice to schedule our minor medical emergencies on weekdays from 9 to 5, invariably the fever spikes or the hard fall happens during the off hours. With extended hours, seven Tallahassee locations and no appointment required, Patients First is a great choice for family and urgent care. Honorable mention: Tallahassee Primary Care
Financial Institution
Capital City Bank
For a whopping 117 years, Capital City Bank has been part of Tallahassee, not just as a financial institution but as an integral part of the community. It may have 70 offices in Florida, Georgia and Alabama, but Capital City's bankers pride themselves on the personal service they provide their customers. Honorable mention: Premier Bank
Flooring (carpet/tile/etc)
Brian Barnard's Flooring America
Looking to spiff up your home? The specialists at Brian Barnard's are trained to help you find the perfect floor for the way you live. Choose from wood, carpet, ceramic and tile. This locally owned business, where two generations of Barnards work with clients, is a repeat winner that has served North Florida since 1976. Honorable mention: Southern Flooring
Florist
Blossoms Flowers
You can say just about anything with flowers — "I love you," "I'm sorry," "Get well" — and Blossoms knows just how to send the right message. The florist supplies gestures for every occasion with trademark flower arrangements and custom gift baskets. Honorable mention: Designs By Darrin
Gym/Health Club/Fitness Facility
Premier Health and Fitness Center
There's no better place to exercise the workday away than Premier, a workout haven that offers Pilates, Yoga, Zumba, spinning and aqua aerobics classes in addition to its huge variety of exercise equipment. Play care for kids and Tropical Smoothie Café make the gym a fitness lover's one-stop spot. Honorable mention: Gold's Gym
Hair Salon
Green Peridot
The best spot to get a Brazilian blowout in Tallahassee, the Green Peridot (now called Dream State Salon) boasts in-style cuts for women and men alike. Their talented team will have you breaking away from your usual, "I'll just have an inch trimmed, please." Honorable mention: Haute Headz
Hotel
Hotel Duval
OK, Hotel Duval didn't singlehandedly bring the vibe back to Tallahassee's downtown. But this midcentury-yet-modern establishment is attractive to visitors who enjoy its high-style, yet comfortable, rooms as well as to locals, who flock to its eateries, Shula's 357 and LeRoc Bistro, and unique rooftop bar, Level 8. Honorable mention: Aloft
Insurance Agency
Demont Insurance Agency and Financial Services
When you're buffeted by the winds of fate, Demont is there to help you get back on your feet with policies covering all your insurance and financial needs. Family owned and operated for 46 years, the agency has earned six Best of awards. Honorable mention: McKee Insurance Agency
Interior Design Firm
Julian Mathis Interior Design
With more than 30 years of experience designing residential and commercial properties in Tallahassee, Julian Mathis is the one to call for any decorating needs. Voted as a Best of for the eighth year in a row, he strives to evoke the personality of the customer in order to make any house feel like your home. Honorable mention: Design & More
Landscaping/Lawn Services
Esposito Lawn and Garden Center
Having a perfectly manicured lawn doesn't come naturally, but Esposito's sure makes it look that way. With 40 years of experience, the garden center has everything you need to build your yard from the ground up. Spruce it up with colorful Belgian garden mums for a late September-October bloom. Honorable mention: Green Sweep
Limo Service
Mike's Limousine
When you want to get where you're going in safety — and in style — give Mike's a call. They have a fleet of classic limos, as well as other head-turning possibilities such as a pink stretch Hummer, a Rolls Royce and a 40-foot-long "Land Yacht" party bus. Honorable mention: Top Hat Limo and Sedan Service
Moving Company
Mike's Moving
Planning a move? Don't hassle with loading and carrying heavy boxes or trying to shoehorn them into your SUV. Leave the job to Mike's, a repeat winner and the largest independently owned moving company in North Florida and South Georgia. Commercial or homes, Mike's does it all, providing local and long-distance services. Honorable mention: AMWAT
Nail Salon
Royal Nails and Spa
Relax by watching flat-screen television and sipping on a complimentary cocktail during your mani/pedi. Try a classic pedicure with a sugar scrub for a pampered spa treatment that's sure to leave you feeling like a queen. Honorable mention: Millennium Nail and Day Spa
Obstetric/Gynecological Practice
North Florida Women's Care
Located conveniently alongside Tallahassee Memorial Hospital, the compassionate doctors at North Florida Women's Care are eager to assist each patient with respect and tenderness. Honorable mention: Azalea Women's Healthcare
Optometry/Opthamology Practice
Eye Associates of Tallahassee
The opthamologists of Eye Associates have been setting the standard for eye care in Tallahassee, dealing with serious vision issues as well as vision correction services, including a full-service optical center and same-day contact lenses. And you've gotta love their address: 2020 Fleischmann Road. Honorable mention: Southeast Eye Specialists
Painter
Superior Painting
This father-and-son owned business guarantees a "superior" experience for all of your paint, repair, staining and removal needs. Voted best painter for five consecutive years, customers "expect the best" from Superior Painting. Honorable mention: Custom Painter
Pediatric Physician/Practice
Tallahassee Pediatrics/Tallahassee Primary Care Associates
Look no further than Tallahassee Pediatrics for medical professionals who can help your child grow up happy and healthy. An affiliate of Tallahassee Primary Care Associates, the trained pediatric staff focuses on the growth and development of each child.
Pest Control Service
Paul's Pest Control
In business for more than 40 years, Paul's knows how to rid your home of pesky intruders. This North Florida favorite for pest control in residential, commercial and real estate areas offers a top-notch, eco-friendly treatment plan. Rest assured, if you call Paul, he'll get 'em all. Honorable mention: Massey Services
Photographer
Dina Ivory
Family photos are the tapestry that weave our lives together. Master Photographer Dina Ivory is the artist who sews it all together by creating timeless vignettes of life's special moments, from your baby's first toothy smile to an elegant family portrait. Honorable mention: Terri Smith
Plumbing Service
Keith McNeill Plumbing
When the toilet's sprung a leak at midnight, McNeill Plumbing will answer the call, 24/7. This family firm offers a full array of residential and commercial plumbing services combined with good, old-fashioned promises, like polite technicians, fair prices and a big "thanks for your business" when the job is done. Honorable mention: Keith Lawson Company
Pool Repair/Service Company
Terry's Pool Service
Keep that pool looking clean and clear with Terry's Pool Service. Receiving Tallahassee's first Pool Repair/Service Company award, Terry's is a locally owned company that specializes in pool maintenance, repair and leak detection. With trained specialists and personalized service, countless customers keep coming back to get pool perfection. Honorable mention: Pro Pools
Real Estate Agency/Agent
Gary Bartlett Real Estate
WCTV news anchor turned full-time broker, Bartlett knows the ins and outs of the Tallahassee area. A 2011 Best of Tallahassee winner, he'll make sure homebuyers find their dream property in the upturning Leon County market. Honorable mention: Keller Williams
Roofing Repair/Services
Rowe Roofing
Whether you are at the office or at home, Rowe Roofing keeps the roof on and the rain out. With Rowe Roofing's 24/7 residential and commercial repair services, they can handle any repairs, replacements and installation. Honorable mention: Tadlock Roofing & Solar
Security System
Safe Touch Security Systems
The bumbling thieves in the Safe Touch commercials have learned their lesson well: Stay away from homes with the Safe Touch signs! Safe Touch features a 45-second guaranteed response time, radio back-up system, 96-zone monitoring system and other features that spell doom to the bad guys who trigger the alarm. Your home and office are in safe hands with Safe Touch. Honorable mention: ADT
Surgical Practice
Southeastern Plastic Surgery
Specializing in facial, body, hair and reconstructive surgery, the physicians at Southeast Plastic Surgery have the special touch to make anyone feel beautiful, inside and out. Honorable mention: Tallahassee Plastic Surgery
Tanning Salon
WolfF Tan
With six locations, Wolff Tan is a convenient choice to get that sun-kissed summer radiance without the unsightly tan lines. When sun just isn't cutting it, the tanning salons offer both traditional and UV-free spray tanning as well as wallet-friendly monthly deals. Honorable mention: Planet Beach
Tree Service
Miller's Tree Service
If there's a tree leaning just a little too close to the roof for comfort, Miller's can put your mind at ease with a team of professionals who can take down problem trees, whisk away debris and leave nothing but a pile of sawdust when you get home that night. Honorable mention: ArborWorks
Veterinary Clinic
North Florida Animal Hospital
Pets enrich our lives and are part of the family. When they're sick or hurt, it's comforting to know that the best care for them is close by. North Florida Animal Hospital provides a wide range of high-tech services, from digital radiology and microchipping to dental care and nutritional counseling. Honorable mention: Northwood Animal Hospital
Weight Loss/Control Program
F.I.T. Weight Loss and More
With a customized program unique to each individual looking to slim down his or her figure, F.I.T.'s weight loss regimen will leave you feeling healthier and happier in body and mind. Honorable mention: Weight Watchers
Shopping
Antique Shop
Good Finds
If there is a heaven for vintage collectibles, Good Finds is it. You never know what kind of treasures you're going to find at this 3,000-square-foot antique mall. There is vintage furniture, art, lighting, clothing, jewelry, used books and even musical instruments. Honorable mention: Sally Rude Antiques
Cosmetics
Green Peridot
Carrying all Aveda products that keep your hair glossy, your body shimmery, your skin smooth and your face refreshed, what more could a girl ask for? The salon is now known as Dream State Salon but the people, place and service are the same! Honorable mention: Sephora
Furniture Store
Turner's Fine Furniture
Classic. Contemporary. Elegant. Inviting. The perfect combination for the comfortable home of your dreams. Turner's may not be in Tallahassee proper, but it's conveniently located just north of the state line between Tallahassee and Thomasville, Ga. Honorable mention: Ashley Furniture HomeStore
Gift Store
My Favorite Things
This local business has the perfect gift for any holiday or special occasion. Shop through the largest selection of china, crystal and silver gifts in the Southeast, including many designer brand items. Honorable mention: Sweet Patina
Jewelry Store
The Gem Collection
Since 1977, Don and Dorothy Vodica have been bedazzling us with the area's best collection of fine jewelry. Whether you're looking for that once-in-a-lifetime engagement ring, a Rolex that says "I've arrived" or a charm to add to her Pandora bracelet, Gem Collection is your one-stop shop. Honorable mention: Robert's Jewelry
Kids Clothing
Pink Narcissus
This Lilly Pulitzer Signature Store has the perfect outfit for everyone — even your little one! With adorable print dresses, every little girl can be a Lilly girl. Honorable mention: Gap
Locally Owned Shop
Narcissus
Don't let the name fool you, the women of Narcissus are far from self-absorbed. These classy gals help you stimulate the economy while styling the latest trends. The local shop rivals posh New York boutiques and offers something they don't — a touch of Southern charm. Honorable mention: Cole Couture
Men's Clothing
Nic's toggery
For 60 years, Nic's has been the haberdasher of choice for men seeking classic style and personal service. While the suit selection is spectacular, the shop also has a wide selection of sportswear and formal wear in its three locations. And Nic's staff of in-house tailors won't quit until you've gotten the perfect fit. Honorable mention: Jos. A. Banks
Nursery/Garden Center
Tallahassee Nurseries
Shady arbors, soothing fountains, brick pathways and beautiful gardens greet the customers who frequent Tallahassee Nurseries, one of Tallahassee's oldest garden centers. Whether you're a budding novice or have the greenest of thumbs, everything you need to make your yard come alive with color and scent-sations can be found right here. Honorable mention: Esposito Lawn and Garden Center
Eyeglass Store
The Hour Glass
When you're looking for new glasses, choices abound at locally owned The Hour Glass, the region's leading optical dispensary. One of the nation's top 40 optical retailers offering more than 2,000 frames, it has been voted the Best of Tallahassee nine times. And most glasses are made in about an hour! Honorable mention: Hatcher Opticians
Women's Accessories/Shoes
Narcissus
Buying a dress or separates is just the start of a fashion adventure at Narcissus. The fun really begins when searching for the accessories and shoes to finish off your fabulous look. With names like Tory Burch, GCBG, Susan Shaw, Milly and so many more, heads will turn when you walk by. Honorable mention: Cole Couture
Women's Clothing
Narcissus
With two locations, this sophisticated urban boutique offers an array of designer clothing for the style-savvy women of Tallahassee. Their friendly staff and three locations make it easy to look fabulous. Honorable mention: Cole Couture
Entertainment
Art Museum/Gallery
LeMoyne Center for the Visual Arts
Named for Jacques LeMoyne, the first artist to visit the New World in 1564, this center for the visual arts is the easel on which Tallahassee paints its culture. The center is locally famous for its year-round art classes, special events and displays. Also, a quiet sculpture garden provides visitors with a venue for a relaxing stroll. Honorable mention: Signature Art Gallery
Community Event
Springtime Tallahassee
Every spring, Tallahassee's ode to civic pride consumes the downtown area as thousands of joyful residents come out of the woodwork to prove this town is home to more than just college students and politicians. The Grand Parade and Downtown Jubilee are vibrant crowd pleasers, and the corndogs and funnel cakes make tempting tummy pleasers. Honorable mention: Downtown Getdown
Golf Course
Southwood Golf Club
It didn't take long for local duffers to discover the joys of playing this Fred Couples-designed course in the heart of the SouthWood community. It's been lauded in national golf magazines and is a perennial Best of winner, too. It's semi-private, so you can join the club or just golf when the spirit moves you.
Live Music/Entertainment Venue
5th Ave Tap Room
A new Midtown hotspot, the Tap Room didn't get its name for nothing. With more than 30 kinds of beer on tap and frequent live bands, the nightlife attraction brews up a good time for a diverse crowd of social bon vivants. Honorable mention: Bradfordville Blues Club
Place to be Seen
Green Peridot
Offering Aveda color, styling, hair spa treatment and facial hair removal, Green Peridot (now named Dream State Salon) has something for everyone to feel a little rejuvenation. Whether it's a new hairstyle or scalp therapy, you'll be ready for the paparazzi to snap a shot of you out on the town after leaving this salon. Honorable mention: Level 8
Place to Take the Kids
Tallahassee Museum
It's not just a "museum." It's a place where history and nature combine to tell the story of Florida. Tour an 1880s homestead and then walk on the wild side with Florida's only zoological collection devoted to native wildlife. Or, take to the treetops with the new high-flying adventure course and zip line. Honorable mention: Fun Station
Local
Best New Business
Paisley Café
Tallahassee foodies are rejoicing that Kiersten Worrell decided to leave the banking business. Since it first opened, her café has been a hotspot in Midtown for the lunch crowd to enjoy her simple recipes made with quality ingredients sourced from near and far. Treats like the Nutella Bread Pudding keep 'em coming back for more. Honorable mention: Fickle Pickle Café and Catering
Local Charity/Not-for-profit
Children's Home Society
Some kids need more help than others if they're going to have happy, nurtured lives. Children's Home Society provides that help through healing wounded souls, breaking the cycle of abuse, protecting kids from harm and helping them find warm, loving and stable families. Honorable mention: United Way of the Big Bend