1991: Life After a Near-Death Disaster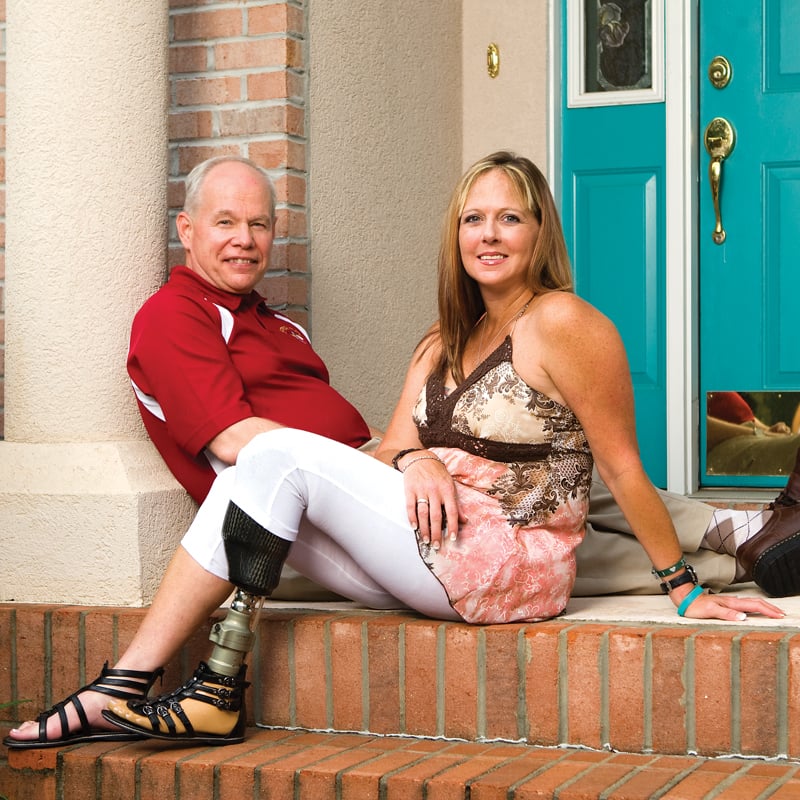 ---
Tom Berlinger, an inspector with the Florida Department of Law Enforcement's Office of Executive Investigations, wrote a harrowing story in 1991 titled "It Couldn't Possibly Be Diana," a first-person account of an accident that befell his daughter and her miraculous survival. For Tallahassee Magazine's 30th anniversary, he revisits his daughter's horrific parachuting accident and brings her story up to date:
In the summer of 1990, my daughter, Diana, was 18 and on active military duty when she decided to enter the U.S. Army's Airborne School. She wanted more than anything to be a paratrooper. My wife and I and our youngest daughter drove to Fort Benning, Ga., for Airborne graduation ceremonies, which included parachute jumps that each student was to make in the presence of their visiting family. It was to be Diana's finest hour.
When she leapt from the underbelly of the C-130 troop transport plane 1,250 feet above the ground, Diana's suspension lines between her backpack and the bottom of her parachute were totally in knots. She dropped like the proverbial rock, slamming to the ground in front of us and 150 other panic-stricken parents. When she hit, it looked like a bomb went off and certain death.
When Diana struck the ground, the bulk of the impact was on her buttocks. She hit so hard that her spinal column was driven 4 inches through her pelvis and one of her lungs ripped wide open inside her chest wall. She spent the next seven months in military hospitals in Augusta, Ga., and Tampa and a year in a wheelchair thereafter. Diana makes no secret of the fact that her injuries included permanent loss of control of her bodily functions and paralysis of most of her left leg and foot, precipitating the need for a leg brace.
Since that fateful day, Diana has been a patient in almost every VA hospital in Florida, and she has endured 12 additional surgeries on her back, leg, foot and elsewhere. In 2004, she moved back to her native New Port Richey and later ran into Dominick Mancini, a childhood sweetheart from her high school years. On the 15th anniversary of the parachuting accident in 2005, she and Dominick were married.
The residual effects of nerve damage and poor circulation in her left leg left Diana to endure years of repeated infections, bone problems and surgeries. In February 2008, Diana told the doctors that she had had enough and suggested what would have been the unthinkable years ago — amputation. They agreed and removed everything from just below her left knee. A year later, she regrets that she didn't have the nerve to get the amputation performed years ago.
As a disabled veteran, Diana can take advantage of the physical therapies that the VA has to offer. She has been issued prosthetics to replace the now missing foot, including, as she describes it, "one of those springy-looking things that you see people running with on TV." This has given her mobility like never before and allowed her to discard the burdensome leg brace.
Today, Diana's life is devoted to helping Dominick raise his four kids, ages 6, 9, 10 and 15. She also serves as a soccer coach for four different kids' teams. With her remaining free time, she works as an online travel agent.