The Perks of McNeill Plumbing
Tallahassee's trusted choice continues to grow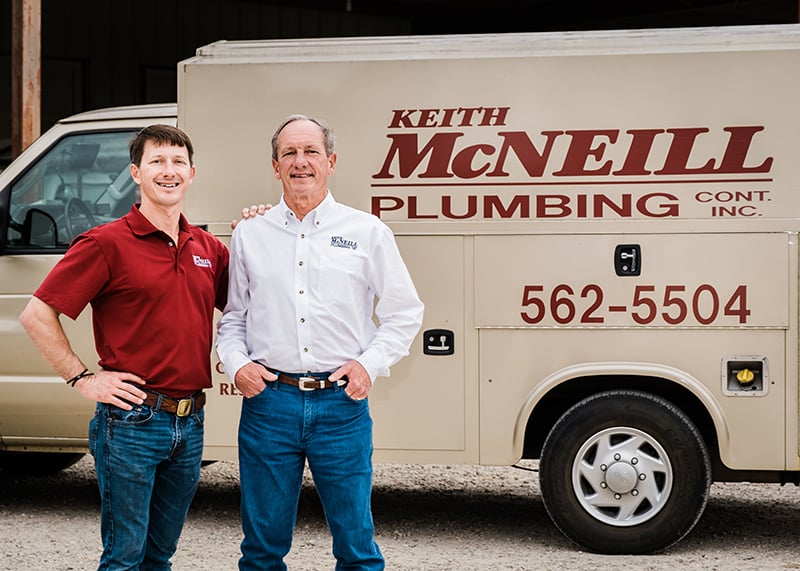 McNeill Plumbing builds relationships while solving problems.
"Whenever someone calls a plumber, their main expectation is that the problem will be resolved, but we strive to go further through our strong customer service that leads to long-term customer relationships," said Chase McNeill, owner of McNeill Plumbing.
McNeill Plumbing has been committed to delivering exemplary service since the company's founding in 1978, resulting in an outstanding reputation and name recognition across generations.
The company was started by Chase's father, Keith McNeill. From a young age, Chase spent his summers working for his father's company. Upon college graduation, he pursued a career in new construction, and in 2005, he became the youngest state-certified master plumber. By 2008, Chase was managing his father's company, and in 2010 he purchased it. They still enjoy working together on a daily basis.
McNeill Plumbing is a full-service plumbing company engaged in everything from service house calls to residential, commercial and industrial installations and natural gas piping.
Tallahassee residents are used to seeing the company's 18 service trucks, nine new construction trucks, two natural gas trucks, one jetting truck and eight managerial vehicles.
Presently, the company has 92 employees and has satellite branches located in Wakulla County, Franklin County and Gulf County. The Tallahassee headquarters services the North Florida region and South Georgia.
"I encourage my employees to be entrepreneurial in their thinking and generating work, which has led us west and south where we are able to provide our services to areas booming with growth," McNeill said.
Besides being experts in their field, McNeill Plumbing has an impressive focus on giving back. Local youth and athletic programs, The United Way of the Big Bend and wildlife conservation efforts throughout Northwest Florida are just a few of the many areas that they support.
"As a fourth-generation Tallahassean, my family and I love this community and want to make sure it thrives whether that's through being your trusted plumber or giving back and investing locally," McNeill said.
---
Mcneill plumbing  N. MONROE ST.  |  (850) 562-5504  |  mcneillplumbing.com
---