Gin Dandy
Drink like a literary giant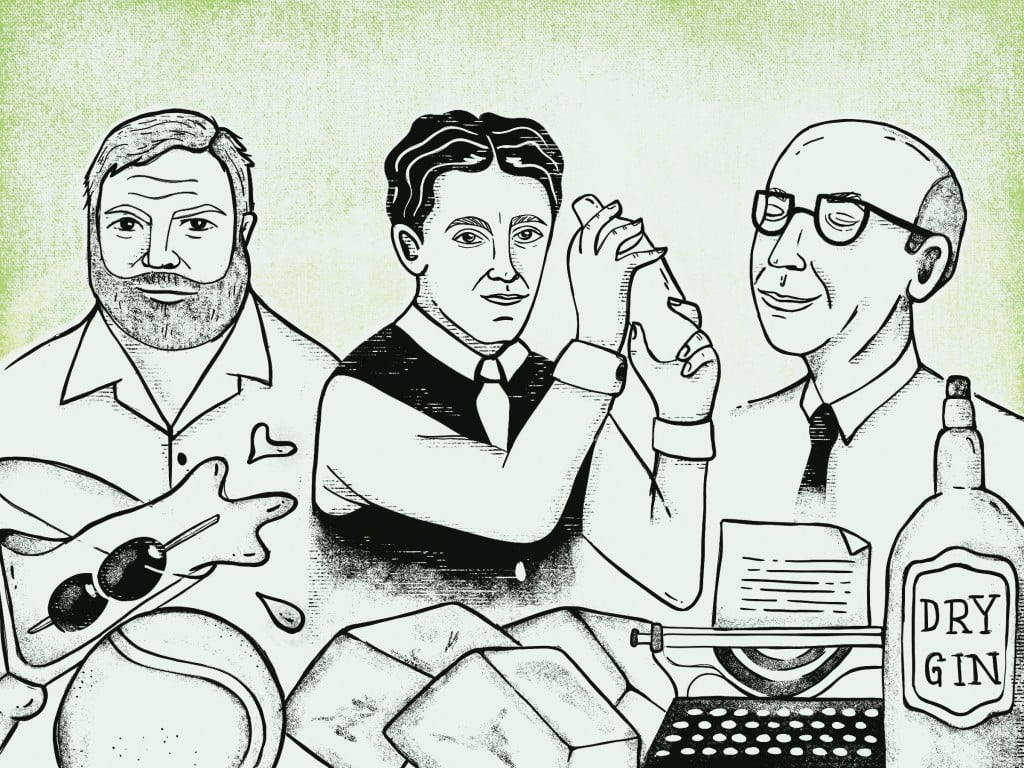 Francis Macomber, horribly chastened, has returned to camp along with his wife Margaret and his guide, the white hunter Robert Wilson.
"Will you have lime juice or lemon squash?" Macomber asks of the others.

For Wilson, neither will do.

"I'll have a gimlet," Wilson tells Macomber.

"I'll have a gimlet, too," says Margaret. "I need something."

"I suppose it's the thing to do," Macomber allows.
The scene is from Ernest Hemingway's short story, The Short Happy Life of Francis Macomber. The appearance by the gimlet, a simple concoction of gin and lime juice, is consistent with the author's own tastes for libations. He favored clean and refreshing gimlets on safari when the heat was too much for whiskey.
Macomber has disappointed and embarrassed himself. He guts a lion with misplaced shots. The wounded animal gallops off and settles in tall grass. When it hears the guide and his client approach, it charges. Macomber "bolts like a rabbit," leaving Wilson to dispatch the threat. Margaret, enamored now of Wilson more than her husband, witnesses it all.
When Macomber struggles to "clear the lion business," Wilson prescribes a "spot of the old giant killer." Perhaps gin will refresh Macomber in more than one way.
The linkage between gin and literature is strong. Too, I associate it with professors I had when studying English as an undergraduate at a small school in Northern Wisconsin.
Professor Greg Parks was fond of recalling colleague David Allen's reaction when the two men entered a juniper wood on a camping trip.
"Ah, gin," Allen said.
Parks and Allen and Lee Merrill and Peg Jackson led me through novels and anthologies, helping me to untangle and interpret literature and encouraging me to write. Merrill opened his course on Hemingway by asking that students form an opinion about Papa. Was he legitimately a literary giant or a glorified outdoors writer? Both, I would today argue, and a prodigious drinker, to boot.
Hemingway's go-to cocktail, according to Food & Wine, was an extra-dry, ice-cold gin martini.
By freezing water in tennis ball tubes to make ice cylinders used in pitchers and freezing glasses and the Spanish cocktail onions he used as garnishes, the magazine relays, Hemingway made a drink so cold that, in his words, "It sticks to the fingers."
Less chilled, of course, the gin martini is a drink for all seasons.
Hemingway was a tennis player and, I will presume, one fond of poaching. Nonetheless, he took care, he told the late journalist Lillian Ross, to let his wife Martha Gellhorn almost win. She did not wish to be beaten badly, and Hemingway told Ross, "If you let her win, she became insufferable," a condition that the giant killer seems always to inflame and never tame.
F. Scott Fitzgerald and his wife Zelda played tennis, too — lawn tennis on courts at properties at Great Neck, Long Island, owned by Guggenheims and Vanderbilts. It's hard to imagine Fitzgerald, alternately Macomber-like and unreserved, having to let anyone win. His house on the island rented for $300 a month, and he was to his fabulously wealthy neighbors as Nick Carraway was to Jay Gatsby, but he and Zelda nonetheless were welcome at the most lavish parties.
Fitzgerald had a fondness for gin rickeys, a highball made from gin, half of a lime squeezed and dropped in the glass, and carbonated water.
When, in The Great Gatsby, Daisy Buchanan on the hottest of afternoons dispatches her husband Tom to make drinks for guests, including Gatsby, Tom returns with gin rickeys that "clicked full of ice." Gatsby takes up a drink and awkwardly observes the obvious, commenting, "They certainly look cool." Good thing, Tom suggests, adding, "I read somewhere that the sun's getting hotter every year."
"First you take a drink, then the drink takes a drink, then the drink takes you," said Fitzgerald, whose tolerance for alcohol was notoriously slight. He believed about gin that it was undetectable on one's breath, but he made no effort to disguise his liking for it.
The poet Philip Larkin, in Sympathy in White Major, raises a gin and tonic to selflessness.
When I drop four cubes of ice
Chimingly in a glass, and add
Three goes of gin, a lemon slice,
And let a ten-ounce tonic void
In foaming gulps until it smothers
Everything else up to the edge,
I lift the lot in private pledge:
He devoted his life to others.
There is a stanza enough to make me knock off early and head for the liquor cabinet.
Living where we do — and with the sun getting hotter every year — we need not resort, come winter, to the heaviness of brandy and schnapps and Irish cream.
So raise a spot of giant killer light and clear, toast all whom you hold dear, conquer fears, discount the years and celebrate the now and here.
Gin Rickey
In a highball glass:
Two parts gin

¾ ounce lime juice

Top with club soda
Golden Purl
Should a cold breeze blow
Ingredients:
1 cup cider

1

tbsp maple syrup

1½ ounces gin

2 dashes orange bitters

orange peel
Heat up the cider until hot and stir in maple syrup until dissolved. Pour into glass mug and add gin. Stir again and top with bitters. Garnish with orange peel.
Source: LIQUOR.com