William Lamb Brings Prep to the South
Southern Style Preppy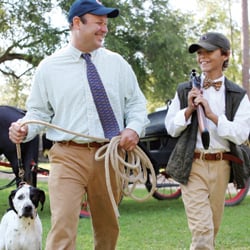 Courtesy WM Lamb & Son
While the prep school look has its roots in the Northeast, Tallahassee artist and designer William Lamb has collaborated with the iconic Brooks Brothers store and others to create products that bring a Southern sensibility to the classic style.
In Wm Lamb & Son's world, those little whales give way to more plantation-oriented designs, such as pointers, camo, quail and guns.
In November 2011, Brooks Brothers debuted a Limited Edition Social Primer Tailgate Blazer with Wm Lamb & Son's Hunt Scene design as the jacket liner. That navy blazer sold so well, Brooks Brothers and The Social Primer introduced another Tailgate Blazer in navy and red in 2012, both featuring Wm Lamb & Son Fox Hunt Scene as the jacket liner.
» Wm Lamb & Son provided seven "Southern Plantation" designs to The Southern Proper, an Atlanta-based company, for their Fall 2012 Line of ties and bowties. All the designs are offered in bow tie and necktie in several different colors. The models in this photo are William Lamb and his son, Will. All are sold on The Southern Proper and Wm Lamb & Son websites and locally at Cole Couture. ($60, bowtie; $75, necktie)
» Artist/designer William Lamb sports a pair of pants made from his Hunt Scene fabric at the launch party for Brooks Brothers' Tailgate Blazers in Atlanta.
» The tradition of "boating" a tarpon for a quick picture and measurement often ends with the removal of a tarpon scale for a perfect and beautiful souvenir before releasing the fish back into the water. With this in mind, Lamb designed and created the Tarpon Scale Belt Buckle inspired from an original tarpon scale. These pewter belt buckles are poured by hand here in Tallahassee and sold on the website and at Cole Couture. ($75)
» While the fashionable guy's Brooks Brothers jacket looks like a traditional blazer on the outside, it definitely shows its Southern roots with the Wm Lamb & Co. designed lining. All Tailgate Blazers are available directly through Brooks Brothers, both online and in retail stores ($448).