Retailers Around Tallahassee To Watch This Spring
Something old, something new, something indulgent. Everything local.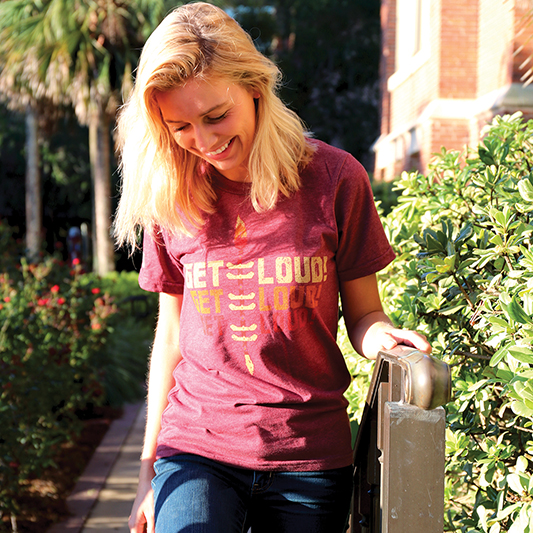 A new year brings new trends, but vintage will always be in style. While some T-shirt retailers focus on recreating old band tees, Local Vyntage brings a unique product to the table with vintage tees designed specifically for citizens of Tallahassee. Designs include Mutt & Jeff's Drive-In and Seminole "Spear-It" designs from the '90s. "We want to preserve memories," says creator Chet Winnicki. Local Vyntage T-shirts are available at Olde Fields, Spriggs and online
Happy trails
Comfort and fit are important considerations as you embark on your 2018 wellness goals. Capital City Runners has a gait analysis setup, which allows employees to look at a runner/walker's foot strike and degree of pronation and supination. With this information at hand, employees can help customers find the most comfortable shoe to meet their walking and running needs.
A taste of Paris
While it's important to stay committed to your fitness goals, it's OK to indulge on occasion, especially when the occasion is Valentine's Day. Spoil your sweetheart (and yourself) with delectable chocolates, pastries or cakes from Tallahassee's very own French bakery Au Peche Mignon. With so many delicacies to choose from, we're betting you won't leave with just one.
Safe cycling
Bird Legs Bicycles offers products that will get you excited about meeting your exercise goals, while keeping you safe in the process. For cycling safety, Bird Legs recommends its daytime running lights, said to reduce chances of daytime biking accidents by 30 percent. With so many urban, rural and mountain trails for bikes in Tallahassee, Bird Legs and other bike shops urge you to gear up and get out there.
Showers of flowers
Around Valentine's Day, we all know that flowers are chocolate's best friend. But if you must pass on the candy, double up on the flowers! Hilly Fields Florist & Gifts will arrange beautiful, bountiful bouquets for
your valentine. From red roses to tulips and lilies, Hilly Fields will be there to help you and yours make sweetly scented memories this Valentine's Day.