Water Feature for the Win
Just Sold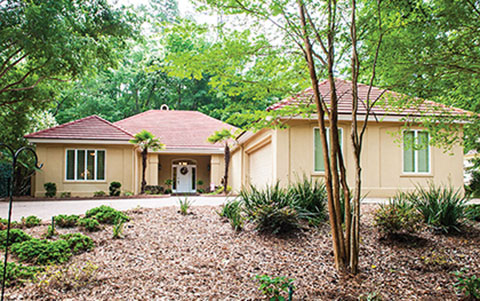 A two-bedroom house isn't the idea of a dream property for many buyers. So when Mike Ferrie of Prime South Realty listed 430 Lacy Woods Court, he had a unique situation on his hands.
As a two-bedroom, two-and-a-half-bath home located in the well-established gated community of Woodbrook, just a few miles south of Alfred B. Maclay Gardens State Park, this listing had an undeniably high-end feel, despite its limited number of sleeping quarters. What the home did boast, however, was plenty of extras — making it an ideal match for empty nesters looking to downsize without sacrificing amenities.
A cozy office space, a bonus room above the garage perfect for movie marathons and a newly designed dining room added usable living space and square footage, while a gas fireplace and fully functioning wet bar could make entertaining a breeze. A classic mixture of hardwood floors and quality tile and carpet was also present throughout the house.
Perhaps its most attractive quality was the beautifully designed water feature and patio space in the rear of the house. Though it had to sit for 252 days on the market before the right buyer came along, 430 Lacy Woods Court was eventually met with great enthusiasm. The babbling koi pond sealed the deal.
"They walked in, and they jumped on it right away," recalled Ferrie on the now owner's initial reaction. "They were a retired couple looking for something low maintenance and close [to town]. They loved it. It was a private setting in the back with the tranquility of the water."
---
Quick Look
Address: 430 Lacy Woods Court
List Price: $439,000 ($186.80/sq.ft.)
Sold For: $420,000 ($178.72/sq.ft.)
Square Feet: 2,350
Bedrooms: 2
Bathrooms: 2.5