Warm Up With Beef Stew
Looking For a Few Go-To Recipes? Look No Further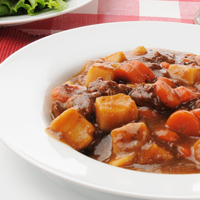 If Argentina is out of the budget, but your belly is telling you to travel for beef stew, try some of these tasty recipes found right online:
Old-Time Beef Stew
Recipe courtesy Paula Deen
Total Time: 2 hr., 20 min.
Yield: 6 Servings
Ingredients
2 pounds stew beef
2 tablespoons vegetable oil
2 cups water
1 table Worcestershire sauce
1 clove garlic, peeled
1 or 2 bay leaves
1 medium onion, sliced1 teaspoon1 teaspoon sugar
1/2 teaspoon pepper
1/2 teaspoon paprika
Dash ground allspice or ground cloves
3 large carrots, sliced
3 ribs celery, chopped
2 tablespoons cornstarch
Directions
Brown meat in hot oil. Add water, Worcestershire sauce, garlic, bay leaves, onion, salt, sugar, pepper, paprika, and allspice. Cover and simmer 1 1/2 hours. Remove bay leaves and garlic clove. Add carrots and celery. Cover and cook 30 to 40 minutes longer. To thicken gravy, remove 2 cups hot liquid. Using a separate bowl, compine 1/4 cup water and cornstarch until smooth. Mix with a little hot liquit and return mixture to pot. Stir and cook until bubbly.
Homemade Beef Stew
Recipe courtesy Publix
Total Time: 75 min.
Yield: 8 Servings
Ingredients
2 teaspoons fresh thyme leaves (finely chopped)
3 large onions
3 ribs celery
8 oz whole baby portabella mushrooms
1 lb red potatoes
1 lb beef cut for stew
1/4 teaspoon kosher salt
1/8 teaspoon pepper
3 tablespoons butter
1/2 cup dry sherry (or water)
2 cups fresh pre-sliced carrots
1/3 cup flour
1 (32-oz) box beef stock
1 teaspoon Worcestershire sauce
Directions
Remove stems; chop thyme leaves. Slice onlins and celery thinly. Cut mushrooms into quarters. Cut potatoes into bite-size pieces. Cut beef into bite-size pieces (wash hands). Preheat large stockpot on medium high 2-3 minutes. Season beef with salt and pepper. Place butter in pan and then add beef; cook until browned. Stir in onlins; cook 10-12 minutes or until softened. Stir in sherry (or water); cook 4-5 minutes or until most of liquit evaporates. Add celery, mushrooms, potatoes, and carrots. Stir in flour to coat vegetables and beef. Stir in remaining ingredients; bring to a boil. Reduce heat to simmer; cook 15-20 minutes or until potatoes are tender. Serve