Vocelle/Barstow Wedding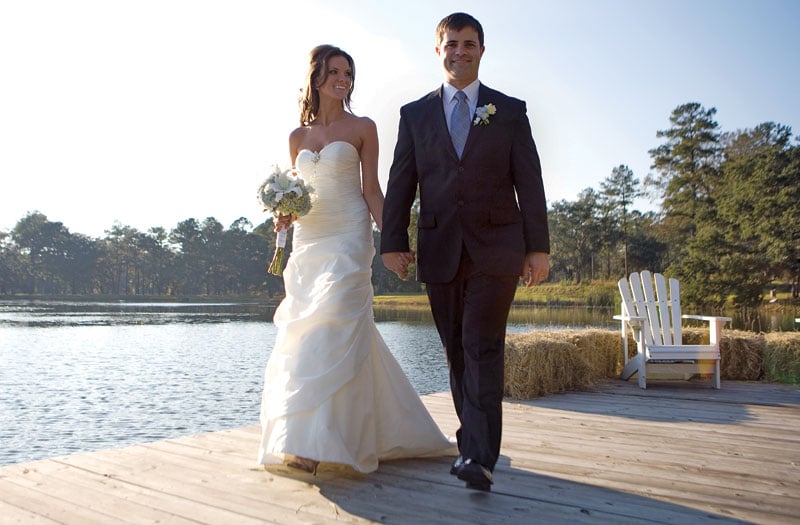 Kristen Vocelle and Donny BarstowPlanning a Wedding While Planning a Wedding BusinessBy Lilly RockwellClick for slideshow
For most women, planning a wedding is an all-consuming task, the coveted opportunity to put years of daydreaming to good use. But for Kristen Vocelle Barstow, planning her wedding helped launch a new career as the owner of a Tallahassee boutique bridal shop.
After Donny Barstow proposed to Kristen in April 2009, she began shopping for her dress and discovered that local bridal shops didn't offer the upscale experience she was looking for.
"You had to drive to another city to get the experience of champagne, somebody doting on you and making you feel special," Kristen says.
This sparked her longtime interest in opening her own business, and with encouragement from her fiancé (now husband), Donny, Kristen put wedding planning on the back burner and spent her summer researching the bridal shop business.
"It did put my wedding planning in second place," Kristen says. "I was so focused on getting the store up and running." She set a date for her wedding — Dec. 5, 2009 — and decided to open Vocelles, The Bridal Shoppe one month later. She leaned on her mother and friends to help plan the wedding, held at Pisgah United Methodist Church, and reception, held outdoors at the Lake House at Centerville Conservation Community.
"It was very important to me that it was relaxed and everybody felt comfortable and had a great time," Kristen says. Details such as hand-painted old soup cans as centerpieces, bales of hay for seating, and food from Shell Oyster Bar helped evoke a rustic charm.
Planning a wedding and a new business turned out to be ideal.
"The whole time I was planning our wedding, I was learning what is important to a bride," she says. "It was crazy for awhile, but it worked out fine in the end."
Photography Terri Smith Photo
Wedding Gown Priscilla of Boston, Orlando
Bridesmaids' Dresses Jenny Yoo Collection, Vocelles, The Bridal Shoppe
Invitations Simply Entertaining
Music/Entertainment Tom and the Cats
Catering Shell Oyster Bar
Bar Service Last Call
Cakes The Cake Shop
Wedding/Engagement Rings Tallahassee Diamond Center and The Gem Collection
Hair/Makeup/Spa Services Bethany Taylor from Envy
Reception Venue Centerville Conservation Community
Wedding Planner Kristen and Donny Barstow
Transportation Hotel Duval Driver
Wedding Favors Awards4U