Treva's: Where Dessert is the Star
Save room after your meal — you're going to want dessert at the recently opened café, Treva's Pastries & Fine Foods.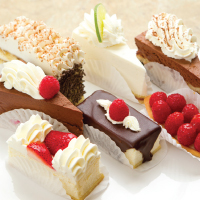 Photo by Scott Holstein
Owner Treva Pasquarelli offers up a sampling of the sweet delights available at her new café on Capital Circle Northeast.
The entrée menu is limited — chicken salad on a croissant, chicken salad on a salad, quiche and a soup of the week — but there are more than two-dozen choices for dessert. You could spend several minutes standing in front of the refrigerated case trying to decide between the Key Lime Mousse Cake, Rum Baba, Double Chocolate Cheesecake, Tiramisu or Crème Caramel.
We'll make it easy for you. Get the Almond Blueberry Croissant. She hasn't done much advertising yet, but Patissier Treva Pasquarelli says the word-of-mouth has them flying out the door.
If you've lived in Tallahassee any length of time, you've probably enjoyed Pasquarelli's work in the past. She started out in the early '90s at Chez Pierre and worked for several years at Au Peche Mignon when it opened. After an extended sojourn cooking in French restaurants in Atlanta, she returned to Tallahassee and for a short time this year, made desserts at the newly reopened Sage restaurant. She had been there just a month when she heard La Lanterna was closing and decided to take the plunge and open her own pastry shop.
While most customers grab and go, there are a few bistro tables inside and out where you can sit and chat with friends while you dig into your Chocolate Mousse. In addition to the light lunch fare, frozen soups are also available to take home. The treats are sold by single servings, but they will take special orders for full-sized cakes and other dessert treats.
Treva's is located at 2766 Capital Circle N.E. in The Festival (the shopping center that surrounds Calico Jack's). The shop is open Tuesdays through Fridays from 10 a.m.–6 p.m. and on Saturdays from 10 a.m.–4 p.m. Become a fan of Treva's!