Trends
Statement Nails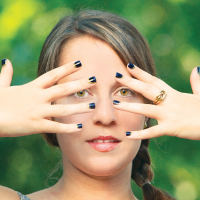 Photos by Scott Holstein
Nails: Tee Vo, Polish Nail Salon, (850) 224-8778, 1858 Thomasville Road; Model: Jazmeen Sule, Leah Kennett and Terra Palmer
2013 is all about being nail polish obsessed! Nothing says "fashion" better than lacquered fingers and toes, which can also serve as your best accessory. Today, there are an infinite variety of choices for showing your nails off to perfection. Polish offerings run the gamut of colors and iridescence. The shades that generated the most buzz at Fashion Week include minimalist white, nudes, fluorescents and deep dark variations of reds and navys.
Try fun textures and designs and pairing mattes with gloss. To keep with the trends, keep your nails square and corners rounded, apply two layers of lacquer nail polish and follow with gloss. For traditionalists, consider a shellac/gel manicure in a neutral shade. It will last at least two weeks without chipping, sometimes as long as a month.
Another hot trend are nail "tattoos." It's a breeze to stick on a new color in minutes — or opt for versions with myriad choices including patterns like animal prints, or textures such as lace or jewels. There also are versions to fit toes, too.
Or dare to be different and try out the "new" French — with a twist. Keep your nail beds neutral and paint the tips with a deep red or opt for complementing colors. With so many options, your fingers have a multitude of ways to stand out in a crowd.
High Style Tips To Toes
SHOP THE STORY
1. Roadhouse Blues, OPI
2. Goldeneye, OPI
3. Isla, Zoya
4. Silk Negligee, OPI